Heavy snow creates chaos for travelers across Europe
PLANS FROZEN: With thousands of flights canceled and train schedules disrupted, passengers have been left stranded in Germany, England, Belgium and France
Heavy snow and frigid temperatures caused further disruption across northern Europe yesterday — stranding travelers, snarling traffic and shutting schools. More than 1,000 flights at Germany's main airports in Frankfurt, Munich and Berlin were canceled and many more delayed after up to 40cm of fresh snow blanketed the country. Some 500 stranded passengers slept on cots at Frankfurt airport.
Airlines advised passengers to switch to trains if possible after the new snow added to two week's worth of accumulation, but rail operator Deutsche Bahn, struggling to cope with packed trains and a crush of passengers, urged passengers to stay home.
Tempers flared as Germans accustomed to timely trains and planes were forced to wait in freezing stations or packed terminals, as the unusually heavy snow delayed millions of commuters.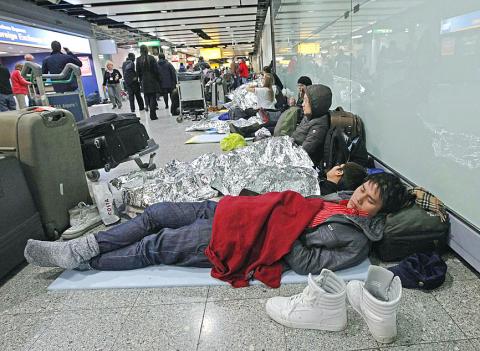 Airline passengers lie on the floor in Terminal 3 at London Heathrow Airport yesterday as snow and freezing temperatures delayed flights across northern Europe.
PHOTO: REUTERS
"The trains are always too late now," said Lothar Ast, 57, a custodian shivering in a Berlin station. "They're so crowded that you can't get on and then you have to wait for another."
Dorothea Fuerst, a Berlin sales clerk, added: "No one knows if the train will come or not. The train never arrives on time. Will it be 15 minutes or half an hour? That's the question."
Children's sledges were sold out in Germany, retailers said.
"This much snow is only fun if you're a kid," Berlin lawyer Katja-Julia Fischer, 42, said. "It's getting on my nerves."
Germany's most populous state, North-Rhine Westphalia, took the unusual step of banning trucks from motorways in a bid to keep passenger traffic rolling. A rail worker was killed in Berlin, run over by a train while trying to de-ice a switch.
Belgium also closed its motorways to truck traffic after there was a peak of 600km of traffic jams at the height of the rush hour yesterday morning in the Wallonia region.
In the UK, British Airways said the severe weather continued to cause significant disruption to operations. Only one of two runways at London Heathrow was operating after a snowstorm paralyzed the airport over the weekend, stranding thousands.
Other UK airports were open, but many flights were canceled or subject to long delays, and many passengers spent a second night at an airport terminal.
"There is the risk of further snow across parts of southern Britain tonight and through tomorrow," Met Office chief forecaster Steve Willington said.
Northern France was also covered by heavy snow, disrupting road and rail traffic as Parisians braved clogged highways to reach their holiday destinations. Air travel was reduced at Paris' two main airports, with Orly airport shutting down briefly and stranded travelers still camping out at Charles de Gaulle.
Train travel between Paris, London and Brussels on the Eurostar line was disrupted, partly because of speed restrictions, the company said on its Web site, adding that sales were closed for travel up to and including Friday.
In Poland, six people froze to death on Sunday night, raising the death toll to 114 in the last month.
Heavy snow also snarled Warsaw traffic again yesterday.
Comments will be moderated. Keep comments relevant to the article. Remarks containing abusive and obscene language, personal attacks of any kind or promotion will be removed and the user banned. Final decision will be at the discretion of the Taipei Times.