'Missing' Iranian scientist returns to Tehran
MYSTERY MAN Shahram Amiri repeated his claims the CIA kidnapped him last year from Saudi Arabia. However, the 'Washington Post' reports he was paid US$5 million
An Iranian scientist who spent 14 months in the US in mysterious circumstances denied on his arrival in Tehran yesterday that he had spilled Iran's nuclear secrets to US agents.
Repeating his claims he had been abducted by US spies, Shahram Amiri told reporters at Tehran airport that not only did he have nothing to do with Iran's nuclear program, he had also resisted US pressure to tell the media that he was a well-informed atomic scientist.
He said his captors wanted him to tell the US media that he had "defected on his own and was carrying important documents and a laptop which contained classified secrets of Iran's military nuclear program."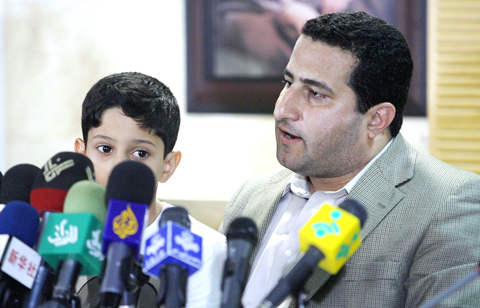 Iranian scientist Shahram Amiri speaks at a press conference at Tehran's Imam Khomeini Airport yesterday, as his son listens. Amiri said the CIA kidnapped him last year.
PHOTO:EPA
"But with God's will, I resisted," Amiri said, soon after being welcomed at Tehran airport by his tearful son and overjoyed wife.
Amiri, who vanished from Saudi Arabia in June last year while on a pilgrimage, surfaced in Iran's Interests Section in Washington two days ago. He left the US on Wednesday after US officials insisted he had arrived in the US of his own free will and that there was nothing stopping him from leaving.
He insisted yesterday that he was a "simple researcher" and not involved in Iran's nuclear program, which world powers believe masks an atomic weapons drive despite continued Iranian denials.
"I had nothing to do with the Natanz and Fordo sites," Amiri said, referring to Iran's two uranium enrichment plants.
"It was a tool the US government brought up for political pressure," he said, referring to reports he was a nuclear scientist. "I have done no research on nuclear. I am a simple researcher who works in a university which is open to all and there is no secret work happening there."
His denials come even as the Washington Post reported yesterday that Amiri was paid more than US$5 million by the CIA for intelligence on Iran's nuclear program.
Amiri "is not obligated to return the money but might be unable to access it after breaking off what US officials described as significant cooperation with the CIA and abruptly returning to Iran," the Post said.
It cited unnamed officials as saying he may have left the US "out of concern that the Tehran government would harm his family."
Iranian Foreign Minister Manouchehr Mottaki told a media conference in Tehran yesterday that Amiri's return was the "result of two years of efforts made by [Iran] through different channels," adding the "details of his abduction will be clarified after an investigation."
Meanwhile, Russia wants Iran to provide explanations over its nuclear program and fully cooperate with the international community, Russian President Dmitry Medvedev said yesterday.
Medvedev warned Iran's leadership that it does not "live in space" and said Iranian leaders were using the nuclear crisis for political ends.
"Iran is an active trade partner of ours. But this does not mean that we are indifferent to how Iran is developing its nuclear program," Medvedev said at a news conference alongside German Chancellor Angela Merkel.
"We are not indifferent to how the military component of this program looks," he said.
Comments will be moderated. Keep comments relevant to the article. Remarks containing abusive and obscene language, personal attacks of any kind or promotion will be removed and the user banned. Final decision will be at the discretion of the Taipei Times.