MORAKOT: THE AFTERMATH: Ma, Liu attend memorial service
HECKLED AGAIN Many of the villagers protested against a water channeling project near Siaolin Village that they believe was the main cause of the landslide
Survivors of Kaohsiung County's Siaolin Village (小林) — the village worst hit by Typhoon Morakot — appealed to President Ma Ying-jeou (馬英九) to replace Premier Liu Chao-shiuan (劉兆玄) yesterday, but Ma remained tight-lipped on his plans for the premier and for the Cabinet.
Walking to the memorial service that marked the 14th day following the deaths of typhoon victims at Jiasian Township's (甲仙) Siaolin Village yesterday morning, Ma led government officials in a deep bow.
Siaolin, which had a registered population of 1,313, housed about 600 people when a mudslide struck on Aug. 8. Approximately 200 managed to escape, while survivors believe that more than 400 were buried under the mud.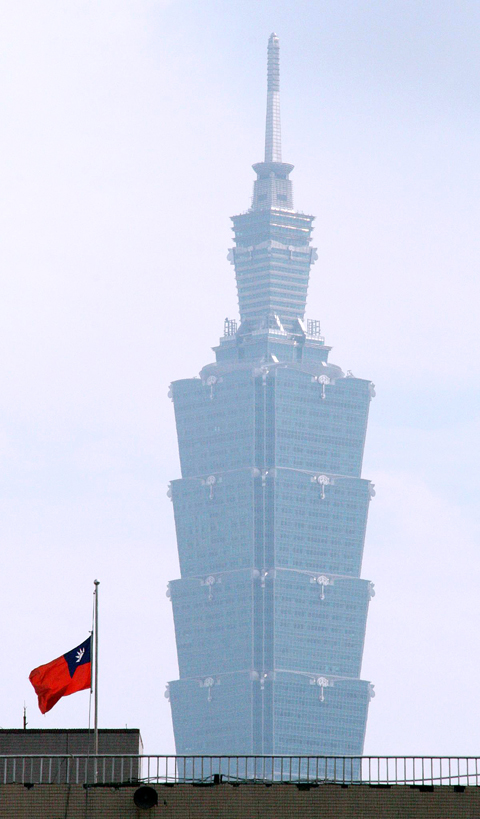 The national flag flies at half mast in front of Taipei 101 in Taipei yesterday as the country began three days of national mourning for the victims of Typhoon Morakot.
PHOTO: DAVID CHANG, EPA
Ma apologized for failing to protect the residents and promised to rebuild the village during his presidency. He said he had asked the Cabinet to produce concrete results before the country holds a national memorial service on Sept. 7.
Ma said he was upset and blamed himself for the government's shortcomings in its relief efforts. As president of the country, Ma promised the central government would team up with the local government on the reconstruction of the village. The government would establish a memorial park or plinth if victim families wished, he added.
The villagers, however, were not satisfied with his promise. Holding banners that read "water diversion project destroys our homeland," some angry villagers protested against the project carried out by the government near Siaolin, which they believe was the main cause of the landslide.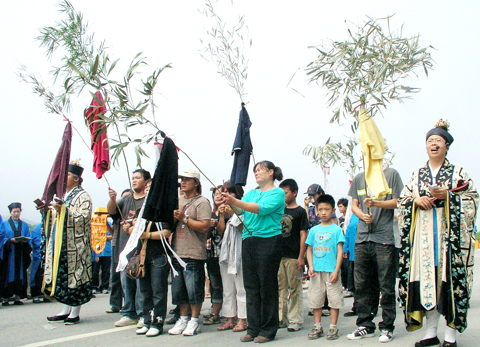 Members of the families of people who died after Highway 16 collapsed hold a memorial service in Jiji Township, Nantou County, yesterday.
PHOTO: HSIEH CHIEH-YU, TAIPEI TIMES
Some of them questioned Ma's "intention" to retain Liu, while others demanded that both Ma and Liu take responsibility for the disaster and resign.
"How would you feel if your family members had died? If you cannot do the job well, let someone else do it," an elderly lady shouted in Ma's face.
Many villagers heckled Liu when he arrived with Ma at the memorial service.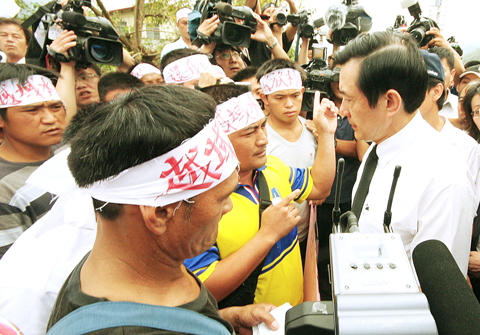 President Ma Ying-jeou, right, talks to people at a memorial ceremony for victims of Morakot in Siaolin Village in Kaohsiung County's Jiasian Township yesterday.
PHOTO: CNA
"Premier Liu, are you going to resign? President Ma, are you still protecting Liu Chao-shiuan? Don't you think someone has to take responsibility?" they shouted.
Ma, who did not respond to their questions, said the water diversion project was not authorized by the present administration, but that it would investigate the matter and determine who should take responsibility for the disaster.
Protesting outside, survivors from Sianshan (錫安山) and Namasiya (那瑪夏) townships said they also lost their loved ones and some of them were still missing, but they felt the government had totally forgotten about them.
Ma later went to Liouguei Township (六龜) and took part in another Buddhist prayer service held for those who were killed by mudslides in the Aboriginal community of Sinkai (新開).
Ma promised to complete reconstruction of the village during his term of office.
Unlike on Thursday when he was three hours late for a visit to a temporary shelter in Liouguei's Sinliao (新寮) Village, Ma yesterday arrived at Sinkai Community (新開部落) 45 minutes early.
During a whirlwind visit to a temporary shelter at Sinfa Community, however, victims complained about the cloud of dust and rocks kicked up by Ma's helicopter.
Mothers held their babies tight in their arms and kitchen crews used a lid to block the rocks. Ma shook their hands, hugged them, patted them on the back, but not many people could hear what he said over the sound of the idling helicopter.
Ma later visited a temporary shelter at Sandimen Township (三地門), Pingtung County, and told the 200 residents who managed to escape from Wutai Township (霧台) that the government did not do a good job during rescue efforts, but that it would do a better job of reconstruction work and disaster prevention in future.
Ma also urged residents to pay attention to mudslide warnings and to evacuate when the government deemed it necessary.
Meanwhile, during his weekly Web address yesterday, Ma said he would stand together with the victims of the typhoon and rebuild their homes during his term of office.
He also emphasized the importance of evacuations and downplayed the "strong complaints" of victim families, saying they were because they had high expectations of him and his administration.
The country began three days of mourning for the victims yesterday. National flags at all government buildings, schools and public places flew at half mast.
ADDITIONAL REPORTING BY AGENCIES
Comments will be moderated. Keep comments relevant to the article. Remarks containing abusive and obscene language, personal attacks of any kind or promotion will be removed and the user banned. Final decision will be at the discretion of the Taipei Times.