Deep chill as Lee, Soong attend CCK commemoration
WORLDS APART With ministers accompanying President Ma Ying-jeou at the ceremony, the DPP said that pressing government matters were neglected
Although they were sitting just an aisle away, former president Lee Teng-hui (李登輝) and People First Party Chairman James Soong (宋楚瑜) were worlds apart as they attended an event at the Presidential Office in commemoration of the 100th anniversary of the birth of former president Chiang Ching-kuo (蔣經國).
TV footage showed Lee being welcomed by Chinese Nationalist Party (KMT) Chairman Wu Poh-hsiung (吳伯雄) at the auditorium before being escorted to his seat next to President Ma Ying-jeou (馬英九). Many guests came over to greet Lee and shook hands.
Soong, who came in later, passed by Lee and went straight to his seat, also on the front row, but at the other end of the aisle.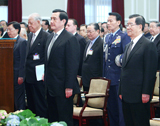 Premier Liu Chao-shiuan, left, former president Lee Teng-hui, second left, President Ma Ying-jeou, third left, and Vice President Vincent Siew, right, attend a ceremony at the Presidential Office in Taipei in memory of former president Chiang Ching-kuo.
PHOTO: AFP
The enmity between Lee and Soong runs deep. It stems from the downsizing of the Taiwan Provincial Government, when Soong was governor. The two engaged in a war of words, calling each other "thief."
While Soong made up with former KMT chairman Lien Chan (連戰) and put the Chung Hsing Bills Finance case (興票案) behind him, Soong and Lee still dislike each other.
The Chung Hsing Bills Finance case is believed to have led to Soong's defeat in his presidential bid.
Ma said Chiang had helped cultivate his political character and that he learned much from his leadership and decisiveness while serving as his English interpreter and secretary.
Ma said that during his nearly seven years under Chiang he realized that great feats were usually made by people with great character, vision and resolution.
There was no better way to commemorate Chiang than following in his footsteps and exerting oneself to serve the country and its people, he said. To remember Chiang is to "remind ourselves how sacred and grave the responsibility is that the people have entrusted upon him and his administration," he said.
Vice President Vincent Siew (蕭萬長), who delivered a speech at the event, called for determination and public support for the administration.
Siew said that while the "six major construction projects" initiated by Chiang in 1974 took up 13 percent of GDP, the four-year, NT$500 billion (US$17.76 billion) "i-Taiwan 12 infrastructure package" amounted to 1 percent.
If other public investments were included, they represent only 6 percent of GDP this year, he said, nearly half that of the "10 major construction projects" during Chiang's administration.
"As the economic situation is much worse than it was 60 years ago, it was urgent to begin the projects and we must be determined to implement them in a bid to revive the economy," he said.
Siew said it took the Chiang administration only three months from the first energy crisis to the proposal of the "10 major construction projects."
He said he hoped the public and legislature would support the administration's economic stimulus plan, adding that success hinged on whether the government was serious about executing the plans.
Finally, Siew urged the public to support the administration and jointly tackle the economic crisis. He said Chiang once said that the "10 major construction projects" were not only the construction project of the government, but also that of the country and the people.
"The completion of those projects makes us realize that any major government project requires the might and support of the people," he said.
Meanwhile, the Democratic Progressive Party (DPP) yesterday criticized the Chinese Nationalist Party (KMT) government for ignoring the efforts of Taiwanese in the country's democratization and giving all the credit to the former president.
"This week has been ridiculous. President Ma Ying-jeou's (馬英九) government has made this week Chiang Ching-kuo's week. While Ma may see himself as a successor to Chiang, Chiang Ching-kuo was against communist China, whereas Ma is pro-China, and while Chiang insisted on the existence of the Republic of China [ROC], Ma wants to destroy the ROC," DPP Spokesman Cheng Wen-tsang (鄭文燦) told a press conference yesterday.
Cheng said Taiwan's democratization was led by its people, not an authoritarian leader like Chiang Ching-kuo.
"From the White Terror to democratic reform, from the authoritarian age to openness, many Taiwanese shed blood, sweat and spent their young years fighting for democracy and freedom. Many people lost their lives or were jailed in political trials, but Ma ignored these facts and attributed the nation's achievements to Chiang, which is the biggest historical irony," Cheng said.
Cheng said the KMT government's worship and deification of Chiang was "unbelievable."
At a separate setting, the DPP caucus yesterday slammed ministers for missing legislative meetings to accompany Ma in attending the memorial service at Chiang's mausoleum in Touliao (頭寮).
DPP caucus whip Lee Chun-yee (李俊毅) said that Minister of Agriculture Chen Wu-hsiung (陳武雄) went to Touliao with Ma and was absent from a committee meeting.
DPP Legislator Chiu Yi-ying (邱議瑩) said Environmental Protection Administration Minister Steven Shen (沈世宏) and Council of Indigenous Peoples Minister Chang Jen-hsiang (章仁香) also went to Touliao.
Chiu said Minister of National Defense Chen Chao-min (陳肇敏), Minister of Justice Wang Ching-feng (王清峰) and acting director of the National Security Bureau Tsai Der-sheng (蔡得勝) missed a meeting to discuss allegations that a number of generals had tried to obtain promotions by bribing their superiors.
She said that Chairman of the Council for Economic Planning and Development Chen Tain-jy (陳添枝), Mainland Affairs Council Chairwoman Lai Shin-yuan (賴幸媛) and Chen Wu-hsiung were also absent from a meeting to discuss a proposal for signing an economic cooperation framework agreement (ECFA) with China.
In response to Cheng's criticism, KMT Spokesman Lee Chien-jung (李建榮) said the majority of the public remembered Chiang's incorruptible government and his daring and resolve to push the "10 major construction projects," adding that the DPP's views clearly ran counter to mainstream public opinion.
Lee Chien-jung quoted Ma as saying that "there has never been a perfect man throughout history, but as Chiang set Taiwan on the path to free democracy and prosperity, we must express our highest appreciation and gratitude [to him]."
He also said that recent opininon polls showed that in the eyes of the public, Chiang was the leader who, among all of Taiwan's political figures, had made the greatest contribution to the country.
He said that Chiang's achievements outweighed his errors and he was saddened that the DPP did not attend the ceremony.
ADDITIONAL REPORTING BY CNA
Comments will be moderated. Keep comments relevant to the article. Remarks containing abusive and obscene language, personal attacks of any kind or promotion will be removed and the user banned. Final decision will be at the discretion of the Taipei Times.