Dozens fined for smoking violations
FUMING A store owner who was fined said the government was stealing his money, while a quarter of calls to the John Tung Foundation were protests or four-letter words
The first day of new regulations on smoking in public places yesterday saw dozens of tickets issued for violations against the Tobacco Hazard Prevention and Control Act (菸害防制法) at several locations around the nation, including Taipei City, Taipei County, Keelung City, Hsinchu County, Taichung City, Hualien County, Changhua County and Kaohsiung City.
The new act bans smoking in indoor public places designed for more than three people and requires business owners to display no-smoking signs. Infractions result in fines of between NT$10,000 and NT$50,000. Individuals found smoking in smoke-free facilities are fined between NT$2,000 and NT$10,000.
By 3:30pm yesterday, health bureaus in 25 counties and cities had inspected 4,953 establishments and found that 22 failed to meet requirements. Inspections of 592 establishments selling tobacco products found four that did not meet requirements.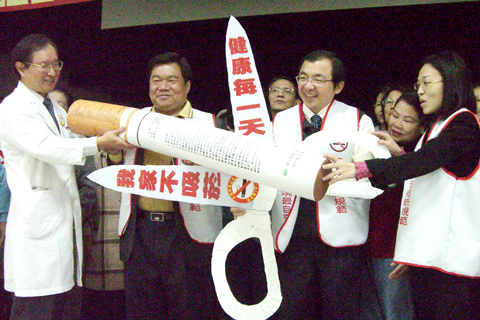 Members of a community health association in Kaohsiung County's Linyuan Township cut a representation of a cigarette in half at a ceremony at Chienyu Hospital yesterday.
PHOTO: CNA
Most cases — five out of seven — of people breaking the new rules occurred in Internet cafes.
In Taipei County, a hotpot restaurant was fined after placing an ashtray in front of the building, while a film-developing store was also fined for failing to place a no-smoking sign at the front of its premises.
The owner said the government was "stealing [his] money," adding that had the government given him a sticker or sign he would be in the wrong for not putting it up, but the government had no right to ask him to buy a sign.
In Keelung City, a taxi driver was issued a ticket for smoking in front of a hospital emergency room. The driver, who will have to pay a fine of between NT$2,000 to NT$10,000, said he did not realize that the open space outside the hospital was also considered a smoke-free zone.
In Central and Southern Taiwan, a Changhua County convenience store was fined NT$10,000 for openly displaying cigarette products.
Tainan City, which had already passed local anti-smoking regulations, added historical sites, parks and malls to the list of places where smoking is banned.
In the East, the Hualien Bureau of Health fined a coach company and an Internet cafe. Both establishments were found to have ashtrays available for use and the ashtray in the Internet cafe even had a cigarette butt in it. The businesses will each be fined at least NT$10,000.
The owner of the Internet cafe argued that the cigarette butt was from a cigarette smoked before the ban came into effect and that his staff had forgotten to put it away, but he was still fined for "an obvious violation of the new act" by the inspectors.
Taitung County issued 10 warnings to businesses that may have violated the new regulations. A hotel placed three trash cans with ashtray tops next to its elevators, arguing that they were garbage bins. Nine eateries and karaoke bars failed to display no-smoking signs, with the owners all claiming they had put the signs up but that they had been "blown away by the wind."
In Taipei City yesterday, health bureau officials issued a ticket to a hotpot restaurant for failing to display no-smoking signs during a citywide inspection of infractions of the new regulations.
The city government would allow the violator to appeal before fining the owner between NT$10,000 and NT$50,000, Taipei City's Health Department said.
Allen Chiu (邱文祥), commissioner of the department, said the department would hand fines to violators according to the regulations, but would also give them an opportunity to explain the infraction.
"Some parts of the regulations are vague. For example, smoking inside hospitals is banned, but we don't know whether or not smoking in the outdoor area of a hospital's grounds is illegal," he said yesterday during an inspection around Taipei Railway Station.
The city government encouraged the public to report any violations of the act and said it would give 5 percent of the fines to those reporting violations as a reward, Chiu said.
Those who want to report violations should take photos of violators and provide detailed information, such as a name, time, date and location, he said.
Chang Kang-hsin (張康興), a Taipei City Health Department inspector, acknowledged that it would be difficult for the department to confirm the identity of violators without their names.
"I think most of the monetary rewards will go to those who report someone they know, such as a coworker or friend," he said.
Chang said the inspectors would discuss the act with the central government and seek to implement it more thoroughly.
Meanwhile, Taiwan Taoyuan International Airport yesterday shut down 16 smoking rooms inside its terminals.
The action makes the airport one of only a few in the world that completely bans smoking inside its terminals.
To execute the policy, the Taoyuan International Airport Office has prepared several complementary measures, including increasing the sensitivity of smoke detectors and allocating an outdoor area away from the entrance to the terminal for smokers.
They also sent notices to all airlines asking them to inform passengers arriving from overseas about the new regulations.
Duty-free shops inside the terminal were also asked to remove tobacco-related products from displays and take down all tobacco advertisements.
Airport director Lee Tsan-huang (李燦煌) told the Taipei Times yesterday that it had invited health bureau officials from the Taoyuan County Government on Saturday to ensure that the terminal had no potential violations of the new rules.
The cigarette butt and ash cans that were originally placed at the entrances to the terminals were all removed following instructions from health bureau officials, he said.
Lee said that they were told that passengers were not allowed to smoke within 5m of the entrance.
Asked if they would make any accommodating measure for transit flight passengers who might have to stay inside the terminal for many hours, Lee said they were unable to do anything about it because they would get penalized if they allowed those passengers to smoke.
Meanwhile, domestic airlines are no longer allowed to display any tobacco-related products in their on-board shops.
Not everyone was happy about the ban, though.
A spokesman from the anti-smoking John Tung Foundation said: "We have received more than 200 phone calls, a quarter of them were protests or simply four-letter words."
Comments will be moderated. Keep comments relevant to the article. Remarks containing abusive and obscene language, personal attacks of any kind or promotion will be removed and the user banned. Final decision will be at the discretion of the Taipei Times.