Chinese pandas arrive at Taipei Zoo
ENTRAPMENT Tuan Tuan, the male panda of the two, entered a quarantine cell after following a trail of sliced apples, which handlers said was his favorite thing to eat
Two giant pandas made a trip from Sichuan Province, China, to their new home in Taiwan yesterday. Tuan Tuan (團團) and Yuan Yuan (圓圓), both four years old, arrived at Taiwan Taoyuan International Airport at 5:02pm.
The pandas, whose Chinese names, when put together, mean "to reunite," were offered to former Chinese Nationalist Party (KMT) chairman Lien Chan (連戰) during his visit to China in May, 2005.
The pair were selected from 23 panda cubs early in 2006 after an eight-month process. China claimed the names were decided by a public poll that received more than 100 million votes from the Chinese people.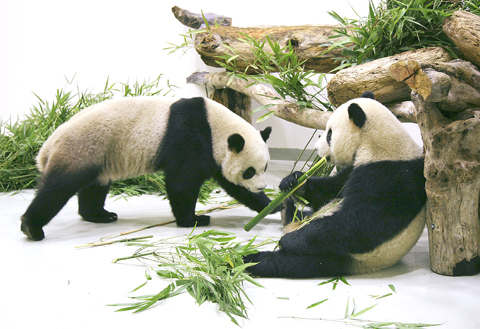 Tuan-tuan and Yuan-yuan, names that together mean "reunion" in Chinese, arrive at their new home at Taipei City Zoo yesterday.
EVA Air (EVA,長榮航空) decorated the cabin of the plane used for yesterday's charter flight with posters of pandas. Meals offered on board also were designed in patterns of pandas.
Officials from the Bureau of Animal and Plant Health and Inspection and Quarantine boarded the aircraft after it landed at the airport and conducted a preliminary inspection.
While some of the officials reviewed documents, others inspected the pandas and bamboo brought from China. Chinese caretakers carried three cases of bamboo, each weighing 75kg.
"Our inspectors took [the pandas'] temperature and inspected their eyes and excrement," said Shen Guo-san (沈國三), director of the bureau's Hsinchu office.
The two pandas were then transported to Taipei City Zoo in a temperature-controlled truck, escorted by police cars. They reached their new home at around 7:30pm.
Upon arrival, the bamboo was unloaded, washed and used to line a quarantine cell for the animals.
Tuan Tuan, the male panda, entered the cell following a trail of sliced apples, which handlers said was his favorite food.
"They are shy in an unfamiliar environment," said the zoo's top veterinarian, Jason Chin (金仕謙). In addition to 6kg of imported bamboo, another 6kg of Taiwanese bamboo was put in the cell, Chin said.
A few minutes later, Yuan Yuan, a female, joined her partner and entered the cell. The pair paced back and forth for more than 30 minutes, after which Yuan Yuan began munching on a piece of apple and both pandas began eating the Taiwanese bamboo.
The animals will kept in quarantine for at least 30 days before being displayed to the public, Chin said.
"If everything — including the health examination and diet evaluation — goes well, the animals will have their last day of quarantine on the 23rd of next month," he said.
In the meantime, a camera will be kept in the cell to provide a video feed so the public can view the pandas, he said.
"Every day at noon, a video [with selected footage] from the pandas' previous day will be uploaded onto the zoo's Web site," he said.
When asked when the pair might produce their first cub, Chin said that Yuan Yuan had been in heat last year, but "the zoo will wait for Tuan-tuan to become sexually mature in the next two years before letting the pair mate."
Responding to reporters' questions on whether the pandas' names would be changed, Chin said: "We respect these individuals, who have been called these names for four to five years. They have also learned to respond to these names ... At the moment, there are no plans to change their names."
The pandas were taken from their enclosures at the Ya'an breeding center in Sichuan Province before dawn yesterday.
The keepers led the pandas into metal crates, locked them and handed them bamboo sprouts as a farewell gift.
Once the animals had been loaded onto a truck, children dressed as pandas performed a dance in a small ceremony bidding farewell to the pandas.
"I'm sad to see the pandas go, but I'm happy that Taiwanese children can experience the cute animals," said Guo Jie, an 18-year-old student at a technical college.
The pandas were transported to Chengdu to board a Taipei-bound jet along with some 20 Chinese animal experts and their two original keepers, who will stay in Taiwan for two months.
Zheng Lizhong (鄭立中), deputy director of China's Taiwan Affairs Office, had said before the pandas' departure: "Tuan Tuan and Yuan Yuan will sow the seeds of peace, solidarity and friendship on Taiwan's soil."
Also See: PANDA DIPLOMACY: ANALYSIS: Pandas part of Beijing's 'internalization' plan
Comments will be moderated. Keep comments relevant to the article. Remarks containing abusive and obscene language, personal attacks of any kind or promotion will be removed and the user banned. Final decision will be at the discretion of the Taipei Times.