Chinese group tours Presidential Office
Questioned by reporters as they were touring the Presidential Office yesterday, some members of a Chinese tour group said they "yearned for" democracy.
For most of their 50-minute visit, however, the tour group tried to keep a low profile and avoided the pursuing TV and newspaper reporters.
Their tour was the first time Chinese tourists had visited the Presidential Office.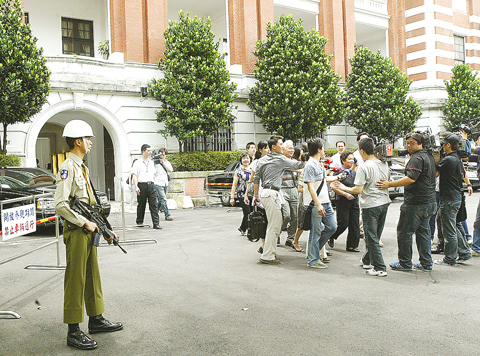 Tourists from Guangdong Province, China, visit the Presidential Office yesterday.
PHOTO: CNA
Members of the group from Guangdong Province walked through the winding corridors of the first floor of the Presidential Office and saw an architectural exhibition as well as documents of Japanese colonial governors and presidents.
The group also received memorial Presidential Office stamps.
Tsai Sheng-chin (蔡勝進), a volunteer guide, said he talked about Taiwan's democracy and how the country elects a president, its former presidents and Taiwan's governors during the Japanese colonial period.
He said he had gone out of his way to tell the Chinese tourists that the space for a photograph following that of President Ma Ying-jeou (馬英九) remained open and could be filled by anyone over 40 years old — a comment he said drew laughter from the group.
Tsai said the Chinese did not express any opinions about former president Chen Shui-bian (陳水扁).
Comments will be moderated. Keep comments relevant to the article. Remarks containing abusive and obscene language, personal attacks of any kind or promotion will be removed and the user banned. Final decision will be at the discretion of the Taipei Times.