Al-Qaeda's No. 2 urges 'purge' of Iraqis who help US
Al-Qaeda's No. 2 Ayman al-Zawahri warned of "traitors" among insurgents in Iraq and called on Iraqi Sunni Arab tribes to purge those who help the Americans in a new videotape posted yesterday on the Web.
Al-Zawahri's comments were aimed at undermining so-called "awakening councils" -- the groups of Iraqi Sunni tribesmen that the US military has backed to help fight al-Qaeda in Iraq and its allies.
Some Sunni insurgent groups have fought alongside US forces, and the US military has touted the councils as a key factor in reducing violence in regions like Iraq's Anbar Province.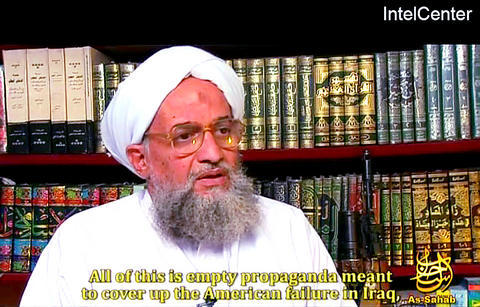 Al-Qaeda's No. 2 man, Ayman al-Zawahri, is interviewed in a new 90-minute video posted on the Internet yesterday.
PHOTO: AP/INTEL CENTER
In the 90-minute video, al-Zawahri warned of the "presence of hypocrites and traitors among the ranks of the mujahidin, working and fighting for the Americans."
The mujahidin "must throw out the bribe-taking collaborators from among their ranks, those who sold out their faith and fight under the banner of the cross. They must expose them to the Muslim world," al-Zawahri said.
"Those who support the Americans are despicable scum," he said, calling on the "noble tribes of Iraq, those that defend Islam, to stand up to this scum."
"The tribe or clan that does not cleanse itself of traitors and apostates will be remembered in history for generations as one of the collaborators and traitors," he said. "But any clan or tribe that defends Islam and crushes traitors ... will be remembered in Arab history with pride and glory."
The video was made in the form of an interview of al-Zawahri by Al-Sahab, the media arm of al-Qaeda. In it, Al-Zawahri sat in front of shelves of Islamic theology and law books, answering questions from an unseen interviewer.
Earlier this month, the Islamic State of Iraq -- the insurgent coalition in Iraq linked to al-Qaeda -- announced a new campaign against members of awakening groups.
In October, al-Qaeda chief Osama bin Laden called on Iraqi insurgents to unite and avoid dangerous "extremism" in their allegiances to their factions. Bin Laden said all groups -- including al-Qaeda in Iraq -- should admit mistakes and resolve differences. Al-Zawahri was tougher, saying that insurgents should focus on purging "traitors" rather than making accusations against the Islamic State of Iraq.
Also See: UK leaves chaos behind in Basra: police
Comments will be moderated. Keep comments relevant to the article. Remarks containing abusive and obscene language, personal attacks of any kind or promotion will be removed and the user banned. Final decision will be at the discretion of the Taipei Times.