Iran hails report as Israel, US call for new sanctions
Iranian President Mahmoud Ahmadinejad declared victory over the US yesterday after a US intelligence report contradicted the Bush administration's charges that Tehran was actively seeking a nuclear weapon.
The report would be a factor in deciding whether further UN sanctions on Iran were needed, Russian Foreign Minister Sergei Lavrov said. Washington has been pushing for new sanctions in the face of resistance from Russia and China.
Ahmadinejad also said that Iran would press ahead with its disputed nuclear program, which Tehran says only has peaceful civilian aims.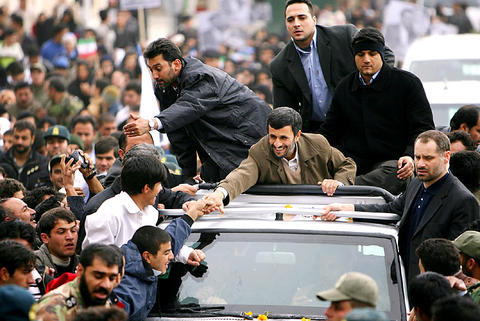 Iranian President Mahmoud Ahmadinejad, center, greets his supporters in Ilam Province, Iran, yesterday.
PHOTO: AP
"Today, the Iranian nation is victorious but you [the US] are empty-handed," Ahmadinejad said in a televised speech to a rally in the western Iranian city of Ilam.
In response to the National Intelligence Estimate (NIE), which said Iran had halted a nuclear weapons program in 2003, US President George W. Bush said on Tuesday Iran remained a danger because it was mastering technology with a military use.
The NIE report said Iran was continuing to develop the technical means that could be applied to producing weapons.
Bush's comments were echoed by US Secretary of State Condoleezza Rice.
It would be a "big mistake" to ease any diplomatic pressure on Iran despite the new US findings, she said on Tuesday.
"It doesn't mean you should take the pressure off," she said. "It puts a premium on diplomatic efforts."
Rice said she wants officials from other countries to try to understand the nuance of the new US intelligence assessment.
Bush ruled out any change in policy, telling a White House news conference on Tuesday that sanctions were still needed to force Iran to stop uranium enrichment. France and Britain also said pressure must be maintained on Tehran.
"It is the very strong view of the administration that the Iranian regime remains problematic, a dangerous regime," Rice said during a visit to Addis Ababa, Ethiopia.
Bush refused to rule out military action if diplomatic efforts failed to resolve the dispute and Washington said it would continue pressing for a third round of UN sanctions unless Iran halts uranium enrichment.
Ahmadinejad said Iran had no such plans for a suspension.
"If you want to start a new political game, the united Iranian nation will resist you and will not retreat one step from its program," Ahmadinejad said. "We will continue our nuclear program and we will not give it up."
The report has threatened to hinder the US push for more penalties after UN Security Council permanent member China reacted to the report by saying that "things have changed."
France and Britain, also council members, said pressure should be kept up.
Russia said the report should be taken into account when considering fresh sanctions.
"We will assess the situation on proposals for a new resolution in the United Nations Security Council on the basis of [several] factors, including the publication by the United States of data showing that Iran does not have a military nuclear program," Russian Foreign Minister Sergei Lavrov said.
Russia also had no evidence that Iran had a program to develop nuclear weapons prior to 2003, Lavrov was quoted as saying yesterday, contradicting the position of the NIE.
"We have no information that such a project existed before 2003, although American colleagues stated that the situation was exactly that," Lavrov said, Interfax reported.
For its part, Israel said it would keep up its diplomatic campaign against Iran, the foreign ministry said yesterday.
Foreign Minister Tzipi Livni will travel to Brussels tomorrow to "argue in favor of hardening international sanctions against Iran" during a meeting with top diplomats from NATO member countries, a ministry spokeswoman said.
Israel wants efforts to continue despite the NIE.
"The policy of sanctions has proved effective, and continued coordinated and determined action is needed to intensify the sanctions by all means available to the international community," Livni's ministry quoted her as telling Israeli ambassadors and consuls in a briefing.
"On the basis of this accepted common denominator, we are continuing to strive against Iran's nuclear development," she said.
Israeli Defense Minister Ehud Barak said on Tuesday that although Iran may have halted its program, the Jewish state believes it has probably since restarted it. He did not elaborate.
Comments will be moderated. Keep comments relevant to the article. Remarks containing abusive and obscene language, personal attacks of any kind or promotion will be removed and the user banned. Final decision will be at the discretion of the Taipei Times.