Site reveals unusual burials in ancient Puerto Rico
US and Puerto Rican archeologists say they have uncovered what they believe to be one of the most important pre-Columbian sites found in the Caribbean, containing stones etched with ancient petroglyphs and graves that reveal unusual burial methods.
The stones at the site in southern Puerto Rico form a large plaza measuring 40m by 50m that could have been used for ball games or ceremonial rites, Puerto Rican Historic Conservation Office Director Aida Belen Rivera said.
The petroglyphs include the carving of a human figure with masculine features and frog legs. Archeologists believe the site may have been created by the Taino and pre-Taino cultures that inhabited the island before European colonization.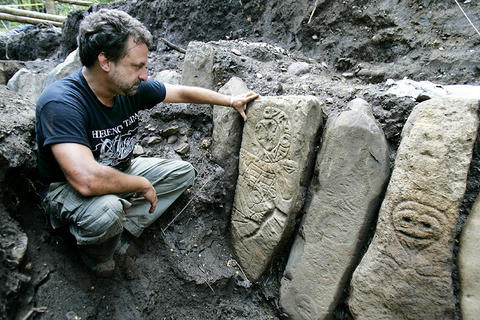 Archeologist Hernan Bustelo shows stones etched with ancient petroglyphs in Ponce, Puerto Rico, on Tuesday.
PHOTO: AP
The plaza could contain other artifacts, dating from 600 to 1500, said Rivera, whose office is receiving general reports about the findings.
Archeologists also uncovered several graves where bodies were interred face-down with the legs bent backward at the knees -- a type of burial not previously recorded in the region.
The site was discovered while land was being cleared for construction of a dam to control flooding in the area.
Experts have called for a halt to the excavation.
Jose Oliver, a Latin American Archaeology lecturer at University College London, called the discovery one that archeologists come across every 50 or 100 years -- if they are lucky.
The lead investigator for US-based New South Associates, the archeological and historical consulting firm leading the excavation, said a backhoe that scrapes centimeters at a time had broken some bones at the site, but that the same would have occurred through manual excavation.
However, the company switched to slower and more detailed excavation methods about two weeks ago, after the site's significance became clear and the US Army Corps of Engineers announced it would preserve the site, investigator Chris Espenshade said.
Experts have suspected since 1985 that the area might yield indigenous artifacts because of its proximity to other archeological sites.
The Tainos were a subgroup of the Arawakan Indians, native to the Caribbean islands.
They migrated to the Caribbean from Mexico's Yucatan centuries before European colonizers arrived.
Four years after Columbus landed in Hispaniola in 1495, one-third of the 300,000 indigenous population was killed or forcibly exported.
Half a century later, the Tainos there became extinct.
Comments will be moderated. Keep comments relevant to the article. Remarks containing abusive and obscene language, personal attacks of any kind or promotion will be removed and the user banned. Final decision will be at the discretion of the Taipei Times.