Premier dismisses nuclear allegations
ACCUSED KMT Legislator Su Chi claimed that an unnamed DPP central executive committee member had told him the president was looking to develop nuclear weapons
Premier Chang Chun-hsiung (張俊雄) yesterday dismissed allegations by Chinese Nationalist Party (KMT) Legislator Su Chi (蘇起) that the Democratic Progressive Party (DPP) government was developing nuclear weapons to confront China's military threat and as a bargaining chip to negotiate with the US.
Chang made the rebuttal on the legislative floor during a question-and-answer session with Su.
Su said that President Chen Shui-bian (陳水扁) had told the Ministry of National Defense (MND)-affiliated Chungshan Institute of Science and Technology to develop a nuclear weapon.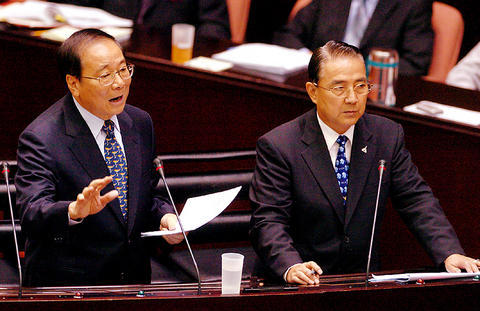 Premier Chang Chun-hsiung, left, and Minister of National Defense Lee Tien-yu yesterday answer questions in the legislature. In response to allegations by Chinese Nationalist Party (KMT) Legislator Su Chi, they said Taiwan is a peace-loving country that will never produce, develop or obtain nuclear weapons.
PHOTO: LIAO CHEN-HUEI, TAIPEI TIMES
He also said that nuclear experts and a former national defense minister from a country equipped with nuclear weapons had been invited to discuss the issue.
Besides developing a nuclear weapon, Su said Chen was also pushing for the mass production of the locally developed Hsiung Feng II-E cruise missile.
political asylum
Su also said that Chen would seek political asylum in the US to protect himself from possible imprisonment over his role in the special allowance case when his presidential term comes to an end next year.
"With the development of the Hsiung Feng II-E and nuclear weapons, we are becoming another North Korea," said Su, a senior KMT member of the legislature's National Defense Committee.
Su said that he had obtained the information from a DPP Central Executive Committee member but he did not name the individual, nor did he provide proof to back his claims.
Dismissing Su's allegation, Chang insisted that the country had no plan to develop a nuclear weapon.
"This is a serious accusation. As the premier, I assured you that Taiwan is a democratic country with no plans or intention to develop nuclear weapons," the premier said.
"Taiwan will not produce, develop, acquire or use nuclear weapons," he said.
Su also said that the MND had plans to produce 245 Hsiung Feng II-E missiles and had requested NT$34.6 billion (US$1.06 billion) over eight years from the classified portion of the ministry's budget.
Earlier this week the ministry sought NT$3.8 billion for the missile project for next year, but lawmakers cut the budget by one-third, froze another one-third and passed the remainder.
range
The missiles are believed to have a range of between 600km and 1,000km, putting Hong Kong and Shanghai within their range, depending upon the type of engine used.
"The real problem, however, is not the nuclear weapon or the missiles," Su said.
"The real problem is that we have an abnormal president. He is going to use those weapons for his own interests," he said.
Minister of National Defense Lee Tien-yu (李天羽) said that the Hsiung Feng II-E is still in the development stage.
Lee said that the missiles are being developed for defensive purposes, rather than with any intention of starting a war.
Comments will be moderated. Keep comments relevant to the article. Remarks containing abusive and obscene language, personal attacks of any kind or promotion will be removed and the user banned. Final decision will be at the discretion of the Taipei Times.