Brazil's worst air disaster claims at least 195 lives
DEADLY LANDING Dozens of bodies were pulled from the wreckage yesterday as the president declared three days of national mourning
Rescue crews pulled dozens of bodies yesterday from an airliner that crashed and burst into flames at a Sao Paulo airport, as the number of people feared dead rose to 195 in what would be Brazil's worst air disaster.
The Tam Linhas Aereas (TAM) Airbus-320 was en route to Brazil's busiest airport from Porto Alegre in the nation's south on Tuesday when it skidded on the rain-slicked runway, barreled across a busy road and slammed into a gas station and TAM building.
Yesterday the airline raised the number of people aboard the plane by four to 180 and officials said the chance of finding survivors was near zero.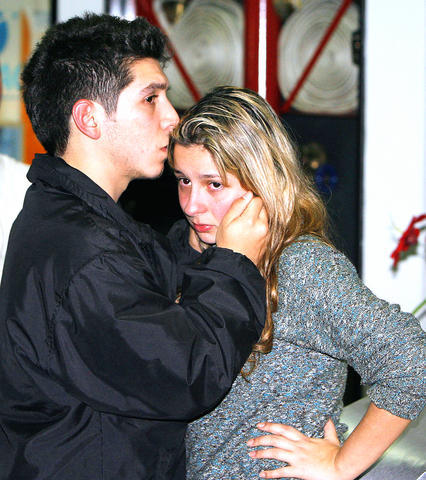 Relatives of passengers on the TAM jet that crashed in Sao Paulo on Tuesday wait for information at the Salgado Filho airport in Porto Alegre, Brazil.
PHOTO: AP
Sixty-six badly charred bodies had been pulled from the wreckage, Globo News TV reported.
A Sao Paulo public safety official who spoke on condition of anonymity because of department policy said 15 bodies had been recovered from the ground.
Brazilian President Luiz Inacio Lula da Silva declared three days of national mourning following the nation's second major air disaster in less than a year.
Last September, a Gol Aerolinhas Inteligentes SA Boeing 737 and an executive jet collided over the Amazon rain forest, killing 154 people.
Emergency workers had earlier recovered the TAM airliner's "black box" flight data recorder, according to the Web site of O Estado de Sao Paulo newspaper.
Presidential spokesman Marcelo Baumbach said no cause would be immediately released because it was premature to do so.
The runway at Sao Paulo's Congonhas airport has been repeatedly criticized for its short length, and two planes slipped off it in rainy weather just a day earlier, though no one was injured in either incident.
The airport is ringed by heavily populated neighborhoods.
The TAM flight was landing on Congonhas' 1,939m long Runway 35, which was recently resurfaced but not grooved, which would provide better breaking in rainy conditions.
There were plans to regroove the surface by the end of this month.
Because of its short length, Congonhas is known among pilots as the "aircraft carrier." They are instructed to touch down in the first 300m of runway, or do a go-around if they overshoot the immediate landing zone.
In France, Airbus said it was sending five specialists to Brazil to help investigate the crash.
The company will provide "full technical assistance" to France's bureau for accident investigations and to Brazilian authorities.
The single-aisle, twin-engine plane, delivered in 1998, had logged about 20,000 flight hours in some 9,300 flights, Airbus said.
Eyewitness Elias Rodrigues Jesus, a TAM worker, said he was walking near the site when he saw the jet explode in between a gas station and a Tam building.
"All of a sudden I heard a loud explosion, and the ground beneath my feet shook," Jesus said. "I looked up and I saw a huge ball of fire, and then I smelled the stench of kerosene and sulfur."
Sao Paulo state Governor Jose Serra said the hopes of finding any survivors in the plane "are practically nil," since the temperature inside the plane reached 1,000oC.
TAM flight 3054 was en route to Sao Paulo with 170 passengers and six crew members, the company said in a statement.
A Brazilian federal court in February of this year briefly banned takeoffs and landings of three types of large jets at the airport because of safety concerns at Congonhas airport, which handles huge volumes of flights for the massive domestic Brazilian air travel market.
But an appeals court overruled the ban, saying it was too harsh because it would have severe economic ramifications, and that there were not enough safety concerns to prevent the planes from landing and taking off at the airport.
Comments will be moderated. Keep comments relevant to the article. Remarks containing abusive and obscene language, personal attacks of any kind or promotion will be removed and the user banned. Final decision will be at the discretion of the Taipei Times.