Putin hoping for `good, friendly' talks with Bush
Russian President Vladimir Putin said he hoped for "good ... friendly" talks with US President George W. Bush at a meeting yesterday in the US.
"I hope that the dialogue with this person with whom I've formed good, I would say friendly relations, will take place in exactly that spirit," Putin was quoted by Interfax as saying ahead of the talks with Bush.
"Otherwise I wouldn't be going and wouldn't have received the invitation," he said.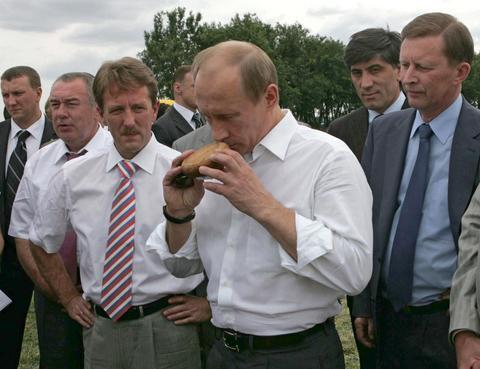 Russian President Vladimir Putin, center, smells bread in Rostov-on-Don, Russia, on Saturday.
PHOTO: EPA
Putin spoke ahead of his departure for the Bush family home at Kennebunkport, Maine, for informal talks on tensions between the countries, notably missile defense, the future status of Kosovo and US criticism of Russia's democracy record.
With relations between the two countries at a post-Cold War low, the two leaders were due to hold two days of talks with Maine lobster meals at the Bush family seaside vacation home.
The two held out the promise of a new era in relations when they first met in 2001 but the quarrels have gradually grown.
Putin has regularly criticized what he calls US efforts to dominate the world. Bush has been increasingly strident in assailing the state of democracy in Russia under Putin.
Putin opposed the US invasion of Iraq in 2003 and now Western efforts to allow Kosovo to move toward independence from Serbia under UN supervision.
Russia particularly sees a planned US missile defense system in Poland and the Czech Republic as a threat -- despite Washington's insistence that the system is targeted at possible attacks from a rogue state such as Iran.
"The stationing of new military devices in Europe will lead to a debalancing of a very fragile balance of security," Kremlin spokesman Dmitry Peskov told foreign journalists on Friday.
"If the US is deploying a radar in the Czech Republic this radar will be aimed against us, because there won't be any other targets for that radar," Peskov said.
But he brushed aside suggestions the two countries were sliding toward a new Cold War.
"Presidents facing a new Cold War don't invite each other to their fathers' houses," the Kremlin spokesman argued.
Both sides say not to expect any formal agreements out of the summit at the Bush holiday home overlooking the Atlantic, where former president George Bush is also vacationing. The disagreements are too strong for that, experts say.
The White House emphasized that areas of cooperation between the countries, such as stifling Iran's and North Korea's nuclear ambitions, could also be part of discussions.
But their time together -- less than 24 hours over yesterday and today -- could at least serve to strengthen their personal rapport.
Bush wanted to meet in an informal setting "so that the two leaders could interact more informally, and that's what the meeting at Kennebunkport will facilitate," a senior Bush administration official said.
"So it is not a formal summit where you should be looking for communiques, joint statements, major initiatives -- that's not its purpose," the official said.
Kennebunkport residents have branded the Bush-Putin meeting "the lobster summit" -- a reference to the local specialty, which will be on the menu when the leaders dine.
Comments will be moderated. Keep comments relevant to the article. Remarks containing abusive and obscene language, personal attacks of any kind or promotion will be removed and the user banned. Final decision will be at the discretion of the Taipei Times.