Chen to grant pardon to rice bomber
SPEEDY REACTION The president said Yang Ju-men deserved `compassion' and was unlikely to break the law again. One official said he could be free by this weekend
President Chen Shui-bian (陳水扁) said yesterday that he would pardon convicted "rice bomber" Yang Ju-men (楊儒門) even though Yang did not meet the requirements set by the recently passed amnesty law.
Yang's situation deserved compassion, Chen said, adding that he had instructed the appropriate agencies to handle the matter.
Chen made the announcement in Keelung, where he addressed members of the Navy's 131 Fleet during a luncheon to celebrate the Dragon Boat Festival.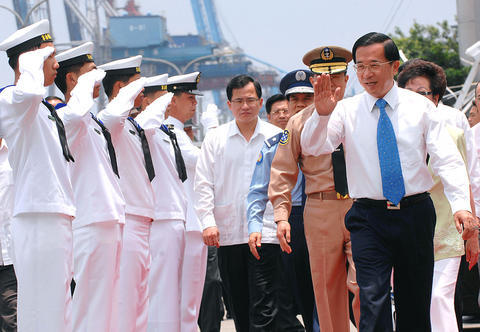 President Chen Shui-bian, accompanied by Vice President Annette Lu, behind Chen, waves while inspecting a navy base in Keelung yesterday. The president announced that he would pardon convicted rice bomber Yang Ju-men.
PHOTO: SAM YEH, AFP
The president said Yang had served several years of his sentence and had behaved well, and he did not think Yang would break the law again.
Chen said he made the decision to grant a pardon after careful discussions with Vice President Annette Lu (呂秀蓮) and officials from the relevant agencies.
The vice president was among the officials who accompanied Chen on his visit to the fleet.
BACKGROUND
Yang was sentenced in 2005 to seven-and-a-half years in jail and was fined NT$100,000 for planting a total of 17 bombs in parks, telephone booths and trains beginning in November 2003.
Two of the devices exploded, but caused no injuries and only minor damage. Yang was arrested in November 2004.
Small amounts of rice had been mixed into the homemade explosives, which is where Yang's sobriquet came from.
During his trial Yang said that he had resorted to the bombing campaign to attract the government's attention to the plight of local farmers after the nation's accession to the WTO in 2002.
In January last year, the Taiwan High Court reduced Yang's sentence to five years and 10 months, saying his motive had not been malicious.
On April 24 Chen proposed an amnesty plan to commemorate the 60th anniversary of the 228 Incident and the 20th anniversary of the lifting of martial law.
Acting on Chen's directive, the Cabinet drafted a commutation bill and referred it to the legislature for approval.
AMNESTY LAW PASSED
Lawmakers passed a pan-blue version of the bill last Friday that would grant amnesty to prisoners serving sentences of 18 months or less. The legislature also passed a non-binding resolution the same day asking the president to pardon Yang.
Deputy Minister of Justice Lee Chin-yung (李進勇) told a news conference yesterday afternoon that Yang could be released as soon as this weekend.
Lee said the ministry was drawing up a proposal for a presidential pardon for Yang, and that the proposal would be sent to Chen for approval this week.
QUICK RELEASE
Yang would leave prison within 24 hours of Chen approving the bill, Lee said.
Yang had been serving his sentence in Taipei Prison, but was transferred to a prison in Hualien earlier this year because of his good behavior, Lee said.
He said Yang worked on a prison farm.
Lee said Yang was informed at noon yesterday that he was likely to receive a presidential pardon, but reacted rather calmly and did not appear happy.
Yang's grandfather in Changhua County, however, was visibly moved by the news and told reporters he was very happy to hear that Yang would be home soon.
Yang's father said he would not believe that Chen had granted a pardon until his son returned home.
Democratic Progressive Party (DPP) Legislator Hsu Kuo-yung (徐國勇), a former lawyer, praised the president's decision yesterday.
`Conscience'
"Although Yang's approach was wrong, it was correct to grant Yang a pardon because he is a `criminal of conscience,'" Hsu said. "It is right for the government to inspire his conscience [by amnestying him] after punishing him for his actions."
DPP caucus whip Ker Chien-ming (柯建銘) said the presidential pardon was a positive response to the consensus reached in the legislature crossed party lines and that was in line with the public's expectations.
Jeopardizing security
Kaohsiung prosecutor Chang Hsueh-ming (張學明), however, said he did not support the a pardon for Yang because his behavior had jeopardized public security and law enforcement authorities had spent so much time and resources to break the case.
"Others might imitate Yang if they are dissatisfied with something," Chang told the Taipei Times in a telephone interview.
Because Yang's actions should not be encouraged, the ministry was likely to suggest that Chen pardon Yang but keep his criminal conviction on the books, Lee said.
Additional reporting by Flora Wang
Comments will be moderated. Keep comments relevant to the article. Remarks containing abusive and obscene language, personal attacks of any kind or promotion will be removed and the user banned. Final decision will be at the discretion of the Taipei Times.