Iraqi, UK forces fight fierce battle with Shiite militia
British and Iraqi troops fought intense battles against Shiite militants, allegedly backed by Iran, in southern Iraq yesterday, killing at least 30 people, the US military and Iraqi police said.
Fierce fighting erupted in Maysan Province when joint raids by British and Iraqi forces took on militiamen in and around the provincial capital of Amara, US and British military officials said.
Troops called in air support after coming under fire in the two southern towns of Amara and Mujar al-Kabir, the US military said.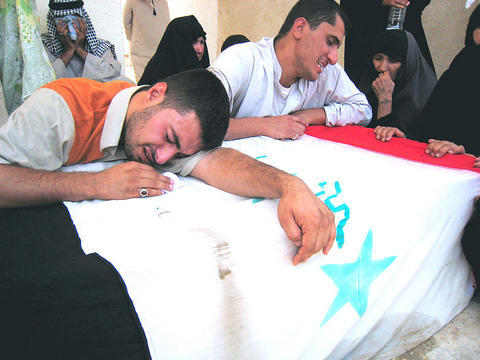 People mourn over the coffin of a relative killed in overnight clashes in the city of Amarah in southern Iraq during a funeral in the holy Shiite city of Najaf yesterday.
PHOTO: AP
"Coalition forces killed at least 20 terrorists" in the Maysan raids, it said, adding that six more were wounded and one was detained.
But Maysan provincial council member Latif al-Timimi said 16 "residents" were killed and a woman and child were among 14 wounded.
"Most of the dead were killed in bombings as they were sleeping on the roofs of their homes. Those killed were residents and not linked to any political party," he said.
Timimi said the council decided at an emergency meeting to demand an apology from British and Iraqi forces and to suspend work for three days.
Amara health department director Jameel Mohammed said the local hospital had received 16 bodies and admitted 37 wounded people.
British military spokesman Major David Gell confirmed the operation but gave no details.
The US military insisted those killed in Maysan were "terrorists" responsible for smuggling explosively formed penetrators from Iran to Iraq and for bringing Iraqi fighters to Iran for training.
The military has regularly charged that explosively formed penetrators, capable of destroying even heavily-armored vehicles, are manufactured in Iran and smuggled to armed groups in Iraq to fight US-led troops.
"Coalition forces came under heavy small-arms fire and rocket-propelled grenade attacks in both Amara and Mujar al-Kabir" before calling in air support, it said. "Intelligence reports indicate that both Amara and Mujar al-Kabir are known safe havens and smuggling routes for secret cell terrorists who facilitate Iranian lethal aid."
"Reports further indicate that Iranian surrogates, or Iraqis that are liaisons for Iranian intelligence operatives into Iraq, use both Amara and Mujar al-Kabir as safe haven locations," it said.
British forces pulled out of Amara in August last year, handing over security to Iraqi forces. Since then the town has seen frequent clashes between militamen and security forces.
Comments will be moderated. Keep comments relevant to the article. Remarks containing abusive and obscene language, personal attacks of any kind or promotion will be removed and the user banned. Final decision will be at the discretion of the Taipei Times.