Beast of Linkou's latest victim is an illegal migrant
Taipei County officials yesterday said stray dogs could have been responsible for the deaths of dozens of goats in Linkou Township (林口) that residents had blamed on a mysterious "beast." The "beast" may now also be responsible for the deportation of a witness to the attacks.
Animal experts used a cage baited with cooked chicken yesterday to catch a white dog near a farm.
Farm owner Huang Jung-ko (洪榮科) also witnessed two stray dogs attacking his goats yesterday.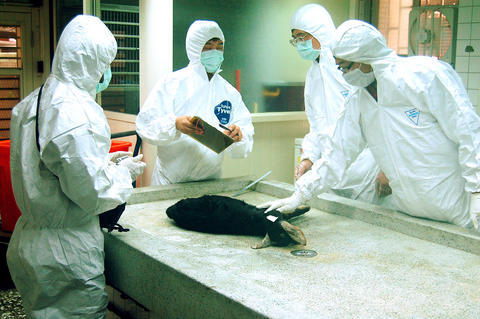 An injured goat is treated at a veterinary hospital in Linkou Township, Taipei County, yesterday afternoon. The goat was a victim of a recent spatd of attacks on goats in the area, reportedly by stray dogs.
PHOTO: HO YU-HUA, TAIPEI TIMES
"I arrived at the farm at 4am in my car. I blew my horn as a warning and immediately saw a black dog running away from the pen. When I went inside, I saw another black dog attacking my goats and I used a sickle to scare it off," Huang told reporters yesterday.
He said 14 goats were killed and seven injured in the attack.
In an attack on Friday, eight goats were killed and another two devoured, with only parts of their skeletons and some organs left.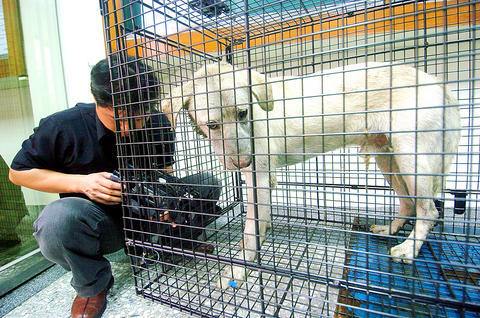 A stray dog that officials say was responsible for killing goats in Linkou Township, Taipei County, stands in a cage at the Taipei County Animal Disease Control Center. The dog was caught near a farm yesterday.
PHOTO: LO PEI-DER, TAIPEI TIMES
Altogether, Huang has lost 24 of his 100 goats.
County police received a report on Friday from Huang, who said that earlier that day some of his goats had been mauled to death by "some large feline."
An Indonesian woman working at a farm who told police she had witnessed the attack said she had just entered a goat pen to feed the animals when "a big animal" roared at her, whereupon she fell down the stairs.
Police said yesterday that the woman was in the country illegally and would soon be deported. Her employer will be fined, they said.
Fridays' incident triggered a wide search in a mountainous area of Linkou for the mysterious killer.
"Stray dogs -- not a large feline -- could have been responsible for the killings," director of the Taipei County Government's Animal Disease Control Center Tsai Tsung-yi (蔡宗益) told reporters yesterday.
He said three dogs -- a white one and two black ones -- were suspected of having attacked goats.
Tsai said county authorities would soon launch a campaign to catch stray dogs in the area to ensure the security of residents.
On Saturday morning, Taipei County Commissioner Chou Hsi-wei (周錫瑋) led police officers and animal experts on a search in the mountainous area around the farm.
County officials said they hoped to catch the animal(s) alive and were equipped with a cage, tranquillizer guns and blowpipes.
Nearby residents told reporters they would not venture outside their houses until the authorities had captured the creatures responsible for the attacks.
Comments will be moderated. Keep comments relevant to the article. Remarks containing abusive and obscene language, personal attacks of any kind or promotion will be removed and the user banned. Final decision will be at the discretion of the Taipei Times.