Rival marches draw thousands in Hong Kong
Nearly 60,000 people took to the streets of Hong Kong yesterday in a pro-democracy march on the ninth anniversary of the territory's return to Chinese rule, according to march organizers.
Roads were closed for the colorful annual event as a huge crowd holding aloft banners demanding universal suffrage snaked its way across the city center to central government offices.
Police, who usually underestimate turnouts for pro-democracy events, said 19,000 set out on the march but organizers said a total of 58,000 people took part.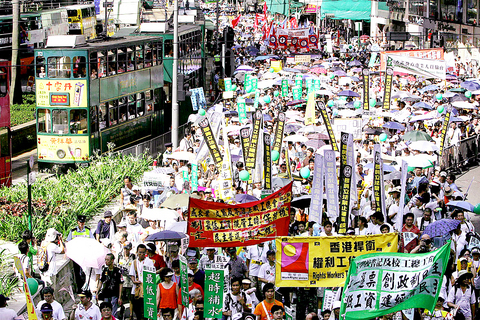 Tens of thousands of people attend a pro-democracy march in Hong Kong yesterday to mark the ninth anniversary of the territory's return to Beijing's rule.
PHOTO: AFP
The turnout was clearly greater than the 20,000 to 30,000 who took part last year but a long way short of the 500,000 who attended the first of the July 1 marches in 2003 and 2004.
A rival march organized by pro-China groups yesterday morning also attracted a large turnout with organizers estimating that 50,000 participated, while police put the figure at 40,000.
The pro-democracy march was given added momentum by the presence of former deputy leader Anson Chan (陳方安生), who has been issuing public appeals since last weekend for people to attend.
Chan said the people of Hong Kong are hungry for democracy and Tsang has not done enough to fight for it.
Speaking at the start of yesterday's march, she called on the government to map out a plan of action for democracy, dismissing the idea that people were more interested in prosperity than universal suffrage.
"I am glad the economy has fully recovered and people are obviously feeling very good," Chan said. "But the fact that the economy is now on a strong path doesn't mean that the voice and aspiration for universal suffrage and for democracy is any less.
"I think the two coexist very well. I would say that without democracy, one cannot really have sustained economic growth," she said.
The event celebrating the return to Chinese rule was organized by a coalition of pro-China groups. Crowds watched a show featuring performances by People's Liberation Army troops and pop stars at the Hong Kong Stadium before walking through the city center.
Comments will be moderated. Keep comments relevant to the article. Remarks containing abusive and obscene language, personal attacks of any kind or promotion will be removed and the user banned. Final decision will be at the discretion of the Taipei Times.