Corrupt commissioner's ex-wife wins Taitung vote
Chinese Nationalist Party (KMT) candidate Kuang Li-chen (鄺麗貞) yesterday won the Taitung County Commissioner by-election.
Kuang is the ex-wife of Wu Chun-li (吳俊立), a KMT member who was elected county commissioner last December, but was then suspended from his post immediately upon assuming office because of a corruption conviction.
Wu then divorced his wife, Kuang, in an attempt to sidestep restrictions preventing a commissioner from selecting a relative or spouse as deputy. Kuang then joined the KMT to run for the Taitung post.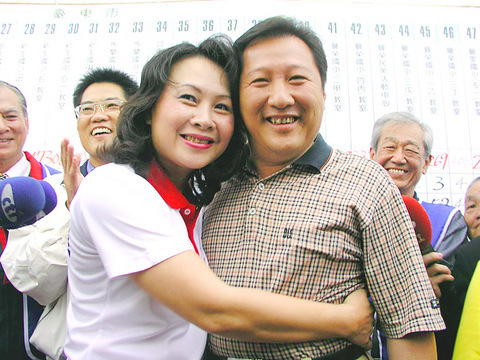 Kuang Li-chen hugs her ex-husband Wu Chun-li after winning the by-election for Taitung County commissioner yesterday.
PHOTO: HANG TSUN-WEI, TAIPEI TIMES
Kuang received 42,578 votes in yesterday's poll, triumphing over three independent candidates by a large margin. Former Taitung deputy commissioner Liu Chuan-hao (劉櫂豪) received 19,110 ballots, former Taitung mayor Lai Koon-cheng (賴坤成) received 4,765 votes and Aboriginal candidate Lofa (羅法尼耀學海) secured 966 votes.
Kuang, accompanied by Wu, yesterday evening received the congratulations of supporters at her headquarters and thanked residents.
"We won it back," she said.
Although Wu's ex-wife and the KMT won back the post, KMT Chairman Ma Ying-jeou (馬英九) has been criticized for going to the county and publicly campaigning for the ex-wife of a man who has been convicted of corruption and vote-buying.
Wu was charged with corruption while a Taitung County councilor.
In 2002, the Taitung District Court sentenced him to 16 years in prison. Mayors or commissioners found guilty of corruption by local district courts are suspended from office.
Wu has appealed the ruling.
Comments will be moderated. Keep comments relevant to the article. Remarks containing abusive and obscene language, personal attacks of any kind or promotion will be removed and the user banned. Final decision will be at the discretion of the Taipei Times.