'Journey of Peace' starts violently
As the Chinese Nationalist Party chairman departed on his visit to China, hundreds of pan-green and pan-blue supports clashed in the lobby of CKS International Airport
Despite the deployment of 3,500 law enforcement officers, violence broke out at the CKS International Airport yesterday between pan-blue and pan-green supporters when they "saw off" Chinese Nationalist Party (KMT) Chairman Lien Chan (連戰), who embarked on his eight-day trip to China.
The airport lobby became a battlefield when supporters of the Taiwan Solidarity Union (TSU) and the New Party broke through the security cordon set up at a checkpoint inside the departure area.
With eggs, water bottles, rocks and firecrackers flying, the angry mob engaged in physical clashes with each other, while buses carrying supporters were jammed in the parking lot.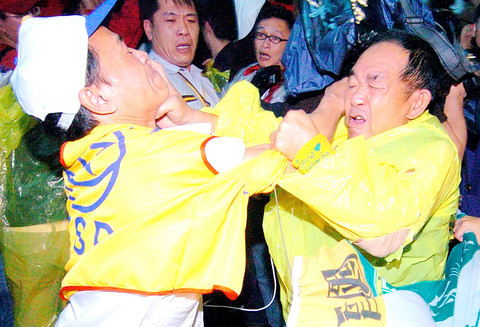 Supporters of the pan-blue and pan-green camps clash yesterday in the lobby of Terminal 2 at CKS International Airport prior to the departure of KMT Chairman Lien Chan to China.
PHOTO: CHU PEI-HSIUNG, TAIPEI TIMES
The riot left 15 people injured. Among them was one elderly man who tripped and fell during the turmoil and was brutally beaten and kicked by the gang, leaving him bleeding in a pool of blood.
In a pre-departure speech delivered at CKS International Airport, Lien said he looked forward to getting a better understanding of the latest developments in China and exchanging views with Chinese leaders on a range of issues of mutual concern, including cross-strait peace, trade and cultural exchanges, during his China visit.
"I left China 59 years ago. It's a long period of time. This was not the result of distance, but rather of our country's very heart-rending history," Lien said.
"We hope our friends on both sides can grasp this opportunity to move forward for our mutual benefit, peaceful co-existence and prosperity," Lien said before stepping on the plane.
Lien also said his aim was to help Taiwan avoid a disastrous war with communist China. Beijing has repeatedly threatened to invade Taiwan if it refuses to unify and declares de facto independence.
The eight-day journey will take Lien to four cities -- Nanjing, Xian, Beijing and Shanghai. While in Beijing, Lien will deliver a speech at Peking University and meet with Chinese President Hu Jintao (胡錦濤).
Lien is being accompanied by his wife and four children as well as a delegation of KMT officials on the historic China trip.
Many KMT politicians, including the party's five vice chairmen -- Chiang Pin-kun (江丙坤), Wang Jin-pyng (王金平), Ma Ying-jeou (馬英九), Wu Po-hsiung (吳伯雄) and Lin Cheng-chih (林豐正) -- saw Lien and his entourage off. Also among the well-wishers was opposition People First Party Chairman James Soong (宋楚瑜).
Democratic Progressive Party (DPP) Legislator Wang Shih-chien (王世堅) and TSU Legislator Lo Chih-ming (羅志明) were also among the throng. Lien and his wife arrived at the airport at around 10am after the violence broke out. Trying to downplay the incident, Lien said that he appreciates those braving the rain to see him off, saying that some of them may have come because they misunderstood his intention.
When asked whether he felt there was any sense of sincerity when he talked with President Chen Shui-bian (陳水扁) over the telephone on Monday, he said: "of course."
But Lien remained guarded about whether he would contact Chen after he returns.
"We will see," he said.
Commenting on the violent clashes, Soong called them as unnecessary and said that they should not have happened, because the people of Taiwan would eventually realize that Lien's trip and his upcoming visit were for the good of the nation.
Comments will be moderated. Keep comments relevant to the article. Remarks containing abusive and obscene language, personal attacks of any kind or promotion will be removed and the user banned. Final decision will be at the discretion of the Taipei Times.