Advisers to Chen resign over accord
DISAPPROVAL The 10-point consensus reached between the president and PFP Chairman James Soong was a sore spot for pro-independence officials
Two pro-Taiwan-independence senior presidential advisers, Koo Kwang-ming (辜寬敏) and Wu Li-pei (吳澧培), yesterday tendered their resignations to the Presidential Office to show their disapproval of the 10-point consensus which President Chen Shui-bian (陳水扁) signed with People First Party (PFP) Chairman James Soong (宋楚瑜) last Thursday.
Other than Koo and Wu, National Policy Advisers Ng Chiau-tong (黃昭堂) and Alice King (金美齡), a vocal independence advocate based in Japan, yesterday also resigned from their posts to express their exasperation over the content of the accord.
The agreement was made during Thursday's "Bian-Soong" meeting, which included Chen's reiteration that he would not promote Taiwan's independence or change the country's official name during his term in office.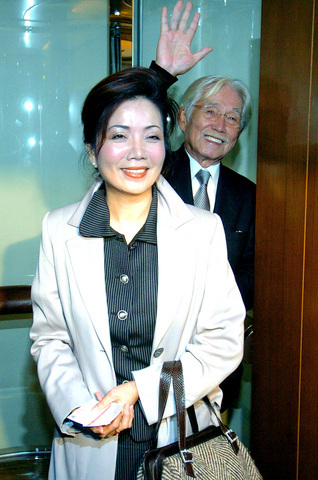 Pro-independence senior presidential adviser Koo Kwang-ming, back, and his wife Michelle Wang yesterday smile at the media after Koo tendered his resignation to the Presidential Office to express his disapproval of the 10-point consensus reached by President Chen Shui-bian and People First Party Chairman James Soong.
PHOTO: GEORGE TSORNG, TAIPEI TIMES
The president paid too high a price in issuing the statement with Soong, Ng said. Ng is also the chairman of World United Formosans for Independence.
At the news conference yesterday held to announce his decision to resign, Koo said he found it "unforgivable" for Chen to ink an accord with Soong. Koo also branded it "inappropriate" for "a head of a state to sign a joint statement with the chairman of a civil organization."
Koo criticized Chen for what he perceived as a vacillating attitude toward constitutional reform.
"It is important for a leader to offer a sense of trustworthiness to people," Koo said. "I really don't know what to do with him [Chen]."
Koo also took a swipe at the Democratic Progressive Party (DPP), saying that "There are many talented people in the party, but when a leader has made such a wrongheaded decision, there were no objections from the party about the issue."
Koo said he would also cancel his DPP membership, and that leaving the DPP did not mean he was forsaking his ideals.
"I will still dedicate myself to the promotion of writing a new constitution and changing the nation's official name to Taiwan," Koo said.
"I will watch what President Chen does, and if he is willing to turn back, we are still partners," he said.
Chen has more than 100 advisers from different political backgrounds.
During a gathering with the press yesterday afternoon, Vice President Annette Lu (呂秀蓮) said that while she respects the view expressed by every individual, she still wished these advisers had given further thought to their decisions, as it is better to consider the bigger picture of political events as a whole.
Chen Wen-tsung (陳文宗), director-general of the Presidential Office's Department of Public Affairs, yesterday said that the president has already instructed Presidential Secretary-General Yu Shyi-kun to personally visit these advisers to try to dissuade them from resigning.
DPP Chairman Su Tseng-chang (蘇貞昌) visited Koo yesterday to try to persuade him to remain at his post and not withdraw from the DPP.
However, Koo did not change his mind, and insisted on resigning.
But Koo said that he would retain his DPP membership for a time to see whether the DPP will "correct" its line.
Additional reporting by Jewel Huang
Comments will be moderated. Keep comments relevant to the article. Remarks containing abusive and obscene language, personal attacks of any kind or promotion will be removed and the user banned. Final decision will be at the discretion of the Taipei Times.