Cabinet of `Shaolin monks' resigns
Premier Yu Shyi-kun yesterday led the Executive Yuan in a mass resignation, paving the way for a new Cabinet, which will most likely be led by Kaohsiung Mayor Frank Hsieh (謝長廷). \nWhen dogged by the media about the prospect of his assuming the premiership, Hsieh yesterday said that he has not yet been officially informed of the decision. \n"I'm as curious as everybody, and I don't know many things until I read the newspaper," he said. \nYu, during his farewell speech yesterday morning, likened his Cabinet team to Shaolin monks, saying that he was glad he and his team passed the challenge of the "18 Bronze Men," which he said was a test only the most skillful Shaolin monks can pass to move on to the highest level of martial arts. \nYu made the remarks during a provisional weekly Cabinet meeting -- the final meeting in his tenure. \nAlthough the road to reform is long and shaky, Yu said, he was proud that he and his team managed to lead the nation out of difficulties at a critical time. \nYu also likened his team to a relay team passing the Olympic torch. \n"Under the leadership of President Chen Shui-bian (陳水扁), we held the torch of our ideals up high, and now we'll pass it on to the next generation," he said. \nIn addition to expressing his personal gratitude to his colleagues, Yu outlined the achievements made over the past three years during his premiership. \nWhen he took the office in February 2002, Yu said that the economic growth rate for 2001 was minus 2.22 percent. \nThat figure, however, jumped to last year's estimated 5.93 percent -- the best in seven years. The jobless rate for last year also dropped to 4.44 percent -- the lowest since 2001. \nMeanwhile, President Chen Shui-bian (陳水扁) yesterday said that he will announce the appointments in his new Cabinet at 9am today. \n"I will make a significant announcement [about the new Cabinet] tomorrow morning at 9am, so I hope all of you can get up early and make the news conference," Chen said yesterday. \nChen implied that he might announce all the details about the new Cabinet. \n"But maybe we could talk about something else during our journey to Palau," Chen said. \nChen is scheduled to embark on a five-day diplomatic trip to Palau and the Solomon Islands from Thursday, and will spend two days attending Palauan President Tommy Remengesau's inauguration and visiting the Rock Islands, a tourist attraction, as well as hosting a dinner for Taiwanese expatriates. \nHsieh, who is almost certain to take over as the new premier, was tight-lipped about the new post, saying only that he "cherished every second in Kaohsiung City" when asked about the issue. \nAlso see story: \nKMT slams Cabinet over 4.2% growth in last three years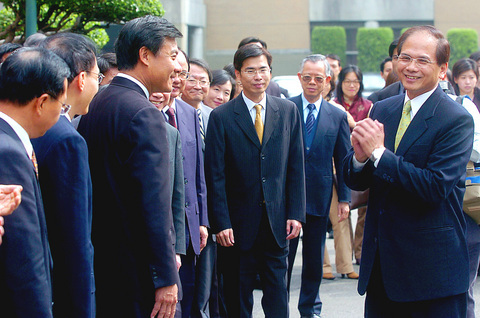 Premier Yu Shyi-kun makes a gesture of gratitude to President Chen Shui-bian and the Cabinet members for their support in the past three years after he announced the Cabinet's resignation en masse yesterday at the Executive Yuan.
PHOTO: SEAN CHAO, TAIPEI TIMES
Comments will be moderated. Keep comments relevant to the article. Remarks containing abusive and obscene language, personal attacks of any kind or promotion will be removed and the user banned. Final decision will be at the discretion of the Taipei Times.