Cabinet boosts tsunami aid to US$50m
RELIEF The government said the funds offered a chance to pay back aid received after the 921 quake and could include food, medicine and cash
The Executive Yuan yesterday committed US$50 million in aid to tsunami-devastated Asian countries, up from the US$5 million it had previously pledged. \n"Hopefully Taiwan's love can reach out to South Asia," Vice Premier Yeh Chu-lan (葉菊蘭) said in making the announcement. \nDetails of the aid have not been finalized, but a foreign ministry official said a possible breakdown could include US$20 million worth of food, US$15 million of medicine and US$15 million in cash. \n"It's time for Taiwan to give back, considering the aid we had received from international society following the Sept. 21 earthquake," foreign ministry spokesman Michel Lu (呂慶龍) said. \n"This aid volume would make Taiwan one of the top 10 donor countries in the world ... Taiwan people should feel proud for this," Deputy Foreign Minister Michael Kau (高英茂) told reporters. \nThe level of aid would help Taiwan's visibility in the international community, he said. \n"As you may know, we are striving to join the World Health Organization. Our relief efforts are expected to be affirmed by the international community," Kau said. \nUnder pressure from Beijing, the WHO's assembly in May rejected Taiwan's request for a debate on it obtaining observer status at the UN agency. \nTaiwan was forced out of the WHO in 1972, a year after it lost its UN seat to China. \nSince 1997, Taipei's annual efforts for WHO observer status have failed due to objections from China, which regards Taiwan as part of its territory awaiting unification. \nThe aid from Taiwan is expected to keep rising as donations collected by the ministry have increased to NT$40 million (US$1.24 million), it said. \nVarious charitable organizations have also stepped up money raising efforts for tsunami relief, expecting to raise at least US$10 million. \nOne of Taiwan's leading Buddhist organizations, Tzu Chi, has launched a program to mobilize at least 500,000 followers here and elsewhere in the world to raise money in a campaign called "Let Love Flow into South Asia; Let Sympathy Sooth Painful Suffering." \nTwo relief teams from Taiwan flew to Indonesia and Thailand earlier last week, taking with them tons of medical and relief supplies. \nHealth Minister Chen Chien-jen (程建仁) said Taiwan plans to help set up 50 medical units in the tsunami affected countries while pledging 30,000 tonnes of medicines and equipment. \nKuo Yao-chi (郭瑤琪), chairman of the Public Construction Commission, said Taiwan was in a position to help build three makeshift communities where needed within the next two months, with each housing some 4,500 people, a school and a medical office. \nAt least two Taiwanese were killed and one was missing in the massive waves, officials said.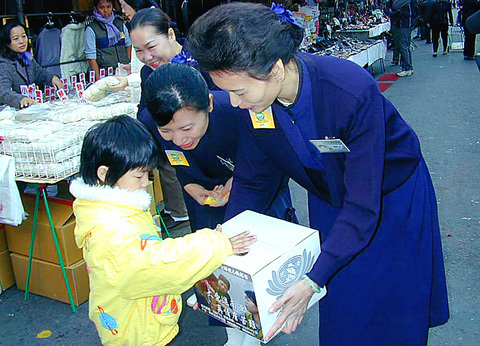 Two volunteers from the Tzu Chi Buddhist Compassionate Relief Foundation yesterday solicit financial aid on the streets of Taipei for tsunami-devastated countries.
PHOTO:HSU HSIA-LIEN, TAIPEI TIMES
Publication Notes
Major donor countries
* Japan: US$500 million
* Asian Development Bank: US$500 million
* US: US$350 million
* UK: US$96 million
* Sweden: US$60 million
* Australia: US$60 million
* Taiwan: US$50 million
* EU: US$40.5 million
Source: Executive Yuan, CNA
Comments will be moderated. Keep comments relevant to the article. Remarks containing abusive and obscene language, personal attacks of any kind or promotion will be removed and the user banned. Final decision will be at the discretion of the Taipei Times.