Vote to push for status quo, Chen says
`FIVE NOES' The president said the sovereignty referendum won't be about sovereignty but will be aimed at letting China know how Taiwanese feel
The purpose of the "defensive referendum" is to maintain the status quo on both sides of the Taiwan Strait and has nothing to do with independence, President Chen Shui-bian (陳水扁) said yesterday. \nOpposition parties have accused Chen of provoking China following his campaign promise last Saturday to hold a "defensive referendum" on the day of the presidential election. The international community has also speculated about whether Chen's "defensive referendum" is a concrete action toward Taiwanese independence. \npeacemaking \nChen told foreign guests at a reception at the Presidential Office yesterday that the referendum is not meant to provoke, but is rather a way to make peace. \n"I have to reaffirm that I will firmly maintain my `five noes' policy, which was revealed on May 20, 2000," Chen said. \n"Like I have asserted many times before, any movement to deepen Taiwan's democracy, including the people's basic right to have a referendum and hastening the process to write a new constitution, will honor the five-noes promise. It would have no bearing on the independence-versus-reunification debate." \nChen said article 17 of the new Referendum Law (公民投票法), which refers to a "defensive referendum," can be used to strengthen a united country and would be highly effective in bringing foreign dangers to the public's attention. \npsychological defense \n"The lack of awareness about possible crises and enemy threats is one of the major problems in Taiwan. We must promote the concept of national defense as well as individuals' psychological defenses," Chen said. \nHe said that China still refused to denounce military action against Taiwan while it is continuing to buy more arms and increasing military expenditure, including the deployment of 496 ballistic missiles targeted at Taiwan. \n"Every citizen of Taiwan should fully understand this serious case, and I must also appeal to all the countries in the Asia-Pacific region to squarely face China's threat, which poses a danger not only to Taiwan, but also to regional peace and stability," Chen said. \nHe said that the defensive referendum would be an effective means of letting China know what Taiwan's 23 million people are really thinking. According to Chen, most Taiwanese want peace. \nstatus quo \n"It is extremely important that Beijing should listen to Taiwan's mainstream public opinion. Therefore the goal of the defensive referendum is to protect the status quo in Taiwan," he said. \nChen made the remarks during a meeting with US Senator Jeff Bingman, who arrived in Taipei on Wednesday on a fact-finding mission concerning Taiwan's high-tech development and the nation's supply of and demand for energy. \nDuring yesterday's meeting, Chen made a point of standing next to Douglas Paal, director of the American Institute in Taiwan, to allow the media to take pictures of them. Some Chinese-language media reported that Paal had been summoned back to Washington for a briefing on Taiwan's referendum controversy. According to these reports, this was a sign that the US is upset with Chen.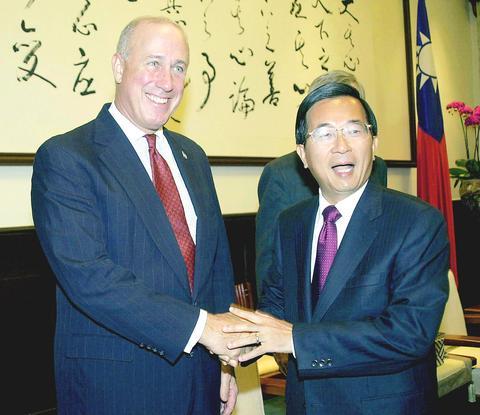 President Chen Shui-bian, right, meets with Douglas Paal, director of the American Institute in Taiwan, at the Presidential Office in Taipei yesterday.
PHOTO: REUTERS
Comments will be moderated. Keep comments relevant to the article. Remarks containing abusive and obscene language, personal attacks of any kind or promotion will be removed and the user banned. Final decision will be at the discretion of the Taipei Times.