Many ignoring new rules on plastic bags, utensils
More than 40 percent of establishments visited by Environmental Protection Administration (EPA) officials yesterday were ignoring new rules limiting the use of free plastic bags and dining utensils. \nBeginning yesterday, the ban on free bags and utensils was extended from government-operated grocery stores and restaurants to department stores, supermarkets, fast-food restaurants, convenience stores and almost every type of retailer, except street vendors. \nMost department stores, supermarkets, large fast-food restaurants and convenience-store chains complied with the policy, EPA officials said yesterday at a press conference. \nAfter visiting 2,097 stores in several jurisdictions, inspectors issued 864 warning tickets to violators, according to the EPA. \nOfficials said half of the violators owned breakfast shops or snack shops. Many complained to the inspectors that they had difficulty in ordering paper bags and tableware, which they said were in short supply. \n"We will soon tackle problems pertaining to both the shortage and prices of paper materials," Environmental Protection Administrator Hau Lung-bin (郝龍斌) said at the press conference. \nHau yesterday morning inspected supermarkets in downtown Taipei to see if retailers and consumers were cooperating. \nHau discovered that some retailers were still using small plastic dishes for condiments and a few were giving away plastic bags. \n"We will revisit violators by Feb. 15 to make sure that the situation has improved and they know details of the policy," Hau said. \nMany retailers, however, complained that the policy was unfair. \n"We pay tax, rent, and now have to comply with the new policy. Why are street vendors in traditional markets exempted from it?" said a woman at a snack shop. \nSome retailers said they would continue offering free plastic bags and dinning utensils until their stocks ran out during the six-week grace period. \nFrom Feb. 16, those still ignoring the new regulations will face fines of between NT$60,000 to NT$300,000. \nMany chain stores were yesterday encouraging customers to buy reusable shopping bags adorned with their brand names. Drugstore Watson's was selling reusable shopping bags for NT$19 each. At 7-11 convenience stores, they were selling for NT$29. \nMany local authorities held campaign activities to inform the public of the implementation of the new policy yesterday. \nStephen Shen (沈世宏), director of Taipei City's Bureau of Environmental Protection, said yesterday that his bureau planned to inspect the roughly 10,000 establishments in the city affected by the ban. \nChang Feng-teng (張豐藤), head of Kaohsiung City's Environmental Protection Bureau, said that his city's government had implemented the policy in April last year. \n"We consume 600,000 fewer plastic shopping bags every day in the city than we did before," Chang said.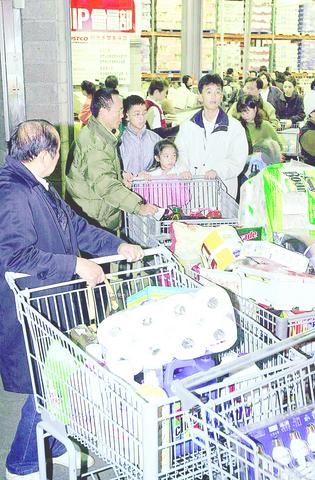 Customers at Costco in Neihu, Taipei City, use shopping carts to take their purchases to their cars on the first day of a ban on free plastic bags.
PHOTO: CHIANG YING-YING, TAIPEI TIMES
Comments will be moderated. Keep comments relevant to the article. Remarks containing abusive and obscene language, personal attacks of any kind or promotion will be removed and the user banned. Final decision will be at the discretion of the Taipei Times.