Restaurant reviews: Shin Yeh and Mountain and Sea House
Traditional Taiwanese cuisine for the advanced learner
When the rest of the world thinks of Taiwanese food, night markets and Din Tai Fung (鼎泰豐) are invariably the first establishments that come to mind. Taiwan does boast one of the most exciting street food scenes in the world, and Din Tai Fung — which actually specializes in Huaiyang cuisine from China's eastern coast — can incite a yearning for dumplings that no other can satisfy.
These are fine as introductions, but an exploration of Taiwanese cooking that starts and ends there does the cuisine no justice. As an alternative, there are two restaurants in Taipei that I think of as one-stop shops for a deeper dive into the food of the land (and sea): Shin Yeh (欣葉) and Mountain and Sea House (山海樓).
One is a family-friendly restaurant group with a range of reliable and essential dishes familiar to any local; the other serves artful banquet-style cuisine recreated from historical sources that can delight even the most jaded.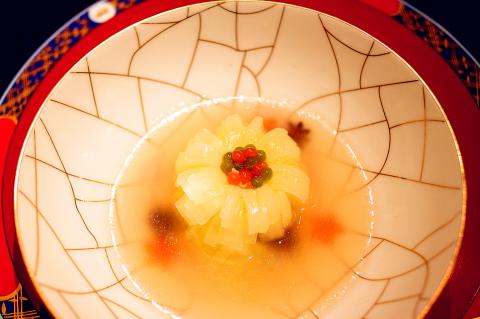 Cucumber-wrapped meatball in chicken consomme, or in banquet-speech, "dewdrops on flowers in one's hair."
Photo: Davina Tham, Taipei Times
SHIN YEH
Shin Yeh's first incarnation in 1977 was a back-alley restaurant, but it has since grown into a household name. Although over the years the restaurant group has developed some specialized branches that serve fine-dining and Japanese cuisine, its cornerstone remains the original restaurant line — simply named Shin Yeh — that serves homecooking-inspired fare.
Shin Yeh does have its share of luxuries, like braised whole abalone (NT$560), steamed crab with roe (NT$850), lobster (NT$180 per 37.5g) and unfortunately, despite the environmental and ethical concerns around shark finning, a handful of shark's fin dishes. An unorthodox showstopper is the mountain of glistening, addictively crunchy dried scallop and potato shards fried to a golden crisp (NT$1,050).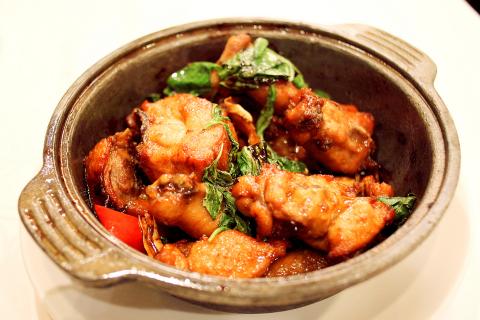 Sweet-salty "three cups" chicken is a classic at Shin Yeh.
Photo: Davina Tham, Taipei Times
There are also decent renditions of the usual suspects like sweet-and-salty "three cups" chicken (NT$680), steamed pork meatballs with salted egg (NT$225) and soy-braised pig's trotter (NT$300). But I've found that the humblest dishes make the most impact.
An unfussy bowl of stir-fried vermicelli with julienned pumpkin (NT$200) packs a whallop of garlic and umami into each al dente strand of noodle. Preserved radish omelette (NT$210) is a straightforward, well-executed version of the homely dish, with a mild fermented funk. Soy-braised pork over rice (NT$120), with a cube of whole pork belly, is a particularly hearty version, serving up more meat than the street version that's heavy on lard. These dishes may be common, but Shin Yeh's on-point delivery of flavor every single time is rare.
The array of options means that Shin Yeh does double duty as a banquet restaurant for a traditional birthday feast, as well as an easy weeknight dinner spot. That might explain its evergreen popularity with locals — reservations are recommended, especially on the weekends.
Comforting favorites at Shin Yeh: claypot-braised cabbage with dried scallops, and a preserved radish omelette peeking out.
Photo: Davina Tham, Taipei Times
■ Shin Yeh (欣葉), various locations in Taipei; more information at: bit.ly/32OMpjm
MOUNTAIN AND SEA HOUSE
Going from Shin Yeh to Mountain and Sea House is a bit like moving from a freshman 101 class right into a graduate seminar, but exponentially more delicious.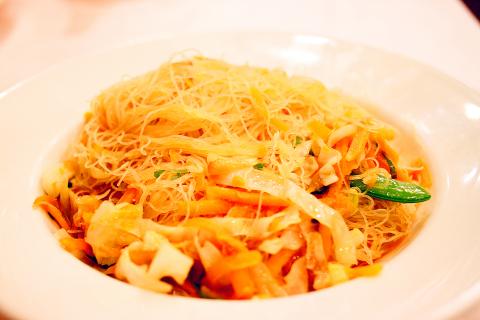 At Shin Yeh, the humble stir-fried vermicelli packs a punch.
Photo: Davina Tham, Taipei Times
Though only five-years-old, Mountain and Sea House has set itself the lofty task of reconnecting diners to Taiwan's terroir and history through meticulously researched recipes and techniques executed with local ingredients.
This often involves tracking down specific renditions of a dish and learning from the old hand that makes it, as was the case with a sweet almond milk that my server says the chef's team learned from an octogenarian in Yilan. The dessert turns out to be my favourite dish of the night — familiar and comforting, without any of the cloying greasiness that fails other versions I've had.
The restaurant pays homage to Taiwan's 1920s and 1930s banquet-style cooking that flourished into the mid-20th century before declining in popularity. The food is built on a backbone of recipes passed down to creative director Tsai Jui-lang (蔡瑞郎) from 84-year-old masterchef Huang Te-hsing (黃德興).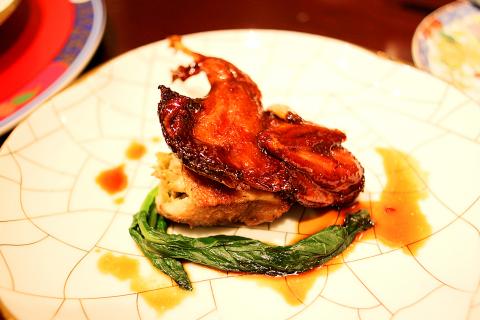 Our reviewer gnawed the bones off this flavorsome roasted squab at Mountain and Sea House.
Photo: Davina Tham, Taipei Times
The nostalgia seeps into the furnishings and even the china, all modeled after a Taisho-era banquet hall. All of these efforts paid off handsomely when Mountain and Sea House acquired its first Michelin star this year.
As a banquet-style restaurant, a la carte dishes are portioned for a sizeable group, so service staff will nudge groups of four or less toward individual meal sets. At dinner, the nine-course sets start at NT$1,980 and go up to NT$4,680. Lunch sets start lower, from NT$980 on weekdays. The high prices are reflected back in the artistry on the plate.
Sets vary seasonally, but a platter of cold appetizers starts each one in largely the same way, bringing together the love-it-or-hate-it dried mullet roe and some less polarizing bites, like smoked chicken, kaoliang sausage and a squid ring filled with egg three ways.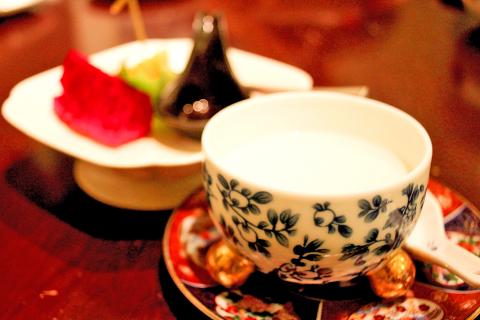 Mountain and Sea House's sweet almond milk comes by way of a masterchef in Yilan.
Photo: Davina Tham, Taipei Times
The restaurant shares a parent company with local organic grocer Green and Safe, so much of the produce comes from the same Nanao Fengyuan Farm (南澳豐園農場) in Yilan. Ingredients are treated with great care and skill. When my roasted squab arrives, I gnaw it down to the bone and then also try to eat the bone, at least the crispy bits, since every part of the bird is intensely flavorful.
If you're literate in Chinese, the menu reads like poetry and adds to the banquet experience, where presentation and meaning are as important as flavor. A dish with a name that translates as "dewdrops on flowers in one's hair" is a chicken and mushroom meatball inside a carved cucumber, sitting in chicken consomme. "Phoenix eye abalone" is named for the shape of the mollusc as it sits on a bright yellow bed of egg custard.
That said, some dishes were a little underwhelming, such as the deep-fried flatfish spring roll and stir-fried vermicelli with dried seafood. And I can't comment on the restaurant's signature dishes of suckling pig (NT$3,280, NT6,650 or NT$9,980) and stuffed whole chicken stewed in pig's stomach (NT$4,800), which need to be ordered three and two days in advance respectively. They can also be sampled as part of the higher-priced set meals.
But as far as faithful reproductions of traditional Taiwanese cuisine goes, Mountain and Sea House is in a class of its own. My only hope is that, given all the fieldwork and first-hand interactions with masterchefs in the name of recipe development, the restaurant can find a way to bring more of those stories into the dining experience.
■ Mountain and Sea House (山海樓), 94, Renai Rd Sec 2, Taipei City (台北市仁愛路二段94號); Daily, 11:30am to 2:30pm and 5:30pm to 10pm; tel: (02) 2351-3345
Comments will be moderated. Keep comments relevant to the article. Remarks containing abusive and obscene language, personal attacks of any kind or promotion will be removed and the user banned. Final decision will be at the discretion of the Taipei Times.