Reviews: Quiet mastery and sheer fun at Weiwuying
National Kaohsiung Center for the Arts (Weiwuying) celebrated its first birthday on Sunday, but it began the celebrations on Thursday last week, taking advantage of the long Double Ten National Day weekend.
The highlights of the weekend were Cloud Gate Dance Theatre's (雲門舞集) EXCHANGE, which had its world premiere on Thursday, and the Komische Oper Berlin-1927's production of Mozart's The Magic Flute, which opened on Friday.
For many years Cloud Gate has premiered a new full-length work by Lin Hwai-min (林懷民) in the fall or a mixed bill to mark a key anniversary, such as last year's 45th.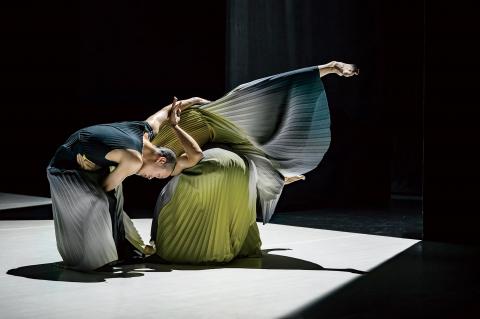 Cheng Tsung-lung's Multiplication, set on nine members of TAO Dance Theater, features both Cheng's vocabulary and TAO's traditions.
Photo courtesy of Liu Chen-hsiang
However, this fall Lin is just a few months away from retirement and he has spent the past two years trying to ensure the handover to his chosen successor, Cheng Tsung-lung (鄭宗龍), will be as smooth and seamless as possible, so 2017's Formosa (關於島嶼) stands as his final big work for the company.
Instead, two years ago Lin decided to finish his tenure as artistic director by collaborating with Cheng and Chinese choreographer Tao Ye (陶冶), cofounder of the Beijing-based TAO Dance Theater (陶身體劇場) and a talent who, like Cheng, he has championed and mentored for several years. Each man would create a short dance, with Cheng working with TAO's dancers and Tao with Cloud Gate's.
For his piece, Lin decided to create a work for several senior dancers who are retiring along with him.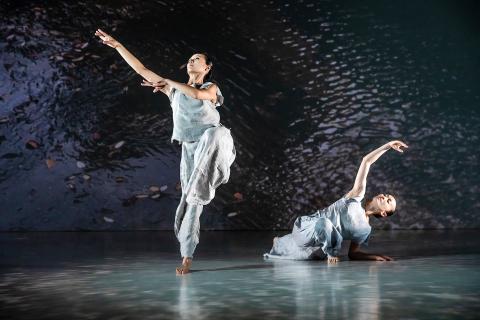 Huang Pei-hua and Su I-ping perform in Lin Hwai-min's farewell piece for his Cloud Gate Dance Theater, Autumn River, a love song to five departing senior dancers.
Photo courtesy of Liu Chen-hsiang
Not one for fuss, Lin decided that his Autumn River (秋水) would be first on the program, followed by Tao's 12 and Cheng's Multiplication (乘法). However, at some point after the programs were printed, the decision was made to end the show with Lin's piece, which was the right move.
'MULTIPLICATION'
EXCHANGE now opens with Multiplication, set on nine dancers, led by the always terrific Duan Ni (段妮), a cofounder of TAO.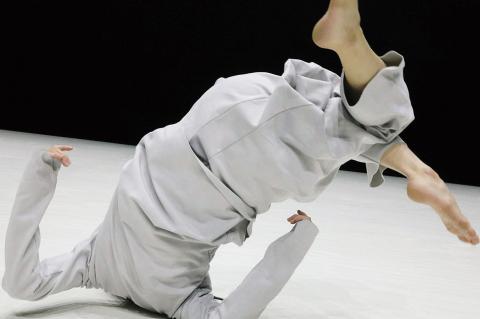 Chinese choreographer Tao Ye created 12 on 12 Cloud Gate Dance Theater members as part of the EXCHANGE program between his TAO Dance Company and Cloud Gate.
Photo courtesy of Liu Chen-hsiang
It is a beautifully crafted work that incorporates Cheng's own vocabulary with elements of TAO's style, set to a score by Lim Giong (林強), who worked with Cheng on Full Moon for the Sydney Dance Company, while costumes are by Fan Huai-chih (范懷之), who worked on Full Moon as well as 2017's Dream Catcher (捕夢) for Cloud Gate 2 (雲門 2).
TAO dancers are usually seen in uniform jersey knit-based costumes in a basic pallete of black, white and grey. Fan kept that color scale, but added yellow in her beautiful one-piece outfits that could have come right off a runway, block-printed sleeveless tops that flow into long fan-folded palazzo pants.
The dancers begin with their hands clenched just below their waists, holding up their pants, arms akimbo; the angles of their elbows the only sharp edges as their shoulders, hips and bodies curve and dip, first as individuals, then in pairs and groups.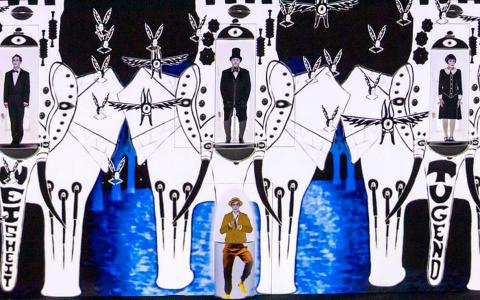 The Komische Oper Berlin-1927's production of The Magic Flute was a huge hit with audiences at the National Kaohsiung Center for the Arts over the weekend.
Photo courtesy of Iko Freese
Cheng then releases their arms, which flow up and around, as do their legs that rotate around at the waist or higher as the dancers flow across the stage and the yellow wash of Lulu W. W. Lee's (李琬玲) lighting grows into a bright white that highlights the colors of the swirling pant legs and adding a sculptural edge to the movements.
There is a particularly beautiful segment by the three men, Yan Yulin (鄢煜霖), Fan Min (范敏) and Guo Huanshan (國桓碩), tightly grouped in the front of the stage as they fold over and around one another.
Multiplication is a reminder, if one is needed, that while Cheng's style is very different from Lin's, he has the talent to carry Cloud Gate into the future.
'12'
Cheng's brightly colored and rocking works are in stark contrast to Tao's minimalist pieces, where dancers usually move as one in group formations.
Given that Tao titles his works by the number of dancers, it was clear that 12 meant there would be 12 Cloud Gate dancers, and since he is known for his ensemble choreography and Cloud Gate's dancers are famed for the pliability demanded by Lin's taichi-infused choreography, I had a lot of preconceptions about what 12 might look like.
I was right when it came to the costumes — loose jersey tunics and low-crotch pants that, combined with the grey fabric curtains at the back and sides of the stage, sometimes made it look like the dancers were inmates of an old-fashioned mental asylum.
I was not, however, expecting such a hypnotically subversive piece.
Tao created a progression of 12 solos, starting with Yen Hsueh-hsin, Cloud Gate's youngest member, and ending with Huang Yu-ling (黃羽伶), that keeps the dancers so low that they spend most of their time rolling and spinning on the floor after they enter from one corner of the stage and move on diagonal, or sometimes horizonal lines, to their exit corners.
For example, Yen walked on, bent her head and lowered her body to the floor, and began a series of body folds, shoulder and head rolls, and slides across the floor, propelled by scissoring legs. The following dancers enter from different corners, contort themselves into similar positions, but each solo is different and each is incredibly taxing.
They fold and unfold their bodies as if creating origami creatures, making their bodies appear to be made of rubber. Just about the only time they are standing on both feet is for their entrances and exits, and the only time they are all together is for the curtain call.
The score by Xiao He (小河) grows on you the more you hear it, while Tao and Duane did the costumes and Tao and Ma Yue (馬悅) the lighting.
'AUTUMN RIVER'
Lin's Autumn River, which he said last weekend "is just a little something I threw together," proved to be a poignant love song to Chou Chang-ning (周章佞), Huang Pei-hua (黃珮華), Su I-ping (蘇依屏) Huang Mei-ya (黃媺雅) and Yang I-chun (楊儀君).
It is set to a lovely score by Estonian composer Avro Part, while frequent collaborators Lin Ching-jug (林璟如), Howell Chang He-man (張皓然) and Ethan Wang (王奕盛) provided the costumes, videography and projections respectively. Lulu Lee did the lighting.
Framed against the projection of a shallow, rippling river on the floor and backdrop, the five women quietly move in steps and patterns that evoke their performances in earlier works such as Moon Water (水月), Rice (稻禾) and Formosa, while a long, demanding solo for Huang Mei-ya brought back memories of her duet in Bamboo Dream (竹夢).
Like with Moon Water, the audience begins to breathe along with the dancers as they gently dip and rise.
The audience in Kaohsiung was so quiet during the piece it was if they were willing it not to end, but end it did, to an explosion of claps, whistles and cheers.
Autumn River is a lovely sendoff for such great dancers, and for Lin.
All four EXCHANGE shows at the National Theater in Taipei this weekend are sold out, but there are still plenty of seats for the two afternoon performances at the National Taichung Theater on Saturday and Sunday next week.
'THE MAGIC FLUTE'
The Magic Flute was an amazing production and a sheer delight from start to finish.
The production, conceived by Kamisha Opera artistic director Barrie Klosky and Suzanne Andrade and Paul Barrett, cofounders of the British performing group 1927, actually made the storyline of the fairy tale behind Mozart's comedic opera make sense.
Although Mozart set the opera in ancient Egypt, hence the repeated pleas to Isis and Osiris, Klosky's vision was to turn into a homage to the silent movies of the 1920s and Weimar Germany's famed cabarets through the magic of animated projections by Barrett.
Costume and stage designer Esther Bialas garbed and bobbed Pamina, and later the female chorus, a la flapper icon Louise Brooks, while Papageno resembled Buster Keaton and hero Tamino was often seen in the tux and slicked-back hair of heart-throb Rudolph Valentino, while the scheming Monostatos was a menacing look-alike to Count Orlok in F. W. Murnau's 1922 film Nosferatau.
I am still not sure why Sarastro, and later the male chorus, were in 1890s frock coats and top hats or Pamina appeared in one scene in a black Victorian bustled dress, or why the directors decided to make the Queen of the Night a giant spider, but it all added to the fun.
The set is a two-story white wall on which Barritt's handdrawn animations are projected, from the giant red dragon that pursues and consumes Tamino, to the Queen's legs and webs, to silent movie dialogue, parades of hearts — the human kind, not valentines — pink elephants, giant black wolves and comic book explosions, while the cast appeared and disappeared on mini-turntable doors in the wall, as well as on the actual stage.
Andrade and Kosky focused attention on the opera's arias, as it should be, by having the singers only sing. All the transitional dialogue and expositions were projected in black and white onto the wall like silent movie scenes, while the singers interacted with the projections.
Saturday matinee's cast were all excellent: Kim-Lillian Strebel as Pamina, Tansel Akzeybek as Tamino, Park So-young as the Queen, Tijl Faveyts as Sarastro, Mikolaj Trabka as Papageno, Monika Buczkowska as Papagena, Emil Lawecki as Monostatos and Inga Britt Andersson, Karolina Gumos and Karolina Sikora as the first, second and third ladies respectively.
The Vocalconsort Berlin provided the chorus, while the three little boys are from the Tolzer Knabenchor. Hendrik Vestmann conducted the Kaohsiung Symphony Orchestra (高雄市交響管樂團).
This production, which premiered in 2012, is a must-see work, wherever and whenever it appears.
This story has been updated since it was first published to correct the name of one of the TAO male dancers in Cheng Tsung-lung's piece. It was Fan Min (范敏), not his female colleague Zhang Qiaoqiao (張俏俏), as was initially reported. The Taipei Times regrets the error.
Comments will be moderated. Keep comments relevant to the article. Remarks containing abusive and obscene language, personal attacks of any kind or promotion will be removed and the user banned. Final decision will be at the discretion of the Taipei Times.