Revival by the sea
The Kavalan people of Yilan held their first ocean and harvest festivals in over 100 years last weekend with much help from their long-lost cousins in Hualien
Pan Ying-tsai (潘英才) was five years old when the Kirippoan Community in Yilan County held its last traditional ritual by the ocean to cure illness.
Now 91, the Aboriginal Kavalan chief was in high spirits on Saturday. Decked out in a recreated traditional costume made for the occasion, Pan joined Kavalan elders from across Taiwan on the beach in Yilan County's Jhuangwei Township (壯圍), to conduct the village's first formal ocean festival in more than 100 years. The event tagline is apt: "We have always been here" (我們一直都在), as Yilan is considered the original homeland of the Kavalan people.
"I tried to revive our festivals about 20 years ago, but the officials turned me down because we no longer speak our language or keep our customs," Pan says in Hoklo, also known as Taiwanese. "I was so disillusioned, I didn't attempt again."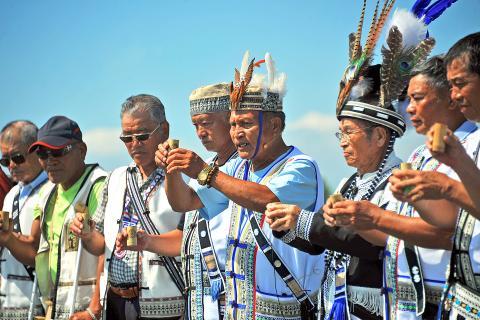 Kavalan chiefs and elders from across Taiwan raise their bamboo cups during the first Kavalan ocean festival in Yilan in more than 100 years.
Photo: Han Cheung, Taipei Times
Interest in Kavalan culture has grown among the villagers in the past few years with the help of Kavalan communities in Hualien that retained their customs and language. Last year, community members traveled to Paterongan Village in Hualien's Fengbin Township (豐濱) to participate in their ocean and harvest festival, further awakening their Aboriginal consciousness.
Umus, a mother of two young boys, only became involved last year. Her whole family has since adopted Kavalan names, and they made modern versions of Kavalan ceremonial clothes in preparation for the Paterongan excursion.
"We knew we were Aborigines since we were young," she says. "But we had no contact with our culture ... since my grandfather's generation denied their heritage [due to discrimination]. But now we are becoming increasingly proactive in seeking resources and teaching our children our traditional ways."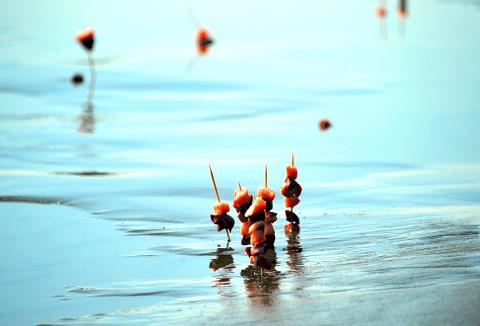 Skewers of pork meat and innards are placed by the sea. If the ocean washes the food away, that means the ancestors have accepted the offerings.
Photo: Han Cheung, Taipei Times
SEPARATED PEOPLE
The Kavalan people were once the dominant ethnic group in today's Yilan County. The area was administered as Kavalan subprefecture by the Qing Empire until 1875, when it was upgraded to a county and its name modified to the Han-centric Yilan.
As Han Chinese encroachment intensified in the mid-1800s, many Kavalan people moved south to Hualien, where their language and customs endured. The ones remaining in Yilan hid their identity and assimilated into Han Chinese culture. The government officially recognized the Hualien Kavalan in 2002 but not the Yilan Kavalan, who are scattered throughout the county, essentially indistinguishable from their neighbors.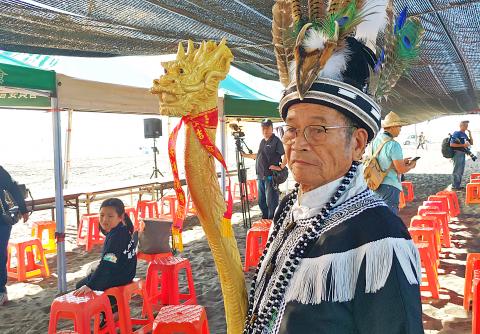 Pan Ying-tsai holds a dragon staff before Kirippoan village's first ocean festival in over 100 years.
Photo: Han Cheung, Taipei Times
In fact, Hulam, the current chief of all the nation's Kavalan people, didn't even know there were still Kavalan people living in Yilan until he visited on a business trip a decade ago.
"My elders told me that all of the Kavalan people had moved to Hualien," he says. "But when I visited Yilan, one of the drivers told me he also has Kavalan blood, and his grandmother still knows a few Kavalan phrases."
He started making trips to Yilan, and eventually suggested that the Yilan Kavalan visit Paterongan to observe and learn the existing customs. With the help of Fan Te-hui (樊德惠), a Lan Yang Institute of Technology (蘭陽技術學院) assistant professor who has documented many Aboriginal festivals and is familiar with the Kavalan in Yilan, this partnership began about five years ago and continues to grow, with more than 100 Kirippoan villagers participating today.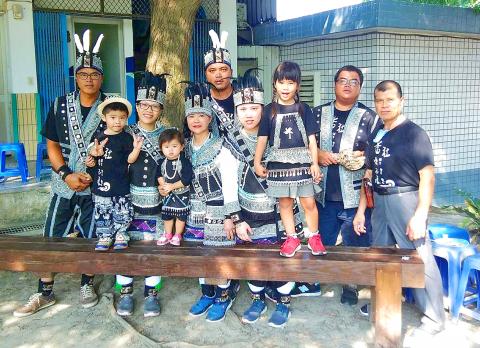 Umus and her family made homemade modern versions of traditional Kavalan clothes last year to attend the ocean and harvest festival in Hualien's Paterongan village.
Photo courtesy of Umus
Fan says while there are still many Kavalan communities in Yilan, Kirippoan is so far the only one that has taken an active interest in reviving their culture — part of it due to them having a passionate leader in Pan.
For the past month or two, Kavalan members from three Hualien villages have been traveling back and forth from Kirippoan to help prepare for the ocean festival.
"We are passing on our songs and our culture," Hulam says.
Children from Kirippoan village sing a traditional Kavalan song during Saturday's ocean festival. Many of the songs were collected and taught by the father of Qaminlu, right.
Photo: Han Cheung, Taipei Times
SKEWERS ON THE BEACH
It's sweltering as the Kavalan chiefs and elders assemble on the beach. Pan makes his speech in Hoklo, while Hulam does his in Kavalan.
"I must speak in Kavalan, because many people have never heard it before. It's a sound that this land has missed for a long time," he says.
Offerings are laid down on banana leaves in front of the chiefs, while skewers of pork meat and innards are placed at the edge of the beach.
"If the ocean washes the skewers away, that means the ancestral spirits have accepted the offerings," Fan says. After performing the ceremony, villagers participate in an intense qiangu (牽罟), or dragnet fishing, which was once common along the shores of Yilan.
Back at the ceremonial tent, young villagers perform the songs they've been learning for the past year. The "musical director" is Alaungaw, who about a year or two ago started learning the tunes and language from YouTube and klokah.tw, a language-learning Web site by the Council of Indigenous Peoples.
"I recall my father and his brothers humming some of these songs," he says. "One verse they often repeated sounded like something else in Hoklo, so I just assumed it was Hoklo."
Alaungaw says he tirelessly "bombarded" his kinspeople in Hualien whenever he had a question about the lyrics, and while he still doesn't completely understand what the songs convey, he knows what the words mean. Part of his motivation, he says, comes from his teenage son, Qaminlu.
"My father told me that I've always been Kavalan. But I kept asking him, why don't we speak our own language or sing our own songs?" Qaminlu says. "I'm so happy to learn these songs now, because there wasn't an opportunity before."
Another goal of reviving their culture is so they have better grounds to claim official recognition, says Alaungaw's wife, Pipis. Without recognition, they are cut off from many governmental programs and funding to preserve their culture and language.
"It's like one tribe, two systems right now," she quips.
Hulam sits on a stool, puffing on a cigarette and staring out at the sea after the ceremony.
"They did very well for their first time putting on an ocean festival," he says. "But it will take some time before they get it completely right."
Comments will be moderated. Keep comments relevant to the article. Remarks containing abusive and obscene language, personal attacks of any kind or promotion will be removed and the user banned. Final decision will be at the discretion of the Taipei Times.