Highlight: Legendary operas with a twist in Tamsui
The experimental theater group Po You Set (柏優座) has taken over the Cloud Gate Theater in New Taipei City's Tamsui District (淡水), where it has ambitiously decided to stage two different productions featuring excerpts from famous jingju (Beijing opera, 京劇) plays this weekend.
The 11-year-old company has developed a reputation for telling stories about contemporary Taiwan through experimental drama using a variety of genres, including jingju, Kun opera (崑劇) and Western theater.
For the matinees tomorrow and Sunday, the company will perform the Flashback Sketch of the Famous Assassin Jin Ke (刺客列傳─荊軻), while the evening shows feature Her Unbearable Loss (失子驚瘋) and Strategy of Bamboo (?優群伶之竹林計).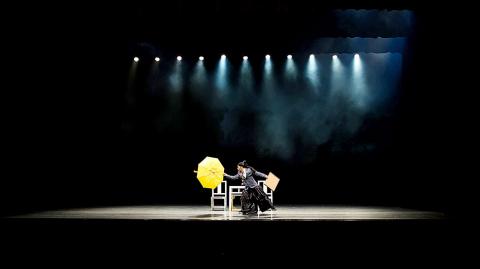 The Po You Set group will perform Flashback Sketch of the Famous Assassin Jin Ke tomorrow and Sunday afternoons at the Cloud Gate Theater in New Taipei City's Tamsui District.
Photo courtesy of Chen Chun-ting
However, neither production is a straight-forward traditional opera production.
The first is actually a triple bill that includes two short jingju highlights and a revival of the troupe's signature work, Assassins — Jin Ke.
The latter is a comedy that turns the story of Jin Ke, a legendary assassin from China's Warring State period who failed to kill Qin Shi Huang (秦始皇), the first Qin emperor, into the tale of a man struggling to cope with the demands of a miserly boss and a tyrannical client. The hero is portrayed as a cowardly figure caught between his urge to kill a tyrant and his unwillingness to act.
It stars Hsu Pai-ang (許?昂), Po You Set cofounder Wang Chenxi (王辰驊) and famed comedian/singer Ann Lang (郎祖筠).
The evening performances are excerpts from two famous works and feature Huang Yu-lin (黃宇琳) and Yang Rui-yu (楊瑞宇), who was great in Contemporary Legend Theatre's (當代傳奇劇場) The Water Margin: The Hall of Righteousness (水滸108 II: 忠義堂) at the National Theater in April.
The first work, Her Unbearable Loss, tells of a mother driven mad by the loss of the disappearance of her son, and taken from the The Lost Son act from Mirror of Longevity (乾坤福壽鏡). It stars Huang and Zhou Dai-yi (周岱頤)
The second, Strategy of Bamboo, which basically demonstrates the martial arts skills of the performers, is about a famed general's escape from a burning forest. It stars Yang and Chen Kuan-tung (曾冠東).
Both the matinees and the evening shows run about 90 minutes without an intermission.
■ Flashback Sketch of the Famous Assassin Jin Ke will be performed tomorrow and Sunday at 2:30pm at Cloud Gate Theater (淡水雲門劇場), 36, Ln 6, Zhongzheng Rd Sec 1, Tamsui District, New Taipei City (新北市淡水區中正路一段6巷36號).
■ Her Unbearable Loss & Strategy of Bamboo will be performed tomorrow and Sunday at 7pm.
■ Tickets for both productions are NT$500, NT$800 and NT$1,000 and are available at NTCH box offices, Eslite ticket booths, at convenience store ticket kiosks or online at www.artsticket.com.
■ Neither program is considered suitable for children under the age of 12.
Comments will be moderated. Keep comments relevant to the article. Remarks containing abusive and obscene language, personal attacks of any kind or promotion will be removed and the user banned. Final decision will be at the discretion of the Taipei Times.