Living by the bow
The beloved national sport of archery is a way of life for some 800,000 people in the small Himalayan kingdom of Bhutan, and is steeped in legends about how bows and arrows were used to hunt prey and destroy demons and evil spirits
Every weekend Bhutanese Pema Dorji channels his inner Robin Hood and aims for the bull's-eye, but not without generous sips of the local brew and a leg-kicking dance and song routine.
The likes of Dorji make up the vibrant archery scene in the small Himalayan kingdom of Bhutan where the traditional sport is a way of life for its 800,000 people.
Competitions are held across the country on various auspicious days each month before culminating in national championships attended by hundreds of raucous fans. "Alcohol and archery go hand in hand," said Tashi Dorji, the research and development officer with the Bhutan Indigenous Games and Sports Association (BIGSA).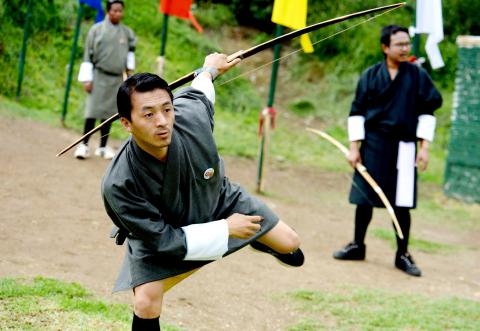 A Bhutanese archer reacts after shooting an arrow at the Changlimithang Archery Ground in Thimphu.
Photo: AFP
"We drink to gain confidence. We have a belief that if we drink we can hit the target better," the 25-year-old said, barely hiding a sheepish grin.
The game they play pits two teams of 11 players each who try to hit the maximum number of bull's-eyes on a fixed target a full 140 meters away. A war cry rings out each time the target is hit. Players in traditional gho dresses dance and sing folk numbers — different ones for winning and losing.
The crucial drink breaks see archers gulp down locally brewed whiskey before locking horns again on the field where colorful flags flutter in the breeze.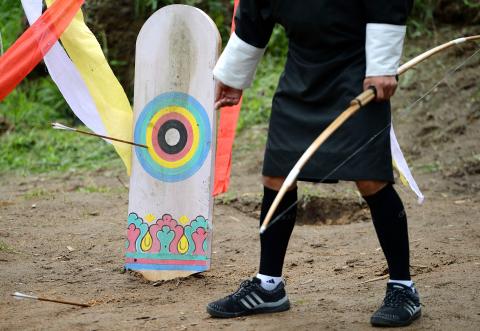 A Bhutanese archer points to a target hit by an arrow at the Changlimithang Archery Ground in Thimphu.
Photo: AFP
POISON ARROWS
The beloved national sport is steeped in legends about how bows and arrows were used to hunt prey and destroy demons and evil spirits.
Stories also abound about how the Bhutanese fought the rifle-armed soldiers of the British army in the 19th century using arrows dipped in poison.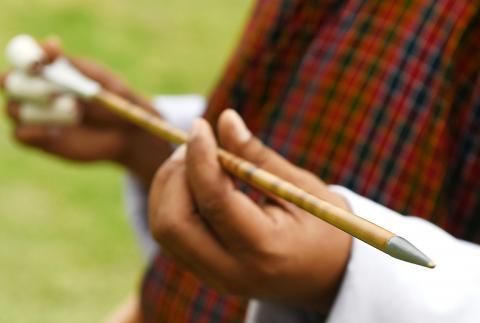 A Bhutanese archer holds a traditional bamboo arrow at the Changlimithang Archery Ground in Thimphu.
Photo: AFP
Archery was popularized by the first king of Bhutan Gongsa Ugyen Wangchuk (1862-1926) and it continued to flourish under royal patronage through the years.
But it suffered a decline after the reclusive nation decided to pursue economic development and open its doors to modernization, eventually allowing in television in 1999.
"TV made modern sports available, sports like football and volleyball which are cheaper to play. Suddenly there was competition for our traditional sports," said Kinzang Dorji, president of the BIGSA.
"Children had a wider choice unlike the generations before them," he said.
In addition, the advent of more advanced compound and recurve archery has meant Bhutanese archers used to traditional equipment made of bamboo reeds have struggled to find their feet in international competitions.
Bhutan has sent archers to every Olympics since 1984 but a medal has eluded the nation.
RIVALRY AND REVELRY
Some say the Bhutanese, who will vote in only the country's third elections later this month, lack the fiercely competitive streak needed to do well in the sport.
The likes of Ygyen Dorji beg to differ though.
"The rivalry is quite intense. Opponents often plant women in the stands to distract the rivals," said Ygyen Dorji, a mental health counselor and archery enthusiast. "The ladies mimic you, try to pull you down and one has to concentrate hard as pride and honor are at stake."
Fellow participant Karma Tshering said Bhutanese archers were not aspiring to global acclaim.
"Anybody can shoot with the sophisticated modern bows with the help of release aids and all," said Tshering. "It's the traditional archery which is more challenging, you have to focus on both your body and mind," he said, adjusting the sashes on his waist which he won for scoring maximum points during a game at Thimpu's national sports stadium.
The Bhutan Archery Federation recently started a program to train and encourage children to take up the sport.
In a shot in the arm for traditional archery, two Bhutanese athletes won gold medals at the historical World Archery championship held in August in Hungary.
"It was a great experience to compete with some 300 archers from all over the world," said gold-medallist Damcho Wangdi.
"It showed traditional archery can be revived as many countries in Europe and Asia have some history of playing with bows and arrows.
"And with our rich archery history and culture Bhutan can lead the way."
Comments will be moderated. Keep comments relevant to the article. Remarks containing abusive and obscene language, personal attacks of any kind or promotion will be removed and the user banned. Final decision will be at the discretion of the Taipei Times.