Taiwan in Time: The puppet master heads west
Lee Tien-lu was about to retire in the 1970s when a French scholar turned his fate around, and for the next two decades he would travel the world promoting his traditional puppet theater
Aug. 27 to Sept. 2
After wowing the audiences with a masterful puppet performance, an 82-year-old Lee Tien-lu (李天祿), still wearing his trademark sunglasses and traditional clothes, stepped up to the podium with the help of director Hou Hsiao-hsien (侯孝賢).
His biopic, The Puppetmaster, directed by Hou, had just won the Jury Prize at the 1993 Cannes Film Festival. In perfect French, Lee said merci to the laughter and applause of the crowd. It was not surprising to those who knew him, as this was his eighth trip to France since 1978.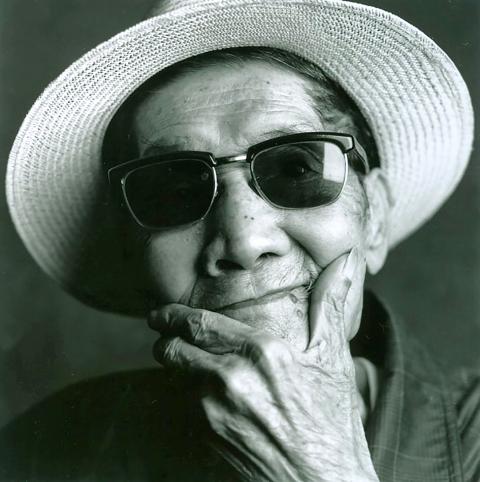 Lee Tien-lu almost always appeared with his trademark shades.
Photo courtesy of Lee Tien-lu Hand Puppet Historical Museum
What's remarkable is that aside from an trip to Shanghai in 1947, Lee never left Taiwan until the age of 68 as he headed to Hong Kong to perform at a festival. But as he liked to say, his life didn't begin until he was 70 as he became a frequent international flyer, also making his movie acting debut in in 1986.
"A fortune teller once told my youngest son that the older I got, the further I would travel," he said in his biography by Tseng Yu-wen (曾郁雯). "He never met me, and didn't even know my birth date and hour. I was 68 years old and pondering retirement. I thought, how could that be possible?"
FRENCH CONNECTION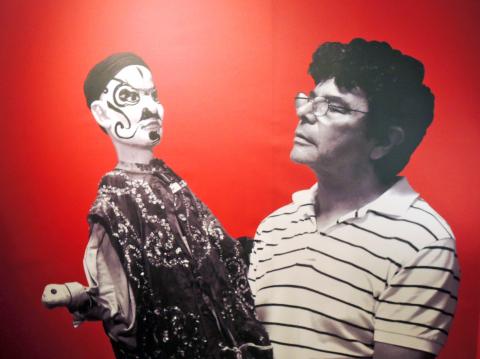 A portrait of Lee Tien-lu's first French disciple, Jean-Luc Penso.
Photo: Hung Mei-hsiu, Taipei Times
Born in 1910, Lee started performing as a child to help his family out. He established the troupe Also Like Life (亦宛然) when he was 22, which endured the banning of Taiwanese traditional arts in 1937 and flourished after the arrival of the Chinese Nationalist Party (KMT), even becoming the first puppet troupe to score its own television show in 1962.
Public interest in puppet theater and other folk arts started waning in the 1970s, and Lee started thinking about retirement. But little did he know that his adventure was just about to begin.
"One Frenchman overturned my entire situation," Lee says.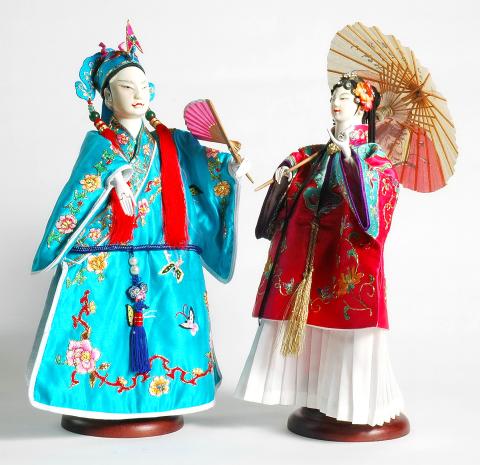 These puppets are either in use or were once used by Lee Tien-lu's puppet theater company, Also Like Life.
Photo courtesy of New Taipei City Government
In 1973, scholar Jacques Pimpaneau paid Lee a visit. Pimpaneau had been teaching French in Hong Kong and developed an intense interest in traditional puppet theater. He was visiting Taiwan for field research, and noted that Lee's troupe stayed mostly true to the original art form while others were experimenting with modern elements.
The two hit it off, and Pimpaneau asked Lee if he could send some of his students from France to learn from him. The first one to arrive was Jean-Luc Penso, and Lee officially took in two more French disciples after that. Through their connections, for the next few years Lee received students from all over the world. He found it ironic that foreigners were so interested in his art while Taiwanese were not. When someone advised him against taking foreign students, Lee replied, "I'll teach anyone who wants to learn."
The trio stayed with Lee on and off until they returned to France in 1977, forming their own puppet troupe, Theatre du Petit Miroir, that helped popularize the art form in Paris.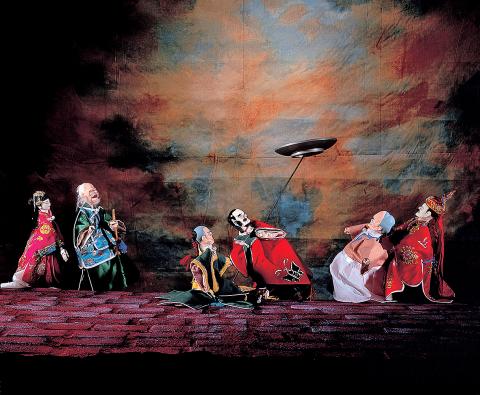 These puppets are either in use or were once used by Lee Tien-lu's puppet theater company, Also Like Life.
Photo courtesy of New Taipei City Government
Lee's performance in Hong Kong that same year was a huge hit and and received the attention of the international press — but he still carried through with his retirement plans once he returned home.
SECOND HOME
Once formally retired, Lee had time to travel. Penso invited him to visit France for the first time in August 1978, and Lee finally made the trip after obtaining government permission in late September. Due to a lack of funds, Lee traveled alone, detailing the various mishaps due to communication barriers in his biography. He stayed for more than a month before returning to Taiwan.
He soon returned to France again, this time under the invitation of the country's Ministry of Culture to hold puppetry workshops. But it was Theatre du Petit Miroir's performance in China that awakened Taiwanese interest in traditional puppetry — they happened to perform in Quanzhou in Fujian Province, where a local resident recognized the puppet as his father's works. The media jumped on the story.
The troupe then performed in Taiwan, garnering even more attention, and soon the story of how Lee taught foreigners who brought the lost art back to China was plastered all over the media.
"Through reports, the whole world now knows that Quanzhou's puppet theater has taken root in Taiwan and has now even prospers in places like Japan, Australia and France," Lee said. "The international spotlight now shone on Taiwan, and a dying art gained a second chance."
Immediately afterward Lee headed to Japan and South Korea with the troupe as an advisor to perform for French residents there. His travels almost never stopped from there as he tirelessly worked to promote his art. His busiest year was probably 1985, when he visited Kinmen, took two trips to Japan and finally set foot in America for the first time under the invitation of the Arkansas State Museum, also performing in New York and Chicago.
"I've been on the road since I was a child," he said. "I'm used to this kind of life. But it's the thought of cultural diplomacy and finding new possibilities for traditional arts that keeps me going. Otherwise how can this old body handle one trip after another?"
On his seventh trip to Paris in 1990 after touring the Netherlands, Italy and Morocco, Lee says it felt like he was returning home. He received many accolades in Taiwan, but in 1995, France also honored him by naming him a knight of the Ordre des Arts et des Lettres.
After Lee's death in 1998, his French disciples took a portion of his ashes and buried it in Cherence. France, from thereon literally became Lee's permanent second home.
Taiwan in Time, a column about Taiwan's history that is published every Sunday, spotlights important or interesting events around the nation that have anniversaries this week.
Comments will be moderated. Keep comments relevant to the article. Remarks containing abusive and obscene language, personal attacks of any kind or promotion will be removed and the user banned. Final decision will be at the discretion of the Taipei Times.