The LAB Space closes its doors
After a 17-year run of producing and directing Chinese and English-language theater, Brook Hall closes the doors on Butterfly Effect Theater to take a position in Europe
Oscar Wilde once said that drama is the meeting place of art and life, and no one brought art and life together for English-language theater in Taiwan better than Brook Hall.
Yet with TAPE, Hall's Butterfly Effect Theater is not only closing out its season after 17 years, but also the doors of The LAB Space. The impresario has accepted a teaching position at Vienna's English Theater, Europe's most prestigious English-language theater. He will be missed.
English-language theater in Taiwan has always had a hard go of it. The names of past theater groups — Community Amateur Theater Society (CATS), Phoenix Theater, Outcast Theater, Taipei Alien Dramatic Society (TADS) — read like contestants for the Taiwan Mayfly theater award, so rapidly do they appear and disappear. The issue has never been lack of talent or interest, but of sustainability.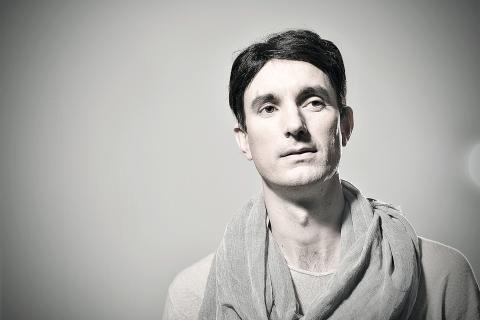 Veteran Taipei-based theater director and educator Brook Hall will move to Europe next month to work at Vienna's English Theater.
Photo Courtesy of David Barker
In addition to work permit problems, zero financial backing and scant government support, venues have always been a key challenge, especially those approved by the government for foreigners.
CATS, which survived during the martial law years when the choice of subject matter was closely scrutinized, faced this issue. Retired engineer and CATS board member Bob Weir recalls how even "places for practice were a problem."
CATS luckily got Taipei American School auditorium for its final production of M. Butterfly.
Theater director and educator Brook Hall leads a workshop in 2015.
Photo Courtesy of Edward Lee
TADS, like other groups, sought smaller places. It did its production of The Maltese Falcon in the now closed Peshawar Cafe in Shida. How it got past regulations is a mystery.
Rehearsal and performance space are not the only issues. Where does a theater group store its costumes and props when not in use?
Hall solved these problems by not only creating the Taipei-based Butterfly Effect Theater, but also developing The LAB Space, a home where his theater could build sets, hold classes in acting and directing and run 24-hour theater festivals to recruit and promote new talent.
TESTIMONIALS
Hall views his 17 years here like gaining a doctorate in theater arts. He did numerous shows in English and Chinese, including directing and choreographing Anything Goes at the National Concert Hall. And there's no shortage of testimonials on him.
"Brook has been a main staple for foreign theater," says actress Sharon Landon. "I never thought there would be a day when he was not around," she said.
Musician and actor Charlie Storrar says Hall built a theater community and put on quality shows.
"His leaving is a massive loss," Storrar says.
It is a sentiment echoed by Lucas Salazar, who performed in the company's final production.
"I thought Taipei was by and large populated by nomadic teachers... I quickly found LAB to be the community I had hoped to find." Salazar said.
Actor and musician Brandon Thompson recalls fondly The LAB Space's sold-out inaugural play that was performed in December 2013.
"[T]he warmth and Christmas cheer [made] it my favorite Christmas in Taiwan," he said.
The Tribulations of English-Language theater
With all these accolades, why leave? Hall says that he also witnessed another side of art meeting life in Taiwan — one that wasn't always positive.
Hall laments that even though Taiwan wants talent, anyone who stays is often asked: "You're good. Why aren't you in New York?'"
Earning a living can be daunting, especially in the south, where ticket prices are significantly cheaper. Hall said that Diary of Anne Frank tickets were NT$800 in Taipei. Tainan audiences would only cough up NT$300 for early-bird tickets that went up to NT$500 in the week leading up to the performance. Preparation workshops were given. Sets moved down. The ticket price, however, stayed at NT$300 and The LAB Space shouldered a debt of close to NT$300,000. Hall paid it off by doing consultant work in China.
Hall said another obstacle facing English-language theater is that the few government agencies that fund the arts often ignore a theater company's long successful track record. He added that they will say things like "Are you any good? Prove yourself."
Few venues will pay for quality props; they expect the theater troupe to provide them. Hall cites as an example a venue that told him that real silverware wasn't necessary for a performance. "It's a short show," Hall said they told him. "Why not use plastic?"
There is also the nebulous world of venue certification. The infamous March 2011 ALA pub fire in Taichung, which left nine dead even though the venue had allegedly passed 21 safety inspections in five years, ushered in intense scrutiny of government regulations. However, Hall says it only seems to apply to foreign work permits. The LAB Space has passed all fire safety checks to be one of 15 registered performing venues, yet a lot more clubs have performances — just without foreigners.
Venue owners avoid renting out their space to foreign performers for a few nights to avoid paperwork. This doomed Taipei Players and several other English-language groups.
The LAB Space's landlord rented them space and later admitted that it did not fit venue regulations. Hall said he was forced to renovate the space so that it met with the proper building codes.
Although Hall, like several English-language theater groups before him, has faced considerable adversity, he remains sanguine about the past five seasons.
"I've never been one to shy away from a challenge... and thanks to a remarkable community, we did it."
Comments will be moderated. Keep comments relevant to the article. Remarks containing abusive and obscene language, personal attacks of any kind or promotion will be removed and the user banned. Final decision will be at the discretion of the Taipei Times.