Highlight: Taipei Metro Street Competition shows off Taiwan's fiery street dance scene
The finalists for the Taipei Metro Street Dance Competition speak of their performance at the competition and their hip-hop journey
Street dance usually calls to mind American hip hop artists clad in loose baggy clothes, sneakers and flashy accessories, showing attitude in part through what they wear. But dance troupe Maniac Family stood out from the crowd at the Taipei Metro Street Dance Competition (捷運盃捷客街舞大賽) for their kung fu-inspired dress: black and gold detailed handmade costumes with an embroidery of a dragon and a qipao collar.
In its 14th year, the hip-hop dance competition is a platform for street dancers of any ability to showcase their talent. This year's competition attracted 1,471 participants from 239 dance groups, including international participants from the Philippines, Japan and Singapore.
The first round took place on July 14 and July 15, when Maniac Family showed off their stuff, while the finals will be begin tomorrow at 1pm at Daan Park MRT Station (大安森林公園捷運站).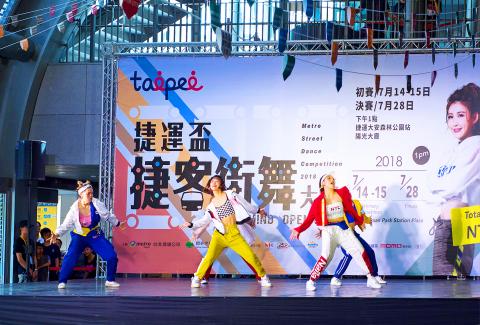 Hip-hop dance group #BeAAArtChic performs at the first round of the Taipei Metro Street Dance Competition held on July 14 and July 15 at Daan Forest Park MRT.
Photo courtesy of Taipei Metro Street Competition
Winners will receive up to NT$160,000 in prize money.
Maniac Family member Yu Hsin-yu (俞心蕙) says she was initially attracted to hip-hop through US-based television station MTV, and maintained a passion for it because it "made me feel beautiful and I could express myself through the rhythmic beat."
Yu adds that hip-hop became a platform for Maniac Family to express pride in their culture.
"We [Maniac Family] chose this Chinese music and kung fu-inspired costumes for our competition because we are proud to showcase our Taiwanese identity and represent Chinese culture on a global stage," Yu says.
Zhang Ai-yuan (張愛媛), another troupe member, says they will next month represent Taiwan and compete in Hiphop International in the US, a big opportunity that comes with enormous financial pressures.
"Not only do we spend a lot of time practicing — around three or four hours every day late at night — we spend [a lot of money] making costumes and attending bigger competitions. So we have to fundraise," Zhang says.
For Lin Ya-lun (林雅倫), K-pop has shaped her dance journey.
Lin, who hails from Squall dance group, taught herself hip-hop when she was in elementary school, watching Korean pop music videos. But even with her extensive experience Lin echoes a sentiment common to most dancers, regardless of what influenced them.
"All the other competitors were so good," Lin says. "It pushes me to work even harder."
Comments will be moderated. Keep comments relevant to the article. Remarks containing abusive and obscene language, personal attacks of any kind or promotion will be removed and the user banned. Final decision will be at the discretion of the Taipei Times.