Art exhibition listings
An exhibition about Chinese incense appreciation is currently on view at the National Palace Museum. Scents to the Heavens: A special Exhibition on Agarwood and the Culture of Incense features a selection of display objects, accessories and utensils associated with traditional and contemporary incense practices. The concept of "heavenly scent" mentioned in the title first appeared in a Northern Song Dynasty text about the culture of incense. The term refers to the unforgettable scent of high-grade incense, such as those made of agarwood, which is a resin-imbedded wood derived from aquilaria trees. These treasured trees are typically found in Southern China, Vietnam and other regions of Southeast Asia. Throughout history, agarwood incense has been favored in religious, cultural, and medicinal contexts, and a range of benefits has been attributed to its scent. The show features selections of agarwood sculptures, ornaments and finely crafted incense vessels from the palace collection. In a press release, the museum writes: "The show not only... offers [visitors] an opportunity to appreciate the... craftsmanship related to incense objects, but also [a chance] to explore the unforgettable scent this material, which has been likened to a heavenly fragrance." Visit the show to discover how the museum fulfills this promise of ancient palace aromas that "enhance the aesthetics of life."
■ National Palace Museum (故宮博物院), 221, Zhishan Rd Sec 2, Taipei City (台北市至善路二段221號), tel: (02) 2881-2021. Open Sunday to Thursday from 8:30am to 6:30pm and Friday and Saturday from 8:30am to 9pm
■ Until Oct. 20
Hung Yu-hao, Liquid Streetscape (2018).
Photo Courtesy of National Taiwan Museum of Fine Arts
Raul Gasque is a Taipei-based writer and artist whose experimental practices take many forms, including journalism, photography, performance and workshops. His ongoing interests are located between intersections of anthropology, history, psychology and other social sciences. For the month of June, Gasque has set up a space at the Mexican cultural office that seeks to "establish an abstract conversation between two subjects: Mexico and Taiwan," writes the artist. The interactive exhibition, Transcending Boundaries, is divided into two parts: a section for contemplation and a section for action and creativity. The first section features a selection of books by Taiwanese and Mexican writers, calligraphy and drawing notebooks and abstract objects that viewers are invited to smell, touch and contemplate. The second section is equipped with paper, crayons and canvas, which visitors are free to use. Through the act of using the materials provided, visitors are encouraged to "let flow any inspiration or stimulation" that has been generated from the first section of the show. The artist says this interactive project is borne out of the need for "communication schemes that are not linear or figurative."
■ Mexican Trade Services Documentation and Cultural Office, 333, Keelung Rd, Sec 1, Taipei (台北市基隆路一段333號), tel: (02) 2757-6566, Open Monday to Friday from 9am to 5pm
■ Until June 29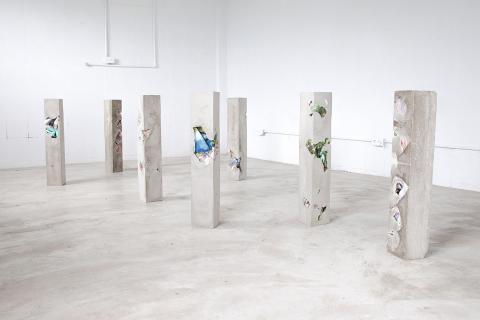 Sean Tseng, A Walk in the Forest (2016-2017).
Photo Courtesy of G.Gallery
Currently on view at G.Gallery is a two-person show Now and then, I find myself in a plain, and alter with a breeze, a glance by Sean Tseng (曾彥翔) and Sara Wu (吳依宣), each a recipient of the Judge Award at this year's Wonder Foto Day, an international photography competition and fair held annually in Taipei. The works of Tseng and Wu surpass the conventional frameworks of photography and reflect upon everyday environments through multimedia practices, writes the gallery in a press release. Tseng's A Walk in the Forest combines photography with sculptural forms. Inspired by high-rise buildings, the work consists of a group of cement pillars embedded with printed photographs of nature. The encounter of cement and photography creates a curious sculptural aesthetic of vulnerability and strength, nature and civilization, image and object. Wu's The Dimension of Texture is a series of photographs that capture markings on used objects and superimposes them on different surfaces. The generation of new images opens up the possibility of new contexts and meanings through which the photographed subject can be understood, thus creating a connection between different realities and illusions.
■ G.Gallery (居藝廊), B1, 3, Ally 3, Lane 227, Nongan St, Taipei City (台北市農安街227巷3弄3號B1), tel: (02) 2501-8326. Opens Wednesdays from 12pm to 7pm, and Thursdays to Sundays from 11am to 7pm
■ Until June 24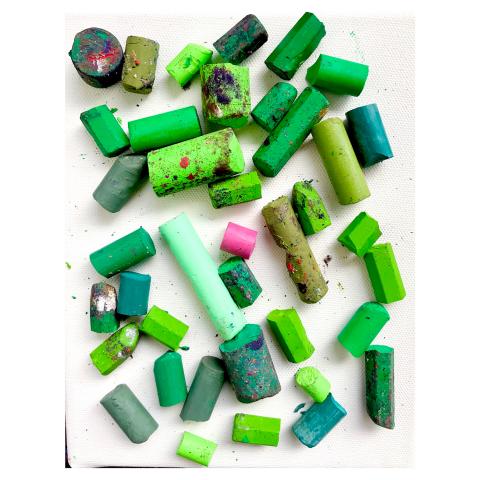 Raul Gasque, Transcending Boundaries, Reconfiguring the Form of Meta-Regional Dialogues (2018).
Photo Courtesy of the artist
Each year, Project Seek presents a program of exhibitions that proposes a shared question about the contemporary world. This year, the program focuses on "Certainty or Uncertainty?" a question fragment that raises the issue of clarity and its relevance to our everyday lives. Responding to this theme, James Ming-hsueh Lee's (李明學) upcoming solo exhibition, Boundary, reflects on the role of expiration dates in consumer society and how these labels replace our ability to directly observe the physical condition of a product. The life span of an object is standardized by a temporal system that is full of approximations, and this system greatly influences our values of production and consumption. In this show, Lee presents readymade objects purchased from various commercial stores that will expire by the end of the exhibition. In a press release, the gallery describes Lee's process as a game "of randomness, luck, resilience, patience and effort... the amount of time spent searching has no direct reward." How do we determine the life of an object in the context of art? How are our perceptions and value systems determined by various social and psychological factors? Lee is an award-winning artist whose practice focuses on relational frameworks that make up meanings, contexts, and paradoxical moments.
■ Project Seek, 12F, 9, Roosevelt Rd Sec 2, Taipei City (北市羅斯福路2段9號12樓), tel: (02) 2396-5505. Open Mondays to Saturdays from 11am to 6pm
■ Until Aug. 11
Painted Enamel Incense Set with Lotus Decoration on a Yellow Background (with box), (1736-1795).
Photo Courtesy of National Palace Museum
Hung Yu-hao (洪譽豪) specializes in aerial photography, virtual reality projects and images manipulated with post-production techniques. He draws inspiration from his surroundings and has done an extensive visual survey of his neighborhood, Wanhua District (萬華), in Taipei. Reflecting on the urban space as a shifting landscape of continual flow and migration, Hung explores the changing impressions and evolving memories of Wanhua and its continual generation of individual and collective experiences. Hung's current exhibition, Liquid Streetscape, at National Taiwan Museum of Fine Arts is a 360 degree, looped video assembled with drone footage of Xichang Street (西昌), an area of Wanhua that cultivates a complex melting pot of residents, migrants and visitors. "As I observe the historical street around Longshan Temple from day to night, [I pay] special attention to how, through time and social change, the area has become a place of contemporary faith and [a place of convergence between] hawkers, sex workers, migrants and tourists." For this project, Hung processed video footage captured with his drone with post-production methods to present a new streetscape that is based on reality but manipulated with virtual techniques.
■ National Taiwan Museum of Fine Arts (國立臺灣美術館), 2, Wuquan W Rd Sec 1, Taichung City (台中市五權西路一段2號), tel: (04) 2373-3552. Open Tuesdays to Fridays from 9am to 5pm, Saturdays and Sundays from 9am to 6pm.
■ Until July 29
Comments will be moderated. Keep comments relevant to the article. Remarks containing abusive and obscene language, personal attacks of any kind or promotion will be removed and the user banned. Final decision will be at the discretion of the Taipei Times.