Highlight: 'Water protectors' tour Taiwan
Here is perhaps something not to be proud of as a resident of Taiwan: according to Mazaska Talks, a to Web site run by indigenous US activists, four of the nation's financial institutions are listed among "banks financing indigenous rights violations and the desecration of our earth."
Despite being minor players, E Sun Commercial Bank, Bank of Taiwan, Taiwan Cooperative Bank and Hua Nan Commercial Bank have allegedly invested in several controversial pipeline projects in the US, including the Dakota Access, which sparked major indigenous resistance as it would threaten sacred grounds and affect the quality of water in the area. Construction has also brought an influx of male workers that have led to a surge in violent crime, especially against women.
"We are here today to let you know that the power is in the people's hands, and to wake up is to know where your money is going … [and] who's actually using your money to invest. Most people don't know, and some people in the banks don't even know," indigenous US filmmaker and activist Myron Dewey tells the audience in Taipei after a screening of his film Awake about the Standing Rock protests.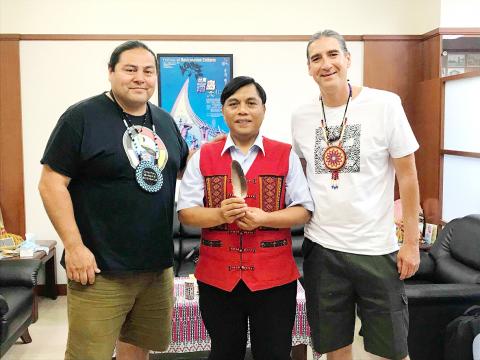 Myron Dewey, left, and Patrick Kincaid, right pose for a photo Thursday afternoon with Sasala Taban, dean of the College of Indigenous Studies at I-Shou University in Kaohsiung.
Photo courtesy of Chad Yen
Exhausted after spending the previous day meeting with officials at the Bank of Tokyo Mitsubishi, a primary target for divesting in the pipeline projects, Dewey and fellow indigenous activist Patrick Kincaid, who is a lawyer, arrived in Taiwan on Monday for a two-week tour where they will screen the film, share their experience in indigenous and grassroots activism, visit with Aboriginal groups and finally, attempt to plead their case with the Taiwanese banks.
Dewey and Kincaid refer to themselves as "water protectors," which is what those opposing the pipeline prefer to be called instead of "protesters."
Since they have not been able to stop the pipeline construction, the activists turned to divestment campaigns to curb its funding. Last February, Seattle became the first city to sever ties with its primary financial services provider of Wells Fargo, which is investing in the pipeline and the company building it.
Dewey and Kincaid have their unique ways of persuading people to join their cause.
"We're all born of water from our mothers, and it's important to recognize that even across the world, we're connected by the water we drink. When we see the pipelines go through, we consider it raping our mother," Dewey says.
As a lawyer, Kincaid invokes international indigenous rights accords and agreements that these banks and governments are violating.
"I'd like to see if we can stimulate a unification of citizens in Taiwan and the US to address our colonial governments' approach to environmental and social issues associated with energy policy," he says. "Indigenous and citizens both, we're all in the same boat. We share the colonial banking structures that are promoting these international extraction industries that are destroying the world."
For more information about their trip and a list of public talks and screenings, visit www.facebook.com/DKTaiwanTour2018.
Comments will be moderated. Keep comments relevant to the article. Remarks containing abusive and obscene language, personal attacks of any kind or promotion will be removed and the user banned. Final decision will be at the discretion of the Taipei Times.