Like father, like son
After an eight-year absence from the silver screen, Taiwanese filmmaker Hsiao Ya-chuan returns with his third feature, a sprawling intergenerational drama that explores the relationship between a father and son
Growing up, Taiwanese filmmaker Hsiao Ya-chuan (蕭雅全) shared a rocky relationship with his father. Solemn and overly frugal, his father was consumed with saving money, and faced difficulties communicating with his children, recalls the now 50-year-old.
"He was a very thrifty person because he grew up in very poor circumstances. But he didn't know how to talk about his inner emotions, about his own sorrow and happiness, as though his entire life had been repressed by the lack of money," Hsiao says.
These memories of his late father, who passed away five years ago, were what inspired the director to make his third feature Father to Son (范保德), which made its world premiere at the recently-concluded International Film Festival Rotterdam (IFFR). The fictional film was nominated for the VPRO Big Screen Award, alongside Taiwanese-Dutch coproduction An Impossibly Small Object by David Verbeek, though it did not win. It is set for a commercial release in Taiwan in September.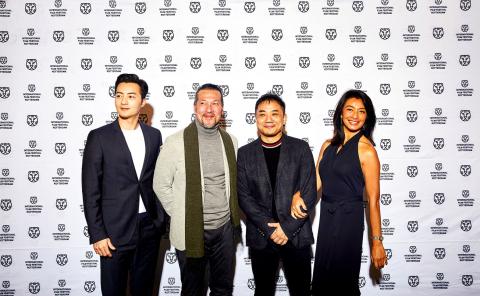 Cast members Samuel Koo , Michael JQ Huang , Hsiao Ya-chuan and Aria Wang at the world premiere of Father to Son at recently-concluded International Film Festival Rotterdam.
photo courtesy of Hsiao Ya-chuan
Father to Son follows protagonist Van Pao-te (Michael JQ Huang, 黃仲崑), who realizes on his 60th birthday that he is dying. With time running out, he heads to Japan with his own son in search of his father who abandoned him 50 years previously. At the same time, a young man with a mysterious connection to Van's past travels from Hong Kong to Taiwan.
Much of Father to Son fleets between the past and the present over the course of its 115-minute running time — the film charts the complex relationships between intergenerational pairs of father and son, against the backdrop of Taiwan's tumultuous history under colonial rule in the last century.
"Taiwan has a very complicated history — first it belonged to China, then it belonged to Japan and before that it was under Dutch rule. The search for the father in the film parallels a similar search for identity in the hearts of many Taiwanese," Hsiao says.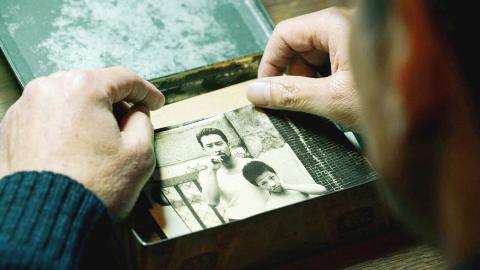 Father to Son follows the journey of 60-year-old protagonist Van Pao-te, who travels to Japan in search of his father who abandoned him 50 years previously.
photo courtesy of Hsiao Ya-chuan
As the father of a 13-year-old son and a 16-year-old daughter himself, the director says he is determined not to follow in his late father's footsteps when it comes to his own children.
"My father's frugality created a sense of insecurity in me, as if the family could run out of money anytime. There was a feeling of poverty, where we never had enough to do the same things other people could. When I had my own family, I really hoped my children would not have the same feeling."
Yet Hsiao admits that try as he might, the apple never falls far from the tree, as the characters in his film demonstrate.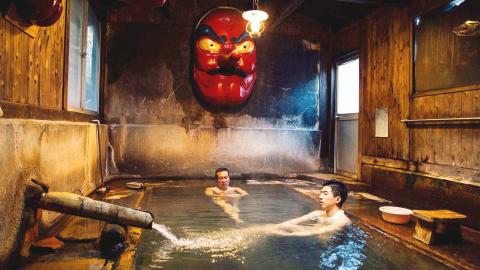 Father to Son follows the journey of 60-year-old protagonist Van Pao-te, who travels to Japan in search of his father who abandoned him 50 years previously.
photo courtesy of Hsiao Ya-chuan
"We don't know if it's because of our genes or the environment we've grown up in since [we were] young, but it's always difficult to break away from the influence of our families. My friends and I realize that strangely, as we grow older, we are becoming more like our fathers."
Father to Son marks Hsiao's return to the silver screen after an eight-year-absence since his second feature, Taipei Exchanges (第36個故事, 2010), which was released a decade after his debut Mirror Image (命帶追逐, 2000). The director says these prolonged filmmaking droughts were not due to creative blocks; instead he was busy shooting television commercials amid a perceived slowdown in the Taiwanese film industry.
"The atmosphere for movies was not as great before. The industry for television commercials is more matured, so many people who liked to shoot films went to do that. But the film industry has been getting better recently, so a lot of older people like me who turned to commercials are now returning to film."
And like his two previous films, Father to Son is also the third of Hsiao's films to have legendary Taiwanese filmmaker Hou Hsiao-hsien (侯孝賢) on board as executive producer. Hsiao served as Hou's assistant director on the set of his 1998 film, Flowers of Shanghai (海上花).
"After I finished working on Flowers of Shanghai, I wanted to make my own film (Mirror Image) so I invited Hou to be my supervisor and he agreed. It was a very natural process, him advising me and us working together. And it became a habit," he says.
With the duo having collaborated on a number of successful productions together, one might wonder if Hsiao often gets compared to the older Taiwanese maestro by outsiders, or perhaps even feel overshadowed by his mentor.
"Every author is afraid of being like another person. Hou Hsiao-hsien is a very renowned and powerful director and because he has always supported me, my biggest fear is to be like him. But of course, we have creative differences when it comes to the aesthetics of film," says Hsiao, adding that they always work things out eventually.
"He is an elder who takes very good care of the younger generation, and I feel very honoured that he is looking after me," Hsiao says. "I would never think that he is blocking my spotlight."
Comments will be moderated. Keep comments relevant to the article. Remarks containing abusive and obscene language, personal attacks of any kind or promotion will be removed and the user banned. Final decision will be at the discretion of the Taipei Times.