Taiwanese-American shakes up New York City's political machine
Yuh-Line Niou fights for diverse lower Manhattan District in State Assembly
When Sheldon Silver took office in 1977 as a state assemblyman in Lower Manhattan, Taiwan native Yuh-Line Niou (牛毓琳) wasn't even born.
Nearly four decades later, Silver's arrest and subsequent conviction in late November 2015 on federal corruption charges left open a vacant Assembly seat and an opportunity for the 33-year-old Niou.
A former staffer for New York's only Asian-American state lawmaker at that time, Niou hoped to join her boss, assemblyman Ron Kim, in the legislative chambers of the state capitol in Albany.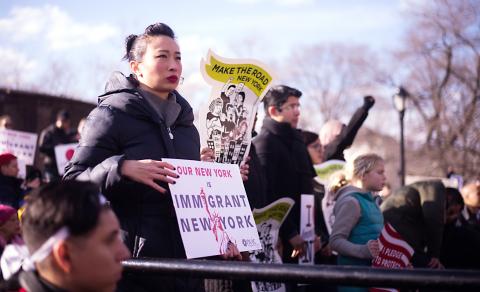 Assemblywoman Niou is among the participants at an immigration rally in this undated photo.
In November, voters gave her that chance.
During her first 100 days in office, Niou has rallied to keep the "Fearless Girl" statue in the Financial District, fought for funding to protect immigrants and refugees and sponsored legislation to increase transparency around nursing home closures, according to her office.
And she's done this as the first Asian-American to serve as an Assembly member outside the New York City borough of Queens, where one in four residents is Asian.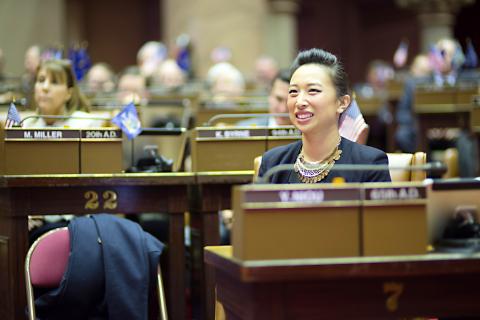 Yuh-Line Niou is just one of two Asian Americans in the New York State Legislature.
"I was shocked that there was so little Asian-American representation on the state level. Period," Niou said in a phone interview this month.
Born in Taipei, Niou said she was six months old when she emigrated to the US with her parents. For much of her childhood, Niou and her family bounced around different parts of the country, the result of her parents' educational pursuits, Niou said. Her dad is a material science engineer, her mom a registered nurse and former hospital administrator.
While Niou was too young to remember Taiwan before moving to the US, she said she recalls returning to the nation for summers when she was in third and fourth grade to attend school in Taoyuan, where her parents were from.
"I would kill everyone at PE (physical education), but I was really behind in math and science," Niou said, laughing.
Her interest in politics, she said, came out of an early passion for social justice causes. As a fifth or sixth grader in El Paso Texas, Niou volunteered at the hospital where her mom worked, she said. She also wanted to save the earth, thanks to her dad's interest in the environment.
LIFE LESSONS
But it was during her second year at The Evergreen State College in Washington that Niou learned an important lesson in government, after participating in a state legislative internship program, she said.
"That was when I realized that the big secret is that government's touchable, that all we have to do is know how to do it," Niou said.
But, she added, "There's a lot of people who don't want you to know how accessible it is."
Niou eventually made her way to New York City in her mid-20s, she said, studying as a graduate student in the National Urban Fellows program at Baruch College in Manhattan.
In 2012, that same program helped connect her to Kim, a Korean-American who had also attended and who was mulling a run for office. Kim won election to the Assembly that November, representing part of the New York City borough of Queens. Niou became his chief of staff.
Kim, a Democrat, was among those who encouraged Niou to run for the Manhattan Assembly seat left vacant by 73-year-old Silver, a powerful lawmaker who had served as Assembly speaker for nearly two decades.
Silver, who was sentenced to 12 years in federal prison, remains free on bail as he appeals his conviction on charges stemming from a US$5 million corruption scandal.
With no intention of ever running, Niou said her parents were surprised when she told them she'd make a bid for elected office. Her entire family, which includes a younger brother and sister, were supportive, Niou said.
Niou's mom even stayed with her for about three months, she added, helping out her campaign by knocking on doors and making phone calls.
"She just realized how important it was that we had the right to vote, that as an American citizen there were things that we took a lot for granted," Niou said.
Niou's election to the Assembly was anything but preordained. She stunned fellow Democrats when she announced last February that she was dropping out of a nomination process for a special election last spring to fill out the rest of Silver's term.
Niou, who called the process flawed, ran under the Working Families Party instead, narrowly losing to the Democratic candidate.
But in September Niou made a comeback, beating out the other Democratic contenders in the primary and handily winning the general election in November.
With that victory, New York City had its first Asian-American state lawmaker elected outside of Queens. A seat that once belonged to the same man for nearly four decades was now hers.
"I know that I tripped up a machine," Niou said. "I broke something that was there."
ACCOMPLISHMENTS
In the short time she's been in office, representing a district with a mix of Asians, whites, Hispanics and blacks of varying income levels, Niou said she's had a number of accomplishments that make her proud.
Among them was news that "Fearless Girl" would stay put in the Financial District until at least next February. The statue was originally installed to honor International Women's Day, celebrated on March 8, and came to symbolize the determination and defiance of young women.
Joined by city, state and federally elected officials, Niou sent a letter to New York City Mayor Bill de Blasio, asking him to keep "Fearless Girl" where she was.
Niou also secured US$200 million for public housing repairs, pushed to increase education funding, and was the main sponsor of an Assembly bill seeking to increase transparency and community engagement around nursing home closures, according to a statement from her office.
Though just a little more than four months into her term, the freshman lawmaker will face reelection next year. Assembly members in New York State serve two-year terms.
Niou said she plans to run again in 2018.
Asked whether a Congresswoman Niou or Mayor Niou may be in the offing, she replied, "My expertise is on the state level, and I think that's where I can do the most for my community. And that's what I intend to do."
Comments will be moderated. Keep comments relevant to the article. Remarks containing abusive and obscene language, personal attacks of any kind or promotion will be removed and the user banned. Final decision will be at the discretion of the Taipei Times.