Film review: My Dear Art
Too many subjects and themes clutter up this documentary about the world of art collectors, making difficult to follow
The only part of the documentary My Dear Art that speaks to the non-specialist of contemporary art is at the end (don't worry, there's nothing to spoil due to the lack of narrative), when the filmmakers ask people on the street about art and art collecting: Why collect art instead of visiting a museum? What is the difference between rubbish and art? These are the questions that the everyday viewer would probably want to know.
Perhaps there is a reason those questions are placed at the very end. The documentary addresses them to a certain degree, but the film is so disjointed with so many interview segments seemingly forced together that it's just painfully hard to follow. Perhaps the earlier interviews answer these questions, but isn't it the filmmaker's job to present it in an easily digestible way? The film made its world premiere in March at Hong Kong's Art Basel fair, which makes sense as many fair regulars are featured. But if it is to be shown in theaters, it needs to be more straightforward.
There's also the issue of narrative. The audience stops caring about all the information presented in the film when there's not a good story to follow. It's one thing if filmmakers simply follow seven art collectors and delve into their passion and lives, but the discussion largely ends up superficial because of the sheer number of subjects featured in between, who collectively seem to receive more screen time than the "protagonists." Director Hsu Hao-hsuan (徐浩軒) tries to group all the interviews into themed chapters, such as "Definitions," "Identity" and "Confidant," but it's tedious watching a succession of talking heads for 109 minutes without getting to know any of them.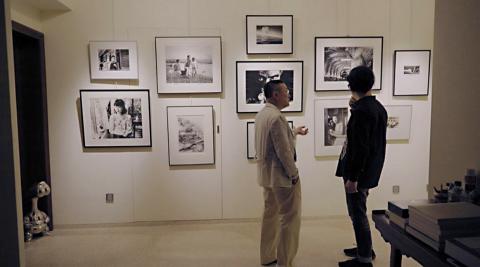 A scene from My Dear Art.
photo courtesy of atmovies.com
Furthermore, much of the editing doesn't make sense. If the focus is on art collecting, why have a huge part of the film featuring artists talking about their art at length? If the theme is Asian, or Chinese art in particular, why spend 10 minutes talking about an Italian art collector's projects in Italy (just because their gallery features a Chinese artist)? It's not just Italy, the film jumps from country to country with bits that seem to be simply thrown in just because the person said or did something interesting, not because it is essential to the film. It's an ambitious project that covers more than 10 cities, but less is often more.
Before continuing, there's also a technical gripe. The interviewer's voice is heard throughout almost all of the interviews, and she even jumps in to finish the interviewees' sentences at several points. This is not only unprofessional, it is highly irritating and distracts the viewer even further. For such a slick, high-budget documentary with a big name producer in Taiwanese composer, writer and art collector Yao Chien (姚謙), this gaffe is quite baffling.
The film's synopsis states that the film is about the mysterious forces that compel these collectors to pay exorbitant prices to own a piece of art. One man in the film mentions that being a collector means that you alternate between being someone with good taste and a fool. This, and some other statements, are tantalizing in that they offer insight into the buyer's mind. Too often, however, these insights are are diluted by all the clutter.
One focus is the supposed shift of artistic authority from the Western world to Asia, but the bulk of the film features Chinese artists or collectors of Chinese art. These people do make intriguing statements, but when you awkwardly cram in segments from Japan, Singapore and Taiwan just to fulfill the promise of covering Asia, you're probably working in the wrong direction.
China has a large and vibrant enough art scene with many themes to explore, such as government censorship and self-censorship, which are brought up several times in the film, but, of course, are not explored at length. There needs to be a tangible way to string so many countries together — perhaps exploring the relationship between them. For example, in the ending credits scene a Taiwanese collector makes an off-hand comment at a banquet about how Chinese collectors don't know anything about Taiwanese art, and it's curious why this scene was included if nothing else made the final cut.
There are so many random remarks like these that makes one think that the director would have been better off making several films out of his seven-month shooting efforts.
About an hour into the film, it still isn't apparent whether the film is about the artists, the collectors or merely a promotional video for the Chinese art scene disguised as a pan-Asian phenomenon. Without a narrative, or any semblance of meaningful structure, it's really hard to tell.
Publication Notes
Film Note
My Dear Art 一個人的收藏
Directed by: Hsu Hao-hsuan (徐浩軒)
Language: Mandarin, English and Japanese with Chinese and English subtitles
Running time: 106 MINUTES
Taiwan release: In theaters
Comments will be moderated. Keep comments relevant to the article. Remarks containing abusive and obscene language, personal attacks of any kind or promotion will be removed and the user banned. Final decision will be at the discretion of the Taipei Times.