Innovative artists given room to experiment
The National Theater Concert Hall opens its Innovation Series of theater and dance in the Experimental Theater this weekend
Now that the National Theater Concert Hall's (NTCH) Taiwan International Festival of Art is winding down, with just two programs left in the series, Anne Teresa De Keersmaeker's company Rosas this week and Toneelgroep Amsterdam's production of The Fountainhead at the end of the month, its Innovation Series is set to launch.
The deft touch of the NTCH's programmers is evident with yet another well-curated series of theater and dance that mixes local artists and foreign performers, contemporary and classic forms and some shows that sell out weeks ahead of time.
In fact, the first two programs in the series, both theater pieces based on prominent English playwrights' works, have sold out: Wang Chia-ming's (王嘉明) Blood and Rose Band (血與玫瑰樂隊), an examination of William Shakespeare's historical plays and England's War of the Roses as seen from the perspective of a disc jockey, and Malaysian-born Koh Choon Eiow's (高俊耀) Outsider (親密), based on the works of Harold Pinter.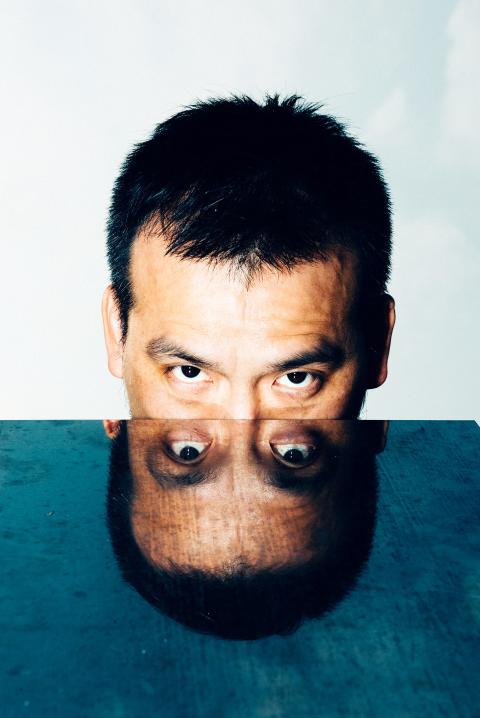 Chen Wu-kang is one of three dancer/choreographers whose work, One dance, one dances, one danced, will be featured in the Taiwan Dance Scene-Mixed Program at the Experimental Theater in Taipei starting on June 2.
Photo Courtesy of National Theater Concert Hall
The third drama piece, Li Ming-chen's (李銘宸) Golds: The Night in Front of the Forest (戈爾德思:夜晚就在森林前方), which opens on June 9, is based on French playwright Bernard-Marie Koltes' 1977 monologue La Nuit juste avant les Foret, about the struggles of immigrant workers trying to survive in their new societies.
The first of the three dance programs in the series opens on June 2: Taiwan Dance Scene-Mixed Program. It will showcase works by Lin Yu-ju (林祐如), Chen Wu-kang (陳武康) and Liu Yan-cheng (劉彥成), which all deal in some way with metamorphosis.
On June 23, Terrace on the Hill (尋,山裡的祖居所), a coproduction by the TAI Body Theatre (身體劇場與羅蘭) and French percussionist Roland Auzet opens. The five-year-old company, founded by Watan Tusi, a Truku, includes members of the Truku, Paiwan and Puyuma communities from eastern Taiwan.
Lin Yu-ju is one of three dancer/choreographers whose work, Sponge, makes up the Taiwan Dance Scene-Mixed Program at the Experimental Theater in Taipei starting on June 2 as part of the NTCH's Innovation Series.
Photo Courtesy of National Theater Concert Hall
The show is about sharing stories of the past and searching for meaning in the future.
The EkosDance Company from Indonesia will close out the dance section of the Innovation Series with two works by founder and choreographer Eko Supriyanto, Crying Jay Lolo and Balabala, beginning on July 14.
Supriyanto, who is an expert in traditional Indonesian court dances, examines contemporary issues and challenges societal assumptions.
Cry Jailolo is about the risks of overdevelopment and the threat to the world's oceans, while Balabala takes war dances that are usually performed by men and has women dance them.
The ticket prices for the Innovation Series range from NT$700 to NT$900 and are available at the NTCH box offices, online at www.artsticket.com.tw or at convenience store ticket kiosks.
There is also a music portion to the series, but it does not start until September and tickets are not yet on sale. It will feature an international orchestra's look at Central Asia's "new language" and a contemporary musical theater production.
As for the Rosas program mentioned at the top of this article, the Belgium-based company has brought two productions to Taipei on its third visit: Vortex Temporum and Fase. There are just a handful of tickets left for Vortex Temporum tonight, while Fase, which was De Keersmaeker's first creation, is sold out.
Vortex Temporum features seven dancers and seven musicians from the Belgian music ensemble Ictus and was inspired by a work by contemporary French composer Gerard Grisey. The work visualizes polyphonic music by paring a dancer to a musician and creating movement befitting the instrument being played.
Comments will be moderated. Keep comments relevant to the article. Remarks containing abusive and obscene language, personal attacks of any kind or promotion will be removed and the user banned. Final decision will be at the discretion of the Taipei Times.