A cook's eye view
British director Katie Mitchell rethink of the Swedish classic 'Miss Julie' for Berlin's Schaubuhne theater is a richly visual production, told from the perspective of the family cook
Swedish author and playwright August Strindberg's groundbreaking look at class differences, sexual politics and theater staging, Miss Julie, has been dissected, analyzed, criticized and reworked in various genres since it was written in 1888.— as has he.
For generations, stage and film directors around the world have given their takes on his story of an aristocrat, Miss Julie, and her encounters with her father's manservant, Jean, after an alcohol-fueled Midsummer Eve's party and the repercussions for all involved.
British theater and opera director Katie Mitchell gained fame for her multi-media works and for telling stories from a female perspective, and her 2010 production of Miss Julie for Berlin's Schaubuhne theater was no exception.
Luise Wolfram plays the title role in the Schaubuhne theater's production of August Strindberg's Miss Julie, on at the National Theater this weekend as part of the Taiwan International Festival of Arts.
Photo courtesy of Thomas Aurin
Her production will be performed at the National Theater in Taipei this weekend, for three shows starting tomorrow night.
Alhough Mitchell has worked primarily in Europe in recent years, Miss Julie was her first in Berlin and her first for the Schaubuhne, which was founded in 1962.
Thomas Ostermeier, who took over as Schaubuhne's artistic director in 1999, turned it into a repertory-style theater with a permanent ensemble of actors. The cast that will be performing at the National Theater is largely the original one, with Jule Bowe reprising her role as Kristin, with Tilman Strauss as Jean and Luise Wolfram and Miss Julie.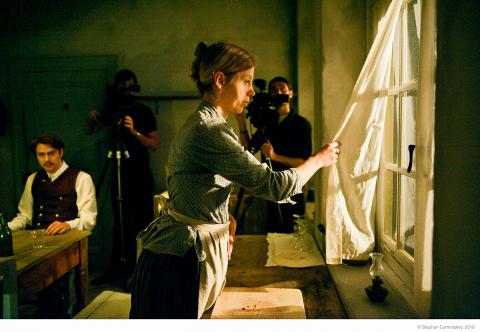 Tilman Strauss, left, and Jule Boewe, center, are in the cast of the Schaubuhne theater's production of Miss Julie at the National Theater this weekend as part of the Taiwan International Festival of Arts.
Photo courtesy of Stephen Cummiskey
The big difference with Mitchell's take on Strindberg's play is that she utilized a film crew on stage to capture the action, and shifted the focus of the story to the perspective of what was traditionally one of the minor characters, the family cook Christine (Kristin in this production), who is Jean's fiance and a witness, albeit sometimes a sleeping one, to Julie and Jean's pursuit of one another.
Mitchell tapped Leo Warner, cofounder of the Britain-based Fifty Nine Productions and a frequent collaborator, to work with her on the live video side of the production and they share director credits for the show.
Mitchell and Warner have been credited with pioneering a new medium — "live cinema" and that concept seems well-suited for Miss Julie because Strindberg's play was conceived as a new medium, a call to revolution of the standard Swedish theater conventions of his day. He wanted to see theater that was as natural as possible, free from all artifice, because he fell that this would lead to a greater understanding of humanity.
By using a black-clad film crew to provide video footage of the stage action, the audience is provided with a much closer look at the character's actions and interactions as they occur on stage.
There are a couple of caveats that come along with this Miss Julie production. One is that it is not suitable for those under the age of 12, which one would think would be self-evident. The others are that there is partial nudity, and that latecomers might not be admitted.
The play runs 75 minutes and will be performed in German with Chinese and English surtitles.
There will be a post-show discussion in the theater lobby after Sunday's matinee.
Publication Notes
Performance Notes
What: Miss Julie
When: Tomorrow and Saturday at 7:30pm, Sunday at 2:30pm
Where: National Theater (國家戲劇院), 21-1 Zhongshan S Rd, Taipei City (台北市中山南路21-1號)
Tickets: There are only a handful of NT$500 seats left for all three shows, available at NTCH box offices, online at www.artsticket.com.tw and at convenience store ticketing kiosks
Comments will be moderated. Keep comments relevant to the article. Remarks containing abusive and obscene language, personal attacks of any kind or promotion will be removed and the user banned. Final decision will be at the discretion of the Taipei Times.