Out of Taiwan
Legislator Kolas Yotaka and academic David Blundell will give talks on Saturday about Taiwan's impact on Austronesian language and culture and the current state of Aboriginal affairs
David Blundell will give a lecture on Saturday titled "Taiwan roots of the Austronesian Language and Culture," at the Legislative Yuan, sharing the stage with Democratic Progressive Party (DPP) Legislator Kolas Yotaka, who will discuss the current state of Aboriginal affairs in Taiwan.
Blundell, a professor at National Chengchi University who has been doing anthropological and archaeological research in Taiwan since the early 1980s, will discuss how the majority of Austronesian languages find their origins in Taiwan.
"It's a history that dates back between 4,500 to 3,500 years," Blundell told the Taipei Times, when Taiwan's Aboriginal groups first started to travel to what is today's Malaysia, Indonesia and the Philippines.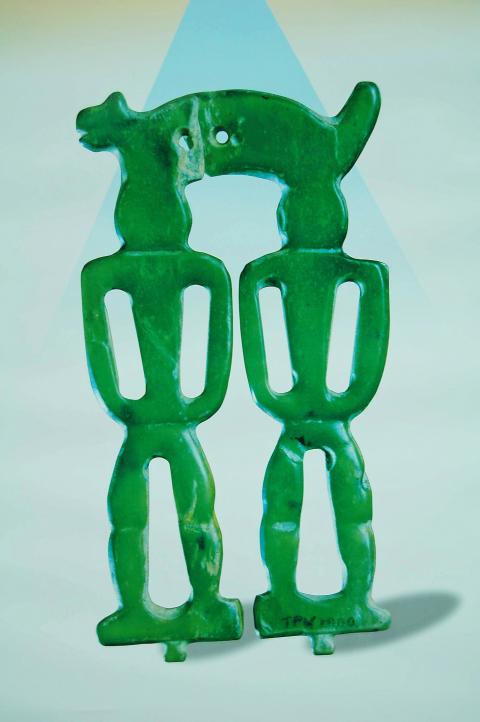 A replica jade artifact is exhibited at Taitung's Beinan Cultural Park. Nephrite jade was a valuable commodity in ancient trade.
Photo: Huang Ming-tang, Taipei Times
"They weren't colonists," Blundell says, "but traders."
Blundell, who has recently edited Taiwan Since Martial Law: Society, Culture, Politics, Economics and Austronesian Taiwan: Linguistics, History, Ethnology, Prehistory, says that the "Formosans" would trade nephrite jade, grain and pottery to southeast Asia where they would also pass on their languages.
Their languages became incubators for other languages, which Blundell numbers at around 1,200 today, all of which fall under the Austronesian family.
"If the language incubated in Indonesia, it became a different kind of language ... just as European languages became differentiated," he says, a pattern that repeated itself throughout the region and as far as Madagascar.
Kolas told the Taipei Times through a spokesperson that she will discuss the current land rights issues facing Aborigines.
The lectures will be held at 10am in English at the Legislative Yuan complex, 1 Jinan Rd, Taipei City (台北市濟南路1號). Admission is NT$100 and includes light refreshments.
Attendees must register with Jerome Keating by 10pm tomorrow at: jkeating@ms67.hinet.net.
Comments will be moderated. Keep comments relevant to the article. Remarks containing abusive and obscene language, personal attacks of any kind or promotion will be removed and the user banned. Final decision will be at the discretion of the Taipei Times.