A little bit of craziness
Cloud Gate 2 is preparing for its (almost) annual 'Spring Riot' program, which opens next weekend
March madness pretty much sums up the feeling of Taipei's modern dance fans, as this month starts what is going to be a marathon of dance performances over the next several weekends, following the long pre and post-Lunar New Year holiday hibernation. The only feet that were heard tapping during that time were those of impatient audiences anxiously awaiting the upcoming shows.
Friday next week (March 17) will see the opening of Cloud Gate 2's (雲門 2) "Spring Riot World Premiere" (春鬥 2017世界首演) and the start of seven performances spread out over two weekends at their home theater in New Taipei City's Tamsui District (淡水).
Cloud Gate 2 fans have missed the annual riot, which was interrupted last year so the company could perform artistic director Cheng Tsung-lung's (鄭宗龍) first full-length work for the troupe, 13 Tongues (十三聲), commissioned by the National Theater Concert Hall for the Taiwan International Festival of Arts.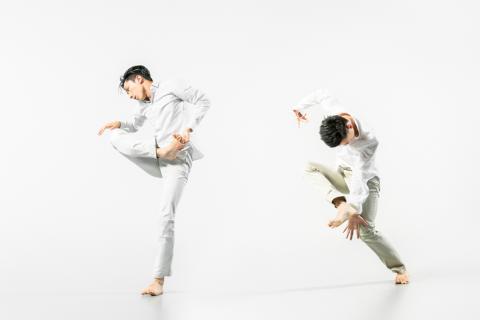 Huang Huai-te's Bright is one of three works on Cloud Gate 2's "Spring Riot World Premier" program that opens on Friday next week at the Cloud Gate Theater in Tamsui, New Taipei City.
Photo Courtesy of Lee Chia-yeh
However, this year's program will be the first one in several years not to feature a work by Cheng. Instead, the company is offering three pieces by young choreographers, two of whom — Huang Huai-te (黃懷德) and Chen Yun-ju (陳韻如) — made their first pieces for the troupe for the 2015 "Spring Riot" program, with resounding success.
The third, Benson (Po-chen) Tsai (蔡博丞), is a newcomer to Cloud Gate 2, but not unknown to the dance world. Tsai, who also has his own small troupe, B.DANCE (丞舞製作團隊), has been bouncing back and forth between at festivals and competitions in Taiwan, Europe and the Middle East with his works such as Floating Flower (浮花) and Hugin/Munin. This follows years of creating small works for Kaohsiung City Ballet's (高雄城市芭蕾舞團, KCB) "Dance Shoe" programs.
Chen, who is in her early 30s, has worked mostly in Germany, while Huang has danced and choreographed with Horse (驫舞劇場), created works for KCB's "Dance Shoe" and other programs.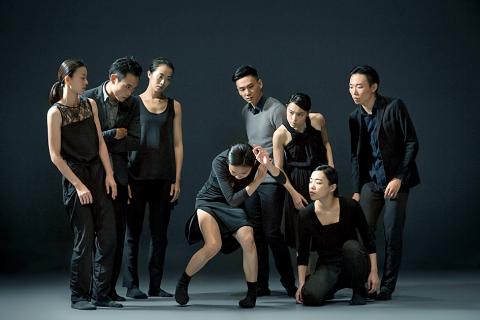 Benson Tsai's Whisper of the Eyes is the first piece that he has choreographed for Cloud Gate 2 and it will be performed as part of "Spring Riot World Premier," which opens on Friday next week at the Cloud Gate Theater in Tamsui, New Taipei City.
Photo Courtesy of Lee Chia-yeh
Chen's Hell Groove (衝撞天堂) and Huang's Horde (暫時而已), which I saw two years ago, were revelations: powerful pieces that highlighted the growing strength of their choreographic skills and their ability to work with larger groups.
Huang's creation for this year's "Spring Riot," titled Bright (亮), is set on six dancers and is about light, music and dance.
Chen's A Blue State of Mind (潛), was influenced by her studies of the Japanese martial art Aikido and the need for its practitioners to "be totally in the moment." She also makes references to the deep vastness of the sea, the bottomless depths that reflect our own fears and darkness — and our own potential.
Tsai said his work, Whisper of the Eyes (瞳孔裡的灰牆), was inspired by recent events — two random knife attacks on the Taipei MRT system, witnessing a baby carriage nearly collide with a car and last year's US presidential campaign and the election of Donald Trump — all of which he said has changed people's view of the world and created more barriers.
He cites a Jean Cocteau quote in the program notes about the reason that the times seem chaotic is because of the viewer's own chaos. Tsai said he wants the dancers to unite to eliminate indifference, helplessness and individual resistance.
The show has an estimated running time of 90 minutes, with one intermission.
Cloud Gate has organized free shuttle buses to take ticketholders from the Tamsui MRT Station to a parking lot near the theater, leaving about an hour before each performance. However, to utilize the shuttle service, ticketholders must register online on Cloud Gate's Web site by Monday for next weekend and by March 20 for the following weekend.
After wrapping up the "Spring Riot" shows, Cloud Gate 2 has a busy year ahead with several residency programs in May, outdoor performances of 13 Tongues in Taipei and selected other cities as part of annual Cathay Arts Festival in July and then back in the Tamsui theater in October for the world premiere of Cheng's new work Dream Catcher, followed by a nationwide tour in November.
Publication Notes
Performance Notes
WHAT: Cloud Gate 2, Spring Riot 2017
WHEN: Friday, March 17 at 8pm, March 18 and 19 at 2:30pm, March 24 at 8pm, March 25 at 2:30pm (sold out) and 7:30pm and March 26 at 2:30pm.
WHERE: Cloud Gate Theater (淡水雲門劇場), 36, Ln 6, Zhongzheng Rd Sec 1, Tamsui District, New Taipei City (新北市淡水區中正路一段6巷36號)
ADMISSION: NT$700, NT$900 and NT$1,000; available at NTCH box offices, online at www.artsticket.com.tw or www.service@cloudgate.org.tw and at convenience store kiosks nationwide. For more information, call (02) 2692-8711
Comments will be moderated. Keep comments relevant to the article. Remarks containing abusive and obscene language, personal attacks of any kind or promotion will be removed and the user banned. Final decision will be at the discretion of the Taipei Times.