Shoeshiner says goodbye after 67 years at the old Taichung Railway Station
Walk into the old Taichung Station. Take a left at the locked turnstiles. Keep walking and look right. Up until last week you would have seen a man sitting on a small wooden box.
His name is Huang Teng-wang (黃藤旺 ) and he had been a shoeshiner at the station for 67 years.
But with the closure of the old station, Huang has decided to hang up his brushes and polishing cloths for good. The 79 year old's last day of work was Dec. 31.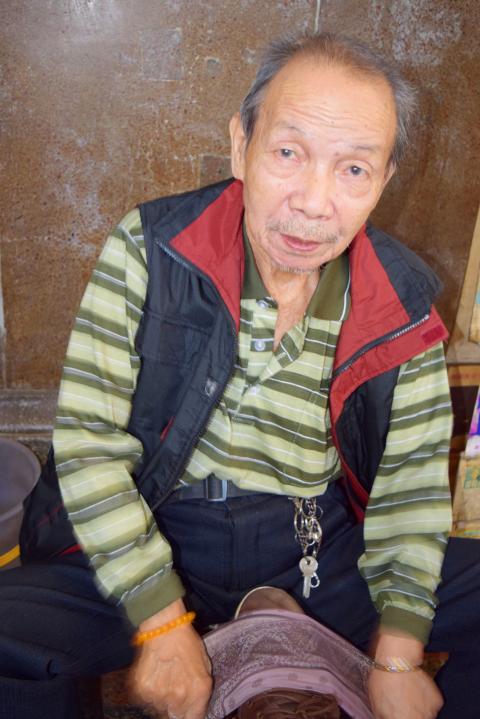 Huang Teng-wang, 79, shines a pair of shoes shortly before his retirement.
Photo: John Evans
"I feel a little sad, but it's the right thing to do," said Huang, who has worn the same pair of shiny brown wingtips for three decades.
As a 12-year-old boy, Huang stumbled upon shoe shining as a way to make a buck. That was in 1949, and he's been an institution at the old brick station ever since.
Back in the shoeshine heyday, when loafers outnumbered sneakers, Huang shined upwards of 30 pairs a day. And at NT$.1 per shoe, that provided a living.
More recently, the Taichung native was lucky to shine a single pair of shoes in his nine-hour shift.
When the occasional customer did sit down, an eight-minute shine cost NT$100.
In between chitchatting about family and the weather, Huang cleaned the shoes, applied a coat of wax and then buffed. The only topic not discussed: politics.
Sensitive to traditional manners, Huang often requested female customers remove their shoes first and not face him directly.
Huang said he will miss the routine of sitting on his wooden box awaiting customers.
The day in and day out of shoe shining was pretty routine, but there was the occasional bit of excitement.
Take the time a few years ago when he found a lost wallet stuffed with cash. Even though he earned a modest living, Huang said temptation never crossed his mind. He turned the wallet over to the police with the NT$100,000 still inside.
And what will Huang do in his long-awaited retirement?
"Travel," he said, adding that he hopes to spend more time with his six kids.
During one of his waning days of work, Huang received encouragement to continue. "Thank you. Thank you," said a passerby, shaking Huang's hand. "Don't retire."
Comments will be moderated. Keep comments relevant to the article. Remarks containing abusive and obscene language, personal attacks of any kind or promotion will be removed and the user banned. Final decision will be at the discretion of the Taipei Times.