Top of his game
How Zeng Fanzhi became China's hottest artist, and why his lawn is so green
At the gallery opening of China's hottest-selling artist, Zeng Fanzhi (曾梵志), in Manhattan a year ago, Chinese billionaires mingled with the upper crust of New York's art world. Zeng had flown in with his well-to-do pals, and after dinner at a clubby Chelsea restaurant, the Chinese crew retired to the Park Hyatt for late-night drinks in the lobby bar.
Here at home, an even larger banquet for 500 guests, including the granddaughter of Mao Zedong (毛澤東), celebrated Zeng's 25-year painting career, at the September opening of the first retrospective in his own country.
His works hang in US museums and palatial Hong Kong apartments, and over the fireplace in the London living room of the art baron Francois Pinault, the owner of Christie's. At the Ullens Center for Contemporary Art in Beijing, record crowds have poured through his current show, which includes two 33-foot-long, fiercely colored landscapes.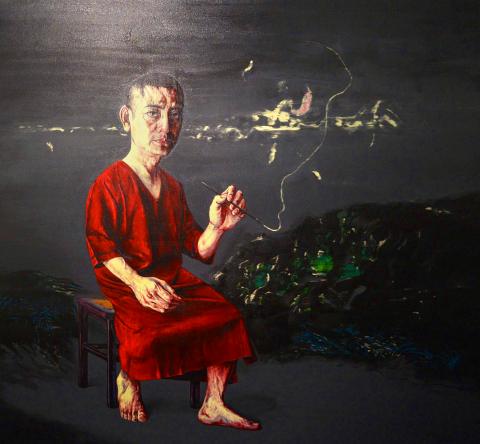 In this file photo, an oil canvas, Self-portrait 09-8-1, by Chinese artist Zeng Fanzhi is displayed at the "Parcours: Zeng Fanzhi" exhibition at Beijing's Ullens Centre for Contemporary Art.
Photo: AFP
Chinese artists roared onto the international art scene about 10 years ago, but few have exhibited the staying power of Zeng, 52, and none have fetched US$23.3 million for a painting at auction, the price paid for his version of The Last Supper in 2013.
How has he managed to stay at the top?
"You might say I am very cunning," he said, a small cheeky smile across his broad, smooth face. "I only sell my paintings to those who really like them. Then those people will help me promote my works."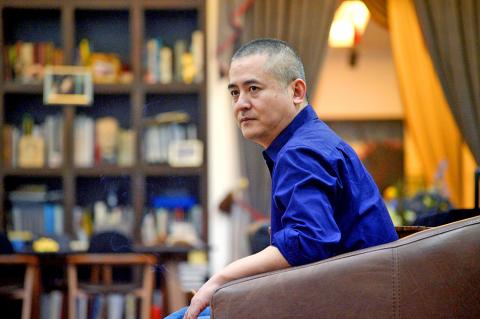 Chinese artist Zeng Fanzhi is pictured in September at his Beijing studio.
Photo: AFP
It is this approach of cultivating collectors who cherish his art, combined with indisputable painting skills, that has propelled him to the fore, said Philip Tinari, the director of the Ullens Center.
"China needs a great artist, and the way he has gone about it is very intelligent," Tinari said. "He understands the milieu his works circulate in, the actual collectors' homes, cultural institutions and galleries. He invites these key people to be part of his success, and as he achieves higher degrees of validation it's something everyone feels good about."
REBEL ARTIST
From his early days as a poor art student in Wuhan, a gritty city along the Yangtze River, he caught the attention of teachers and critics who admired his rebellion against the standard fare of communist-approved social realism.
"The head of the library at my school said if I wanted to see better art books, I should go to the library in Zhejiang Province," he said of the austere days in the mid-1980s. "I took a leave and traveled three days and nights by train to Shanghai, and then another three hours to Hangzhou." There, and later at the art institute in Wuhan, he discovered the German artist Max Beckmann and admired the work of Willem de Kooning.
By his third year of art school, he had completed 45 works. None of them fit the official style, but a teacher, Pi Daojian, encouraged him to mount a solo show.
He had depicted the down and out. (Three of them appear in his current show.) One figure in a red shirt sits in a twisted pose, asleep, a jagged red line down the side of his face. Another painting shows four sleepy shoeshine men waiting for work.
"He painted what he saw," Pi said during a recent reunion with Zeng in Wuhan and a meal that featured black tofu, frog legs and chopped duck necks. "He found his own way to express emotion."
Local propaganda officials pounced. "I was called to the exhibition place," Zeng said. "I was panicked." They grilled him.
"'What is the meaning of your paintings? Are you trying to make a political statement? Is this blood on his face?' they asked," he recalled. "I said, 'Yes, it's blood, but it doesn't mean anything.' They asked why are these people looking so sullen."
The exhibition was closed to the public; only art students were allowed.
Undeterred, he painted an even more raw series of works that showed the anguish of patients at the hands of callous doctors at a public hospital in his neighborhood. Then he zeroed in on the nearby butcher's shop and its huge slabs of frozen meat. One canvas, smothered in the red and pink of raw meat, showed the butcher and his family taking an afternoon nap atop a thinly covered carcass.
The boldness of the paintings impressed an influential art critic, Li Xianting (栗憲庭). Emboldened by his support, Zeng left for Beijing.
There, he shunned the dirt-floor artists' colony on the city outskirts, and shrewdly chose a tiny, leaky apartment in the upscale embassy district.
By then, the government was encouraging people to get rich. But there was an undercurrent of unease born from the government-ordered Tiananmen Square massacre in 1989. He began painting what became a signature theme: portraits of men and women, sometimes in groups, sometimes alone, all wearing masks. They were almost always grinning with exaggerated smiles, but underneath lay feelings of angst.
Word spread. By 1993 he had held his first solo show in Hong Kong. In 1998, an art curator in Beijing, Karen Smith, introduced him to Lorenz Helbling, a Swiss citizen, who became the most influential Western dealer in China and has represented Zeng ever since.
In one of his first sales, Helbling sold a Zeng painting of eight young Chinese men and women wearing masks to an American tourist for US$16,000. Ten years later, the painting sold at a Hong Kong auction for US$9.7 million, making Zeng the most expensive contemporary Chinese artist, a position he retains unchallenged.
Comments will be moderated. Keep comments relevant to the article. Remarks containing abusive and obscene language, personal attacks of any kind or promotion will be removed and the user banned. Final decision will be at the discretion of the Taipei Times.