Taiwan in Time: Anti-colonial messages from the sky
Hsieh Wen-ta, Taiwan's first aviator, dropped leaflets over Tokyo in 1923 to denounce Japanese rule of Taiwan and in support of a petition that would lead to increased Taiwanese self-governance
Oct.16 to Oct. 22
Having just been received by Taiwan's governor-general for becoming the first Taiwanese aviator two years earlier, Hsieh Wen-ta (謝文達) set out on a mission in early 1923 that would cause the Japanese colonial government much embarrassment and lead to two decades of self-imposed exile from his homeland.
At that time, Taiwanese democracy pioneers and anti-Japanese activists such as Chiang Wei-shui (蔣渭水) and Lin Hsien-tang (林獻堂) had submitted the third petition to the Japanese Imperial Diet to establish a Taiwanese representative assembly. To support this movement, Hsieh flew his plane directly to the empire's heart of Tokyo and dropped about 20,000 leaflets with messages such as "Taiwanese have long been suffering under tyrannical rule," "Give Taiwan a representative assembly" and "The totalitarianism of the colonial government is a disgrace to the constitutional country of Japan!"
An undated photo of a young Hsieh Wen-ta with his airplane.
Photo courtesy of Chuang Yung-ming
Several months earlier, Hsieh had won a round-trip race between Tokyo and Osaka. But now, he was in big trouble.
Even before Hsieh's daring exploit, his family already had a history of resisting the Japanese. His grandfather Hsieh Tao-lung (謝道龍) was second-in-command of the Republic of Formosa army, which attempted to defend Taipei in 1895. The elder Hsieh fled with his family to China after the fall of Taipei, but returned a year later. The younger Hsieh was born in 1901.
In 1916 and 1917, American pilot Art Smith made two trips to Asia, showcasing his aerobatic skills in a series of demonstrations. In Korea, he is said to have inspired both the country's first male and female aviators, and he did the same for Taiwan when a 16-year-old Hsieh attended Smith's airshow in his native Taichu (today's Taichung).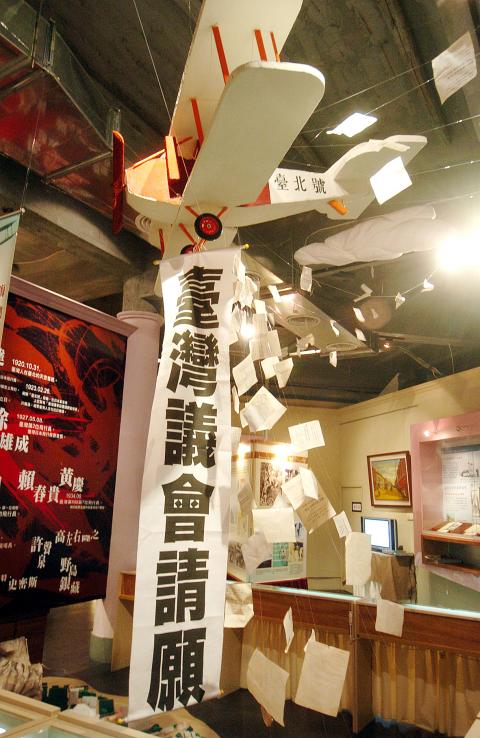 A recreated scene of Hsieh Wen-ta's plane dropping anti-colonial leaflets over Tokyo was on display at a 2007 aviation exhibit in Taipei.
Photo: Chang Chia-ming, Taipei Times
With the support of his principal at Taichu Senior High School, Hsieh traveled to Japan and graduated from the Ito Aviation Academy with honors. In August 1920, he won third place in an aerobatic competition in Tokyo and returned to Taiwan the next month to great fanfare as its first pilot.
Historian Tai Pao-tsun (戴寶村) writes in Newsletter on Taiwan Studies (台灣學通訊) that only seven more Taiwanese would receive commercial pilot licenses during the rest of Japanese rule, which ended in 1945.
Hsieh held three aerobatic demonstrations in Taiwan — the first one took place on Oct. 17, 1920 in Taichung. His achievement fostered great pride among Taiwanese, and local donations started pouring in, raising enough money to buy Hsieh his own airplane. It was named Taipei (台北號) and was the one he used to make his flight over Tokyo.
One of the main forces behind the fundraising was Chiang Wei-shui (蔣渭水), an important figure in Taiwan's nonviolent resistance against Japanese rule. Historian Chuang Yung-ming (莊永明) writes in Flying in the Blue Skies of the Native Land (飛翔於鄉土藍天上) that this endeavor united various student organizations around Taiwan, and soon the resistance movement would be born. It is likely no coincidence that Chiang chose Oct. 17, 1921 as the founding date of the Taiwan Cultural Association (台灣文化協會), which aimed to foster a sense of Taiwanese nationalism.
Incidentally, in 1934, Taiwan's fifth aviator Yang Ching-hsi (楊清溪) would also use this date to begin an aerial demonstration tour around Taiwan. Unfortunately, Yang died when his plane crashed while taking several passengers on a flight less than a month later.
Chuang writes that by that time, Hsieh was living in China as a businessman and anti-Japanese activist, having fled Taiwan shortly after the leaflet incident. When he first arrived in China, he served in the Republic of China Air Force until he was severely injured in an aerial battle in 1930. No longer able to fly, he retired two years later as a Lieutenant Colonel. Hsieh returned to Taiwan in 1946 along with the Chinese Nationalist Party, where he ran a machinery factory and also served on the Taiwan Provincial Consultative Council.
Hsieh's entry in the National Central Library's Taiwan Memory Web site states that he kept a low profile for the final two decades of his life, dying quietly in his Taipei home in 1983.
"He never talked about his past glories," the entry concludes.
Taiwan in Time, a column about Taiwan's history that is published every Sunday, spotlights important or interesting events around the nation that have anniversaries this week.
Comments will be moderated. Keep comments relevant to the article. Remarks containing abusive and obscene language, personal attacks of any kind or promotion will be removed and the user banned. Final decision will be at the discretion of the Taipei Times.