Book review: Taiwan revealed
Richard Saunders' latest guidebook goes beyond his usual hiking trips, covering everything from traditional crafts and the history and culture of the nation's Aboriginal tribes to historic spots such as Tainan — all in 101 chapters
Longtime Taipei resident Richard Saunders continues to prove that guidebooks are not obsolete with his latest series, Taiwan 101: Essential Sights, Hikes and Experiences on Ilha Formosa. Unlike his previous guidebooks, which focus primarily on hiking, Saunders here covers more terrain, including traditional crafts, the history and culture of Aboriginal tribes and historic towns such as Tainan in the 101 chapters spanning the two-volume publication.
The trained concert pianist from London has been leading hiking trips around Taiwan since he founded Taipei Hikers — which is now a Meetup group — in 2002. Saunders' prose is lyrical and he makes even the dullest topics — the history of coal mining in Houtong (猴硐) or the migration of purple crow butterflies (one of the world's largest) — captivating, and even sexy. And he manages to be both practical and personal in his writing.
Each chapter is filled with detailed directions and handy travel hacks. We learn, for instance, that the best time to visit Kenting Forest Recreation Area (墾丁森林遊樂區) is just before they close at 5pm when the hordes of tourists have departed. Each chapter ends with a "Practicalities" section with information on transportation and opening hours, along with GPS coordinates of sites. It also helps to have the Chinese names of places for travelers who may not know Chinese and can show the book to passersby, should they get lost.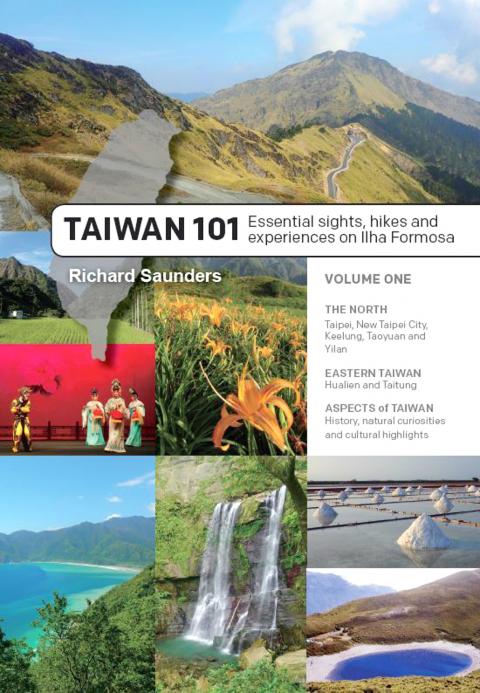 Taiwan 101: Essential Sights, Hikes and Experiences on Ilha Formosa, volume one.
When reading the book, it feels as if Saunders is with you every step of the journey. He's the ultimate know-all tour guide, though he's neither high-handed nor snooty. Moreover, Saunders does not rely on just photographs — which can be found in the middle of the book in both volumes. His vivid descriptions will make even those averse to outdoor activity want to venture out and explore.
"The astonishing little flourish of craggy mountains that loom over the Pacific on Taiwan's northeast coast offers probably the finest walking country in the Taipei region," he writes.
His sense of place is particularly astute. Saunders begins nearly every chapter with a brief but detailed overview of the area's history or topography. He describes how Siaoliouciou island (小琉球) was the site of a bloody massacre in 1636 when the Dutch exacted revenge on the now-extinct Lamayan Aborigines. Another section details how cypress trees in Taipingshan (太平山) were chopped down to fuel the logging industry during the Japanese colonial era in the first half of the twentieth century.
Taiwan 101: Essential Sights, Hikes and Experiences on Ilha Formosa, volume two.
In his chapter on Shuiyang Lake (水漾), we learn how nature is an omnipotent force in Taiwan that continually shapes the natural landscape. The lake was created by the Sept. 21, 1999 earthquake, the result of which is "hundreds of ghostly, ashen-white tree trunks, reflected in the still, clear water from which they rise."
The background Saunders provides gives readers a greater appreciation of the places they visit. A temple is not just a colorful, ornate structure, but something that has been modified throughout time and anchors the community. Likewise, the book encourages interaction with and appreciation of Taiwan's landscape. Nature is not a mere backdrop for selfies — it's something to be respected and enjoyed.
Saunders makes this clear, especially in his annoyance towards the tourism boom, which is evident throughout the book.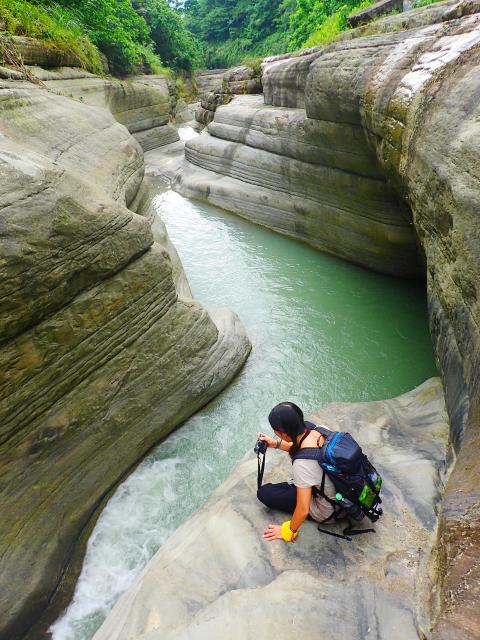 Wannian Gorge, Yunlin County.
Photo courtesy of Richard Saunders
"Each day scores of minivans began shuttling visitors in to gape at the enchanting blue pools," he writes of increased tourism to the Mukumugi scenic area in Hualien and the Aboriginal protests against it in May 2014.
Sites that were once pristine are now overrun by tourists who arrive by the busload. A word of advice from Saunders: try to avoid most places on weekends.
Despite his cynicism, however, Saunders' tone is never mean-spirited. He has a remarkable ability to put a positive, humorous spin on even the most negative situations. The Aboriginal Culture Village by Sun Moon Lake (日月潭), with its "bewilderingly inappropriate copy of…a French Chateau," he describes, is "more Disneyworld than indigenous."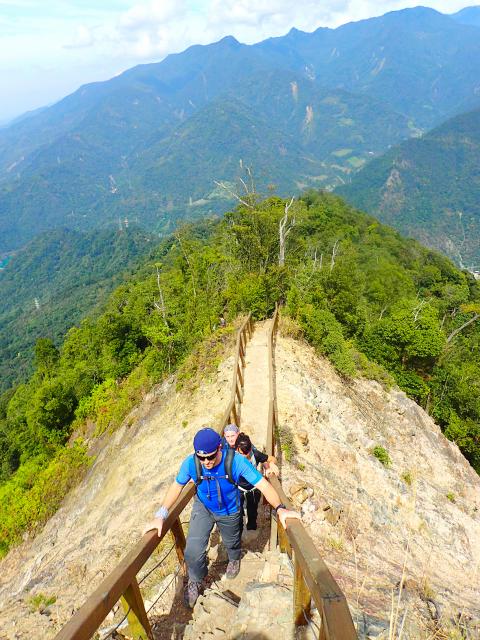 Taichung City's Mount Baimao, one of the 'Seven Heroes'.
Photo courtesy of Richard Saunders
He provides the reader with less gimmicky, more authentic options, including the Bunun Leisure Farm (布農部落休閒農場) and other leisure farms and homestays that are run by Aborigines. A homestay in the tiny, remote Truku settlement of Datong (大同) in Hualien, sounds particularly appealing and totally worth the treacherous trek to get to.
The book's target audience is broad — it's basically for anyone who speaks English. Located between Southeast Asia which boasts incredibly stunning beaches and China with its rich, ancient history, it's not surprising that Taiwan is often overlooked by the international traveler. Saunders makes a compelling point of why more English-speaking travelers should visit, though, and it goes beyond the natural beauty (and street food, which he mentions from time to time).
This is something that expats in Taiwan can relate to, especially. Saunders writes of Hua Island (花嶼): "It's an untidy but characterful mix of traditional coral-walled homes…and more concrete box houses."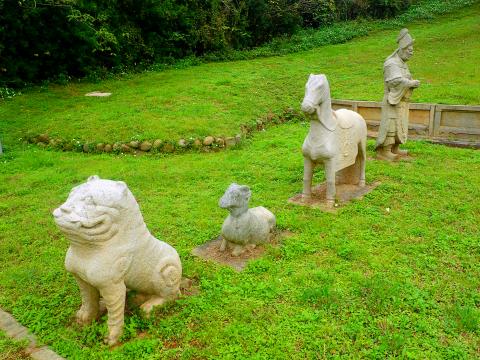 A Qing Dynasty era tomb in Hsinchu County.
Photo courtesy of Richard Saunders
Like its eclectic architecture, Taiwan has a certain charm that creeps up on you.
Taiwan 101 is beyond just a guidebook. It teaches us that experiences are so much more meaningful when we're in touch with nature or simply attuned to our surroundings. More importantly, however, is how Saunders reminds us to take everything with a pinch of salt and embrace all the local quirks — which is essentially what being a traveler is about.
Publication Notes
Publication Notes
Taiwan 101: Essential Sights, Hikes and Experiences on Ilha Formosa
By Richard Saunders
Volume I: 384 pages
Volume II: 425 pages
Community Services Center
Paperback: Taipei
Comments will be moderated. Keep comments relevant to the article. Remarks containing abusive and obscene language, personal attacks of any kind or promotion will be removed and the user banned. Final decision will be at the discretion of the Taipei Times.