Losing fear
Wakeboarders from Taipei are challenging traditional standards of beauty, in particular, that women should be pale and thin
Amy Tsai (蔡佩君) glides effortlessly on the surface of the water, her long, dyed-red hair swooshing in the wind. As the boat gains momentum, she rides her board towards and up the wake — the wave left behind by the moving boat — and launches herself into the air. It's not the highest of jumps, but it's graceful and her board barely makes a splash when she lands.
The teacher from Taipei was introduced to wakeboarding three years ago by a female friend. They drove to Breeze Canal (微風運河) in New Taipei City's Luzhou District (蘆洲), the same place where the third annual Beaujax All Women's Wakeboard Tournament (美傑仕盃女子滑水賽) on Sept. 3 and Sept. 4 was held. They had a mutual friend who wakeboarded.
"I didn't think he was that hot," Tsai laughs. "But once he got on his board and started doing flips, it's like he transformed into this different, sexier person."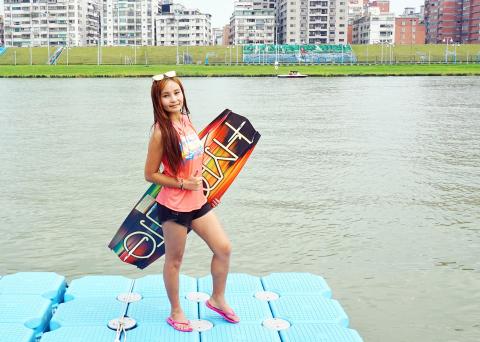 Amy Tsai at the third annual Beaujax All Women's Wakeboard Tournament in New Taipei City on Sept. 3.
Photo: Dana Ter, Taipei Times
She says that she took up the sport partly to "look cool and sexy," and partly because she felt that she needed to get out and exercise more. She tried surfing a couple of times in Yilan County's Wushi Harbor (烏石港), but waking up at 4am every weekend and making that journey took too much time. Wakeboarding was ideal. Breeze Canal is closer to Taipei and Tsai could still exercise and be outdoors.
CHANGING PERCEPTIONS, OVERCOMING FEARS
Beaujax co-founder Kimberly Chen (陳美彤) is glad to see more and more young Taiwanese women like Tsai wakeboarding. When she co-founded the tournament, Chen, who operates a cosmetics distribution company, wanted to promote a different version of feminine beauty.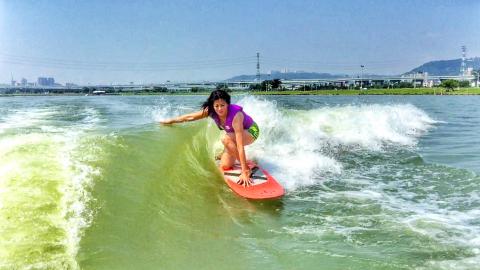 Kimberly Chen wake surfs in New Taipei City.
Photo courtesy of Kimberly Chen
"Especially in Taiwan, where the news is fixated on pale, thin, rich women who wear luxury brands and go shopping, I felt even more compelled to say that it's okay for women to also be tanned, strong and sporty," Chen tells me.
The mother of two learned how to wakeboard three years ago with her then six-year-old daughter and they've been wakeboarding together almost every weekend ever since. When she launched the tournament in 2014, Chen chose to make it women's only.
"It's a very eye-catching sport because you get to wear a bikini and look good and exercise at the same time," Chen says.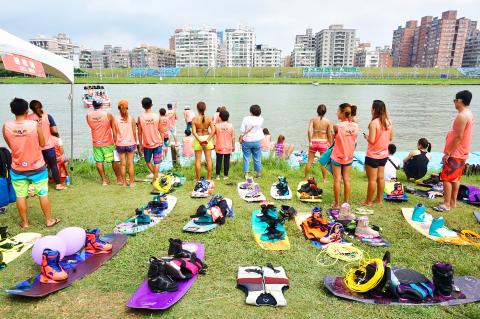 The Beaujax All Women's Wakeboard Tournament in New Taipei City on Sept. 3 and Sept. 4 saw women from all over Taiwan participating in various competitions.
Photo: Dana Ter, Taipei Times
Chen is far from having a typical approach to water.
Tsai recalls how her parents never took her to the beach when she was young.
"They would watch the news and see that this kid drowned and then ban us from going to the ocean, saying that it was dangerous and haunted," she says.
Unlike Tsai, who calls herself an "indoors girl" before she took up wakeboarding, Hsu I-ting (徐依婷), another Taipei native and competitor, has always enjoyed sports and the outdoors — though she stopped playing sports in junior high when her classmates teased her for her tanned skin.
Hsu says she might not fit the stereotypical idea of feminine beauty, but still feels comfortable in her own skin.
"People have told me that I don't look like a lot of girls in the service industry because of my tan, but these days, they also say that being tanned suits my personality," Hsu says.
HEALTHY LIVING
Tsai agrees that there's a growing acceptance in Taiwan of women with tanned skin and that it's come to be associated with living a healthy, outdoorsy lifestyle.
"I didn't know how to swim that well when I first started surfing and wakeboarding," she says. "But I can swim a little better now."
Not being able to swim isn't as bizarre as it seems. The anti-tank barricades that dot the black sand beaches of Taiwan's pristine east coast are a constant reminder that for nearly four decades, the coast was sealed off for military drills. Even after restrictions were largely lifted in 1987, Taiwanese rarely ventured out to the beaches.
Hsu confesses that she doesn't really know how to swim despite wakeboarding for seven years. She says she was afraid of the water at first, but soon got used to it, and eventually overcame her fear — just as she overcame the fear of how others perceive her.
"I'm calm, I'm relaxed and I can forget about all the stress in work and in life," Hsu says.
Comments will be moderated. Keep comments relevant to the article. Remarks containing abusive and obscene language, personal attacks of any kind or promotion will be removed and the user banned. Final decision will be at the discretion of the Taipei Times.