In honor of ancient swords masters
A Taipei-based Historical European Martial Arts club will be holding a public training session outside of Chiang Kai-shek Memorial Hall tomorrow
If you ever wanted to witness a duel with real French small swords, say, or Italian sabers, the Lionheart Historical European Swordsmanship club will be holding a public training session outside the concert hall of Chiang Kai-shek Memorial Hall tomorrow where all are welcome to watch. The club practices at least twice monthly.
Huang Chun-yi (黃郡儀), the club's founder, grew up watching movies such as Lord of the Rings and Kingdom of Heaven and read books like Alexandre Dumas' The Three Musketeers. When she was older, she did some research about fencing and found a trove of historical fencing manuals online.
"I started my practice with a stick," the 25-year-old tells the Taipei Times.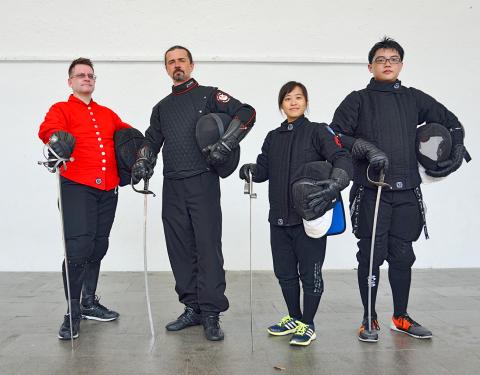 The Czech historical swordsmanship instructor Michael Knazko, second from the left, and founder of the Lionheart Historical European Swordsmanship club, Huang Chun-yi, third from the left, at the 228 Peace Memorial Park in Taipei on July 23.
Photo: Dana Ter, Taipei Times
Huang joined her university's fencing club before founding the Lionheart Historical European Swordsmanship club in 2014. While Historical European Martial Arts (HEMA) has been practiced in Europe for decades, it's just recently gained traction in Taiwan.
The difference between Olympic-style sports fencing and HEMA, Huang says, is that while the goal of the former is to score points, the latter seeks to recreate various styles of European sword fighting over the last few centuries with real steel weapons modeled closely after historical weapons. Competition and spectatorship is de-emphasized in HEMA, which is regarded by its practitioners as more of a hobby and for the purpose of preserving tradition through recreating duels and combat moves.
The club imports most of their swords from the Ars Dimicatoria (which is Latin for "Art of Fencing"), a HEMA school based in Prague. Michael Knazko, an instructor from the school, was in Taipei last month to train members of the club. Needless to say, the club tends to attract history buffs, and many members also have experience in Chinese martial arts, kendo or sports fencing.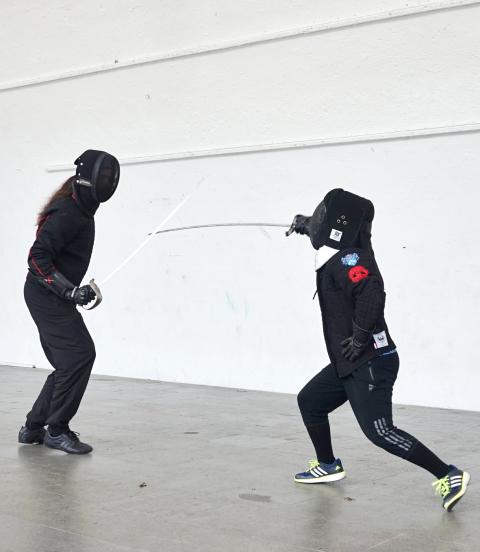 A "duel" at the 228 Peace Memorial Park in Taipei on July 23.
Photo: Dana Ter, Taipei Times
We come to HEMA "wanting something closer to what the warriors of old have done," says club member Kevin Yang (楊凱文).
He has a pdf file of the 14th-century Italian knight and fencing master Fiore dei Liberi's fencing manual, Fior di Battaglia ("The Flower of Battle"), on his smartphone, which he tries to study regularly.
"We seek authenticity in HEMA," Yang adds.
In addition to using weapons modeled after historical ones, HEMA practitioners worldwide also try to mimic the techniques and moves of ancient European swords masters as closely as possible.
Club member Jonathan Burke points out that this is what distinguishes HEMA from live action role-playing (LARP) or cosplay: "In HEMA, you're not a fictional character, you're recreating and perpetuating a historical tradition."
He adds that safety is taken seriously in the club and that it's ensured by various factors including several layers of protective clothing and a deliberate restraint of force.
Event notes
What: Lionheart Historical European Swordsmanship (獅心歷史歐洲劍術) training session
When: Tomorrow from 9:30am to noon
Where: Chiang Kai-shek Memorial Hall (中正紀念堂), 21-1 Zhongshan S Rd, Taipei City (台北市中山南路21-1號)
Admission: Free
On the net:www.facebook.com/leohistoricaleuropeanswordsmanship
Comments will be moderated. Keep comments relevant to the article. Remarks containing abusive and obscene language, personal attacks of any kind or promotion will be removed and the user banned. Final decision will be at the discretion of the Taipei Times.