Made in Taiwan 2.1
The country was once famous for its products, but in the future it may be better known for its services
A couple of weeks ago I attended a "party event" in Taipei on the say-so of a friend, who is the consultant for a new company, Sense Media. It began with a yo-yo performance and then went blue-screen for some videos about travel. After which, we listened to a presentation from the CEO Samuel Hsu (徐宣煒).
The 43-year-old was in a smart, fitting suit and was obviously an old hand at presentations. He established his credentials as an investment director and marketing man, then set out the blueprint for his company, which started up a year ago. "Dream big! It works," he said. "The era of content marketing is now!"
Among the assorted "creatives" at The One cafe event on Zhongshan North Road (中山北路) were martial arts experts, writers, film directors and makeup artists. The hope is, they will give the company an edge in the world of marketing.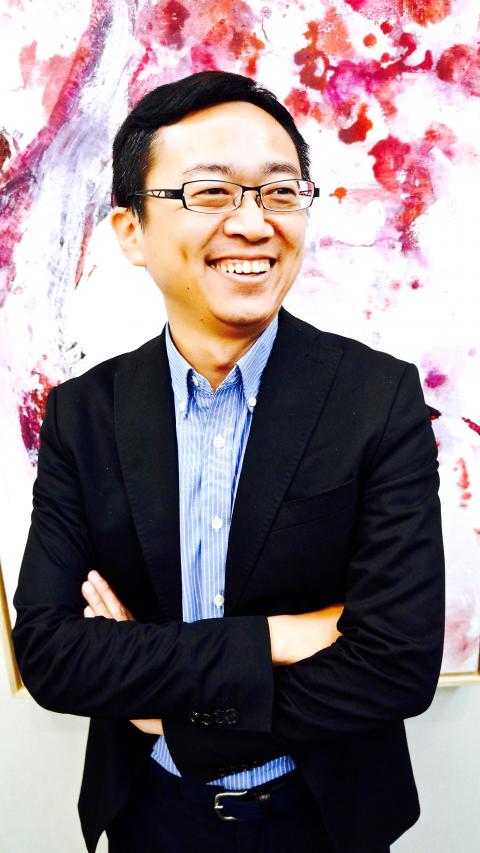 Sense Media CEO Samuel Hsu at his Neihu office.
Photo: Jules Quartly
If you think about many of the world's most successful companies, they don't directly provide much more than a digital platform, yet have cornered their markets. At Uber, for example, they don't have cars, but they do provide taxis for the world's footloose and fancy free. Apple doesn't make content like music or film, but it sells a lot of it. The list goes on …
Sense Media is a platform for clients needing public relations or advertising. It does the lot, without the middle man. It peels the layers away and simply connects the client and talent. Need and supply. This means prices are lower, there's direct communication with the people who produce the work, and therefore more say over the assignment.
This is why Sense Media is being called the "Uber of Marketing." The company is proudly mobile and lightweight, small and efficient. It's an example of how Taiwan is upgrading its business environment, after industrialization and the relative stagnation of recent years, by being smart, upstream and innovative. And possibly disruptive.
Certainly, Taiwan needs to find a new niche because the world has changed. We are moving into new territory. While there will likely always be big blue ribbon companies with well remunerated full-time employees, a lot of the job market these days is becoming more fluid. Part-time work, short-term contracts and one-off jobs would appear to be the future for many.
'GIG ECONOMY'
It's called the "gig economy," when temporary is the new permanent. This saves costs, allows the company and client to shop around and keeps the market competitive. It was recently described by president presumptive Hillary Clinton as an "on-demand economy" that was "unleashing innovation."
Work changes have largely been made possible by the digital revolution, mobile phones and GPS, peer-to-peer exchanges and social networking. And Sense Media is a decidedly digital company. It was around 2010, Hsu says, when everything changed and digital came first.
"I thought I didn't want to get too old before I die, so I better change what I'm doing," Hsu says. "If you don't change, you won't improve. And you have to keep improving."
Hsu is a bit of a chameleon, changing according to the landscape. Nearly two decades ago after graduating from Shih Hsin University with a degree in broadcasting and communication, he went into sales for media organizations, like Discovery, Turner Broadcasting and Yahoo. This was the era of the TV advert, bombarding the viewer and using hardcore persuasion.
"In those days, everyone watched TV," Hsu says. "Technology really has changed the medium of communication. TV was really innocent, too easy. Not only do less people watch it, but they don't believe the adverts anymore."
Today the consumer is much more sophisticated and watch-on-demand people are turning off the ads unless they are watchable. Furthermore, rather than hit-or-miss attempts to change minds, today, with the advent of big data mining and analytics, advertising is targeted.
For instance: Say you watch an advert produced by Sense Media about the island of Palau. First, you won't get the idea this is an ad, because it looks and acts more like a travel show. The presenter is wearing fresh sets of clothes (a kind of guerrilla marketing) and most of the items shown are a form of product placement.
The way it works is this: You like the "show" and share it with your friends. A hundred friends share with theirs, therefore multiplying the effect. One or two will like the T-shirt worn by the presenter and are able to search for it online. Their search is picked up by Google or Facebook, and soon there are adverts for the same or similar items on your web pages.
"Content is king and has to be useful and interesting. It's not in your face and you're still enjoying the content, but your needs and wants are being subconsciously simulated," Hsu says. "Traditional media and marketing is like a shotgun, but this is more like a single shot sniper."
Another issue is the migration to mobile from PC. As is fairly well known, more people search for information, buy goods and communicate on the phone than they do on PC. Yahoo lost its way, Hsu believes, because it didn't go mobile.
Also, rather than being passive watchers of content, Hsu says we are actively searching it out. This begins with the "search" and ends with the "share." Or as Hsu puts it, the marketing method used to be AIDMA (attention, interest, desire, memory, action). It's now AISAS (attention, interest, search, action, share).
With analytics providing consumer insights all the guesswork of a marketing campaign is excised. It's no longer a guess, it's a science. And the thing is: You think you have found the object you wanted, but actually it was suggested to you and those controlling this process are companies like Sense Media.
I ask Hsu whether he thinks this is a "dark art," since through data and psychology the media and marketers have their hand on the pulse of public opinion like no-one else. They can use this information to their client's benefit and aggrandize themselves at the same time. I suggest they massage opinion and distort reality to sell an idea.
Hsu suggests it's science and business, then neatly sidesteps the question.
The disruptive nature of Sense Media's business plan, I follow up, surely challenges the bloated creative agencies who, like lawyers, charge a premium for something that needn't cost so much.
But Hsu is adamant that there is plenty of room at the top. "It's not that they fear us, rather we're working with them and they're slowly opening their minds."
He's the perfect public relations man to the end.
Can refer to Taipei 101; an introductory course or analysis; One uh One, a spare male at a party, or a useless person — always male; there are about 1.01 men for every 1 woman, thus, every one hundred and first male is not going to find a partner-; a one-on-one interview
Comments will be moderated. Keep comments relevant to the article. Remarks containing abusive and obscene language, personal attacks of any kind or promotion will be removed and the user banned. Final decision will be at the discretion of the Taipei Times.