Losing voices
Products of different eras with different purposes, the English-language political news platforms 'Taiwan Communique' and 'Thinking Taiwan' both bid their farewells within the past few months
As Taiwan's presidential election results came in on the evening of Jan. 16, long-time editors of the Taiwan Communique, Gerrit van der Wees and Chen Mei-chin (陳美津), felt like marathon runners who had finally crossed the finish line.
Founded in 1980 during the Martial Law era and one-party rule, the publication aimed to promote democracy and combat the Chinese Nationalist Party's (KMT) rhetoric. With the Democratic Progressive Party's (DPP) victory, the couple decided it was time to move on, bidding their readers farewell in their March edition — their 155th in 35 years. They say that the publication is not closing but do not have a timetable when there will be a new editor.
"Our life-long mission to see Taiwan become a true democracy had been achieved," van der Wees says.
illustration: kevin sheu
A month later, J. Michael Cole, editor-in-chief of the English-language version of Thinking Taiwan, a news analysis and commentary outlet run by president-elect Tsai Ing-wen's (蔡英文) foundation of the same name, announced via Twitter that the site was to close on May 20, the day of Tsai's inauguration.
"Not my decision," Cole, a former deputy news editor at the Taipei Times, tweeted.
A formal announcement was made May 9.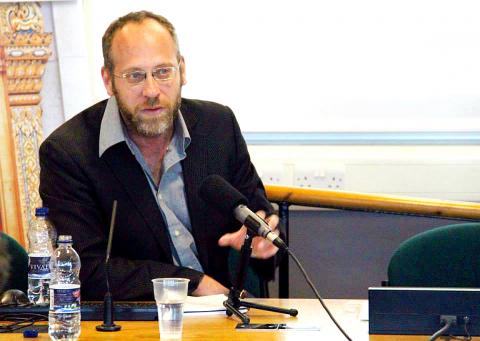 J. Michael Cole is now editor in chief of The News Lens International Edition after Thinking Taiwan closed last month.
Photo courtesy of J Michael Cole
In two months, Taiwan had lost two widely-read English-language political publications.
THE DARK SIDE OF TAIWAN
Van der Wees' interest in Taiwan began in 1974 when he founded the Amnesty International chapter at the University of Washington, when he was told by a Taiwanese student about the political prisoners and lack of democracy and human rights.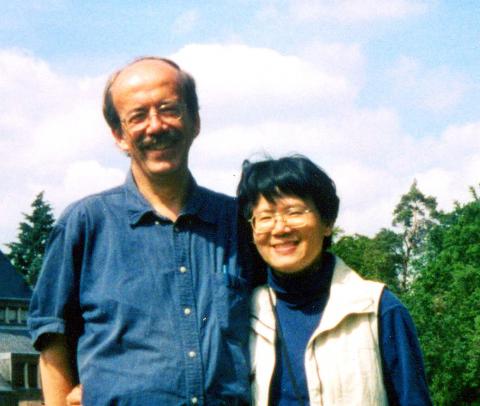 Gerrit van der Wees and Chen Mei-chin published Taiwan Communique for 35 years.
Photo courtesy of Gerrit van der Wees
Around that time, he met Chen and the couple became increasingly active, inviting exiled activist Peng Ming-min (彭明敏) on campus to lecture and starting the Newsletter of the International Committee for Human Rights in Taiwan.
The turning point came after the Kaohsiung Incident, when the KMT conducted a mass arrest of political dissidents calling for democratic reforms. Van der Wees says that there was very little international news coverage, and what was published was "solely based on KMT sources."
"We decided that it was important to let an alternative voice be heard," he says. Taiwan Communique was born, directed toward Western policy makers, news media, academics and think tanks — continuing even after the couple relocated to the Netherlands and later to Washington, DC.
"The counter-message we sent out was that the large majority of the people in Taiwan were not happy with the state of affairs in the country," van der Wees says.
The couple only visited Taiwan occasionally — and were blacklisted by the KMT from 1986 to 1993. But van der Wees says that as long as Taiwan was not fully democratic, it was necessary to keep publishing.
It was difficult to obtain information under strict government control. Instead, they relied on letters from friends in Taiwan and international phone calls — at one point racking up a monthly phone bill of NT$25,000. They also subscribed to opposition magazines, which were often banned and shut down by the KMT.
Van der Wees says that he "contributed significantly" to an international awareness of Taiwan's plight, influencing US and European politicians to start urging Taiwan to move toward a multiparty democracy.
He says that last year, former US assistant secretary of state Kurt Campbell publicly commented on how much his office appreciated the insight that Taiwan Communique provided.
Van der Wees decided to stop publishing for the first time after former president Chen Shui-bian (陳水扁) was elected, but his interest was rekindled after Taiwan-US relations deteriorated — which he saw was much to do with a lack of understanding within the US government. He took a job with the Washington, DC-based Formosan Association of Public Affairs, which resumed the publication.
"It is always difficult to know when to stop," he says, "But with the election of Tsai Ing-wen to the presidency, there has been a strong increase in interest by the major news media in developments in Taiwan ... [with] good reporters who understand developments in Taiwan quite well."
PUBLIC DIPLOMACY CUT SHORT
J. Michael Cole says that in the two years he ran Thinking Taiwan, he contributed to the aforementioned improved international reporting on Taiwan — especially as interest increased from the meeting between then- president Ma Ying-jeou (馬英九) and Chinese leader Xi Jinping (習近平) up to Tsai's election.
"We saw an explosion of requests for comments and interviews coming from all major media worldwide that, for different reasons, started paying more attention to Taiwan," he says.
In addition to producing articles, Cole says he saw public diplomacy as part of his job in a media landscape that, up until recently, was skewed in the KMT and Beijing's favor.
"I put them in contact with different sources in Taiwan … trying to encourage them not to always interview the same two or three experts in Taiwan … directing them toward people who, in international media almost never had a voice. We really wanted to facilitate access to different elements within our society."
Thus, Cole was disappointed when the project was cut short, and says that he himself has not been directly told the reasons for the closure.
"I can tell you for a fact that when we launched, it was supposed to be long-term," he says.
Cole says a conversation with Tsai led to the launch of the project two years ago.
"I said that one of the things we needed was an English-language platform that provided commentary and analysis with the baseline being what's good for Taiwan and not what's beneficial to a given political party or politician."
The goal was not to compete with traditional media but occupy a similar niche as the Communique — and also directed toward foreign diplomats, journalists and scholars who had an interest in Taiwan.
Cole's intention was to transcend the blue-green divide that exists in Taiwanese media and society, but he says it was difficult — especially given the project's association with Tsai.
"For the first few months, everyone I spoke to assumed I was hired by New Frontier [Foundation], which is a DPP think tank," he says. "I had to constantly remind them that there was no institutional relationship between the two organizations."
Cole says there was a lot of convincing to do when it came to reaching out, something he says that he was fairly successful at. But there were many people who didn't trust the new venture, due mainly to the partisan nature of Taiwan's media environment.
"There were occasions where someone who was completely colorless or in the blue camp wrote for us, and were accused of writing for Tsai Ing-wen," he says. "I wish we'd had more time to attract those voices."
Cole also wanted to branch out from politics to other aspects of Taiwanese society, but he did not have the expertise in those fields in what he says was a one-man operation.
"I wish we had more time to diversify, as not everything about Taiwan is about politics," he says.
CLOSING RAMIFICATIONS
Bruce Jacobs, professor of Asian Languages and Studies at Monash University, calls the closing of Thinking Taiwan a "terrible loss."
He is more concerned about Thinking Taiwan than Taiwan Communique as van der Wees and Chen simply decided to retire, while Cole's platform was closed without much warning.
"[Thinking Taiwan] was raising a whole host of issues in quite a penetrating way … It was getting quite a readership, and I am concerned it was an attempt to close off discussion," Jacobs says.
Cole is especially uncomfortable with the timing of the closing, which may imply that Tsai does not need the publication anymore since she has been elected.
"It is ammunition to my critics who said from the beginning that we were little more than the propaganda arm of Tsai Ing-wen," Cole says.
Daffyd Fell, director of the Center of Taiwan Studies at the University of London's School of Oriental and African Studies, on the other hand says that while Thinking Taiwan gained a readership by going beyond "merely stating the facts," there are now a wide range of sources for informed analysis available.
"I do not think the closure of Thinking Taiwan will have a major impact," he says, noting that Cole's new gig as editor of the international edition of The News Lens operates on a similar and successful model.
Cole says he will be doing similar work with a wider scope as The News Lens covers all of Asia, and he hopes to continue his work of public diplomacy as well as providing a platform for people in repressive countries such as Singapore.
"Hopefully we will be able to once again occupy the space that was once occupied by Thinking Taiwan," he says.
Comments will be moderated. Keep comments relevant to the article. Remarks containing abusive and obscene language, personal attacks of any kind or promotion will be removed and the user banned. Final decision will be at the discretion of the Taipei Times.