Yingge Town Artisan: Making it large
Brothers Chan Kuo-hsiang and Weng Kuo-hua, both Yingge potters, talk about the craft of imitation pottery and how their lives are intimately tied up with the fortunes of the old pottery town in New Taipei City
Kick-wheel potter Chan Kuo-hsiang (詹國祥) tells a story of how late president Chiang Ching-kuo (蔣經國) was puzzled during a visit to the old pottery town of Yingge (鶯歌鎮). BMWs and Mercedes were parked along streets lined with dilapidated buildings — conspicuous wealth amid ramshackle abodes.
Before China opened up its market, Yingge potters producing imitation Chinese ceramics were raking it in.
"The heyday was probably 1980 to 1990," says Cheng Wen-hung (程文宏), head of the Educational Promotion Department of the New Taipei City Yingge Ceramics Museum. "After that... most of the big factories moved to China."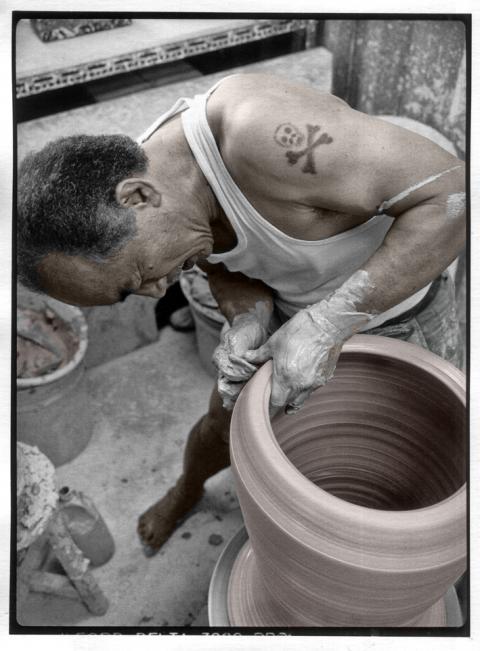 Chan Kuo-hsiang throws a large vase in his factory in Yingge, New Taipei City.
Photo: Paul Cooper, Taipei Times
Chan and his brother, Weng Kuo-hua (翁國華), specialize in throwing huge pots. They have seen good times and bad. In many ways, their fortunes have been tied to those of Yingge itself.
Yingge has been a pottery town since 1804. It flourished because of local coal and clay deposits, and, later, because the arrival in Taiwan of the Chinese Nationalist Party (KMT) in 1949 put a temporary stop to pottery imports from Japan and China. This gave Yingge potters the chance to start producing functional wares for the domestic market.
IMITATING DYNASTIC PORCELAIN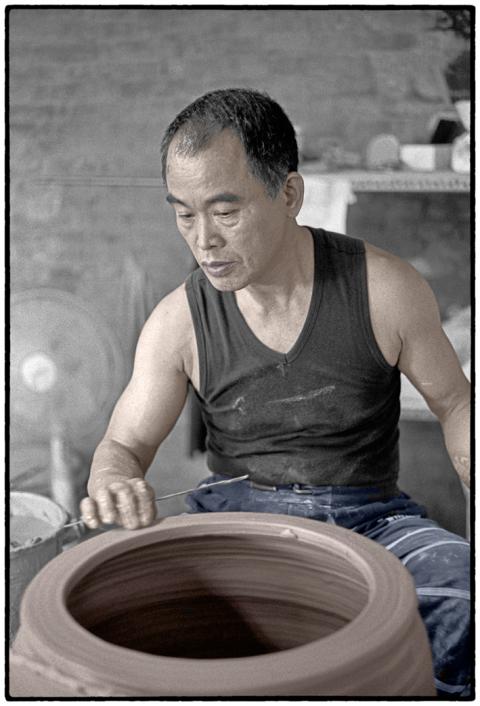 Weng Kuo-hua prepares to throw a large water jar in a factory in Yingge, New Taipei City.
Photo: Paul Cooper, Taipei Times
In the 1970s, many factories also started producing imitation Chinese imperial wares. Experts from Hong Kong were brought over to introduce traditional Chinese ceramics techniques. Many of the wares were exported, and some were sold as authentic Song, Yuan, Ming and Qing porcelains.
For a time, there was money to be made, with imitation wares being sent to Hong Kong, Japan and the West. Yingge had moved from its humble beginnings to become a major exporter of quality wares.
Chan and Weng were born in Yingge, but their father, a kick-wheel potter making large water jars in the town, moved the family to Miaoli in search of work when they were still little. The family was too poor to afford rent. The boss was kind enough to let the whole family live in the factory. The brothers lived there until they were 20.
Chan Kuo-hsiang prepares to paddle a just-completed large vase in his factory in Yingge, New Taipei City.
Photo: Paul Cooper, Taipei Times
Being constantly around the factory for their entire childhood, the brothers were able to learn their craft — learning the techniques of coiling and throwing on the kick-wheel, the traditional potters' wheel introduced by the Japanese and used in Taiwan before the invention of an electric version.
Weng started learning properly when he was around nine or 10, working at the factory at around 16 or 17.
"I was very skilled at this point, since I had started very early." he remembers.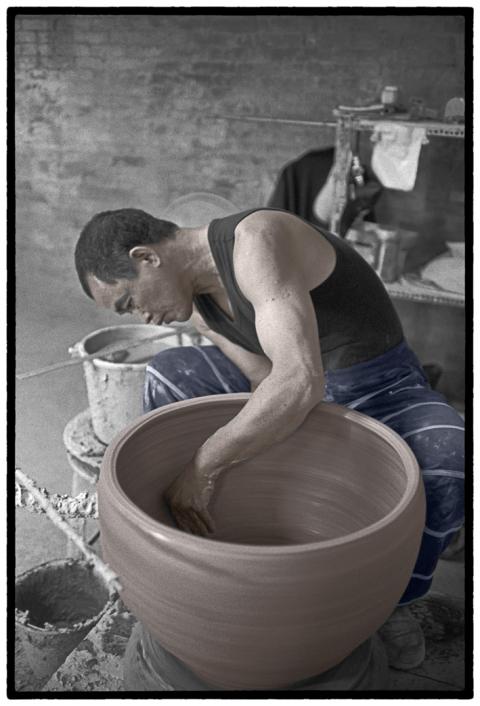 Weng Kuo-hua throws a large water jar in a factory in Yingge, New Taipei City.
Photo: Paul Cooper, Taipei Times
During the heyday, Weng took off on his own and developed his own crystal glaze over many years of experimentation. He would decorate his own pots with this glaze, and sell them in shops around Yingge.
"It would cost me NT$50,000 to make one piece. The shop would place a heavy commission on top of this, charging say NT$300,000," Weng says.
Weng remembers turning his own house into a factory, to fit in all the large kilns he needed, and having no space left in which to sleep.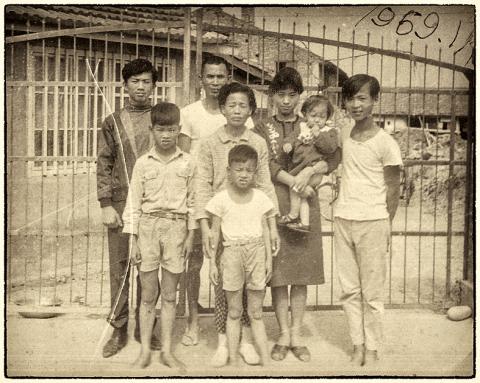 Family photo from 1969, in front of the Miaoli factory where the brothers lived for 15 years. Weng Kuo-hua, front row, first left; Chan Kuo-hsiang is on the far right.
Photo courtesy of Chan Kuo-hsiang
"I was nuts. I spent all my money on the kilns and on making the pots," says Weng. "I could have bought a lot of houses for that money."
MARKET CHANGE
Then the market changed. Cheng says that increased investment in China led to a steep decline in the number of people employed at factories in Taiwan. Only a few people work in the factories producing imitation wares nowadays.
Weng had to abandon his creative work in 1996. He drove a truck, delivering electrical goods around Taiwan, from ages 43 to 53. He returned to Yingge 10 years ago to work in a factory again.
You won't see so many luxury cars in Yingge nowadays. Much of the creative work has moved out of town, where people work in smaller studios.
Chan has his own factory now, making large pots to order. He also introduces the kick wheel technique every week at the museum, hoping to keep the tradition alive.
Weng works in a factory. He still coils water jars. He has plans of making more creative work again, resurrecting his crystal glaze. Unlike his brother, he is not very positive about the possibility of passing on their traditions.
"There is a good reason the younger generation don't want to do this kind of work, not if they don't come from a rich family. There's simply no money in doing it at a creative level," Weng says.
Next month, Tseng Tsai-wan (曾財萬), also known as Master Wan, who shows that locally-produced quality wares still have a place in a fiercely competitive market.
Yingge Town Artisan is a monthly photographic and historical exploration of the artists and potters linked to New Taipei City's Yingge Town.
Comments will be moderated. Keep comments relevant to the article. Remarks containing abusive and obscene language, personal attacks of any kind or promotion will be removed and the user banned. Final decision will be at the discretion of the Taipei Times.